HERE are a series of articles written about the practice of some adherents of the Mormon Church of Jesus Christ of Latter Day Saints to perform baptism rituals on behalf of deceased Jewish victims of the Holocaust.  The articles appeared in the New York Jewish Forward; the first piece prompted the New York Times to do a story, citing the Forward story as a source, generating  wide publicity and considerable controversy. 
* * *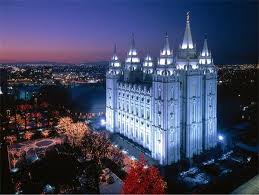 Esther Ramon, president of the Israel Genealogy Society, was startled recently to learn that her grandfather, a religious Jew who had been slaughtered in the Holocaust, has been posthumously baptised by the Church of Jesus Christ of Latter-day Saints, otherwise known as the Mormons.
Ramon made the discovery during the international conference on Jewish genealogy, held in Jerusalem in early May (1994); she had been consulting the Mormon's International Genealogical Index (IGI), a vast computerized repository of names of some 200 million deceased persons. Compiled for the purpose of assisting family tree research, the IGI shows the full name of each individual, and provides information on birth, marriage and death dates, other family members, and whether the Mormon Temple baptismal ritual has been performed.
Immediately after seeing her grandfather's name, Ramone spoke with Gary Mokotoff, president of the Association of Jewish Genealogical Societies. "She was very upset. She wanted to know, 'How can I get him unbaptised?'" Mokotoff recalls.
"She couldn't understand how anyone can take a man who was a religious Jew all his life, and who was murdered for being a Jew, and baptise him. To my knowledge, once somebody's been baptised, there's no way to get the church to unbaptise him."
It has been almost a year since Mokotoff first became aware that some Mormons in the Salt Lake City region were extracting names from the Gedenkbuch, a listing of 128,000 German Jews murdered in the Holocaust, and performing a religious ordinance in their local temples to baptise and endow them according to the Mormon religion.
In a letter of complaint to J. Richard Clarke, a church elder, Mokotoff explained that the practice "shows incredible insensitivity to the anguish of living relatives of these martyrs, some of whom saw their loved ones murdered. . . .  Baptism is a Christian ceremony that is particularly repugnant to Jews. It reminds us of the centuries of persecution against Jews where our ancestors were given a choice: be baptised or suffer death."
Mokotoff closed his letter with a dire prediction: "At present, this practice is known to only a few Jewish-American genealogists who noticed the entries in the International Genealogical Index. Once the Jewish world community is aware of the practice, it will seriously strain relations between Mormons and Jews."
Although the LDS Church does not officially support the practice, it claims it cannot prevent zealous church adherents from performing the ritual on deceased Jews. "Please be aware that, given the nature of computer databases and the number of temples and family history centers operational throughout the world, we cannot guarantee that no work will be done," Mr. Clarke replied in a letter to Mokotoff.
The exchange was reprinted in full in the Spring 1994 issue of Avotaynu, the International Review of Jewish Genealogy, of which Mokotoff is publisher. Publication of the letters has seemingly generated an Associated Press wire story and a flurry of electronic comments on the Internet computer network.
The AP news story explains that LDS church members would like to baptise everyone, not just deceased Jews. "It is a labour of love," church spokesman Thomas Daniels is quoted as saying. "We are doing for them what they can't do for themselves." The article notes that multiple baptisms by proxy have been performed on Judy Garland, Charlie Chaplin, Jack Benny, W.C. Fields, Humphrey Bogart, Lucille Ball, Fred Astaire, Boris Karloff, Marilyn Monroe and Walt Disney.
At the recent conference on Jewish genealogy in Jerusalem, former president of the state of Israel Yitzhak Navon commented on the issue while delivering opening remarks. "I congratulate you for writing to them," he told Mokotoff. "I think Jewish genealogists in all countries should protest. The Mormons are good friends of Israel but we don't ask them to baptise us. If any of us want to be baptised, we'll find our own way."
The Mormons have a fundamental belief in genealogy and family values, and require church adherents to trace their families at least four generations back. To facilitate this research, the Mormons have built a genealogical library in Salt Lake City that is regarded as one of the finest such facilities anywhere. They have also established thousands of library branches across North America, including more than 100 across Canada, for public use.
Many Jewish family tree researchers have used materials collected by the Mormons to add generations to their own family trees. Mokotoff himself has used 19th-century Polish civil registration and other documents microfilmed by the Mormons to help him discover the names of some 300 members of his extended family who were murdered in the Holocaust. ♦
Appeared originally in the Jewish Forward. © 1994
MORMONS STILL BAPTISING HOLOCAUST VICTIMS
Utilizing a religious ordinance that is "laden with love" and meant to "perpetuate the sweetest of all relationships" among family members in the afterlife, members of the Church of Jesus Christ of Latter-Day Saints — commonly known as the Mormon Church — have posthumously baptised Adolf Hitler and several other leading Nazis, the Forward has learned.
On at least three occasions since 1993, LDS church members have performed baptisms by proxy for Hitler in Mormon temples in Los Angeles, London and Jordan River, Utah. As well, numerous "sealing" ceremonies have been performed to bind Hitler to his parents and to his mistress, Eva Braun, for eternity. Posthumous baptisms have also been performed for Hitler's brother Edmund, his parents Alois Hitler and Klara Poelzl, and his paternal grandparents, Johann Georg Hiedler and Anna Maria Schicklgruber.
Several other major architects of the Final Solution, including Adolf Eichmann, Joseph Goebbels, Hermann Goering, Heinrich Himmler, Rudolf Hess and Rudolf Hoss, the commandant of Auschwitz, have also been subjects of the baptismal rite, which seems to confer a sort of posthumous absolution upon them even as it supposedly puts them onto a fast track to heaven.
Convinced that marriage and family relationships can continue beyond death, church members routinely perform baptisms for the dead as a means of uniting families for eternity. "Members of the Church believe that these temple ordinances are essential to their own happiness in the eternities to come," church elder Monte J. Brough explained in a recent letter. "They also feel that it is a sacred privilege to act vicariously for their ancestors. The doctrine and its ordinances are laden with love and intended to perpetuate the sweetest of all relationships in eternal families."
While the church encourages adherents to perform the religious ceremony for their own ancestors, its "95-year rule" stipulates that permission be acquired from a living relative before the rite is performed for a deceased person born less than 95 years ago. However, LDS officials admit that they do not enforce the rule, and acknowledge that overzealous adherents at some of its 48 temples worldwide have baptised multitudes of unrelated deceased persons of all faiths.
The church's International Genealogical Index, or IGI, is a vast data base that contains the names of some 240 million persons, most deceased within the past 400 years, for whom temple ordinances have been performed or submitted. Microfiche and CD-ROM versions of the IGI are available at thousands of local branches of the LDS Family History Library around the world.
Last year (1995), the Forward disclosed that some church members had baptised many Jewish victims of the Holocaust. As a result of the Forward story, officials of the American Jewish community and the church entered into negotiations which concluded in April 1995. At that time, the church issued a statement in which it agreed to halt the controversial practice and to remove the names of some 360,000 Jewish Holocaust victims from the IGI.
Some church members are evidently concerned about the posthumous welfare of a variety of historical figures, not just Nazis. The IGI shows that baptisms have been performed once each for Joseph Stalin and Benito Mussolini, and six times for Winston Churchill. As for American mass murderers, there were apparently no entries for Jeffrey Daumier, Theodore Bundy or Richard Speck, whose crimes, although grotesque, pale in comparison to those of the Third Reich. Neither could anything be found for Clyde Barrow or Bonnie Parker, the murderous gangsters of the American southwest of the 1930s.
There were, however, numerous entries for the two most notorious presidential assassins in U.S. history, Lee Harvey Oswald and John Wilkes Booth.
"I suppose Genghis Khan and Attila the Hun are in there, too," said Thomas Daniels, spokesperson for the LDS Family History Library, when informed that the IGI showed some high-ranking Nazis. "It has been possible in the past for individuals to submit such names, as horrendous as their crimes were. Why someone would consciously submit those names for temple ordinance is beyond me, but if they're in there, they've been done."
According to church doctrine, all deceased persons for whom the ordinance has been performed have the option of accepting or rejecting it in the afterlife. "I doubt very much that those individuals (Nazis) have accepted those ordinances that have been performed for them," said Mr. Daniels. "But again, that's conjecture. And it's between those individuals and God to deal with what they've done. He's the final judge."
Mr. Daniels said that "eight or nine" church members had been responsible for baptising the Holocaust victims — "they've been talked to and asked not to do that kind of thing anymore" — and he speculated that, likewise, only a handful of isolated individuals, out of the church's estimated 9.2 million adherents worldwide, were responsible for baptising Nazis.
"We've set a policy and we've asked people to concentrate on their direct ancestral lines only," he said. "It's the expectation of church leaders that people within the church will abide by the letter and intent of that policy." ♦
© 1996