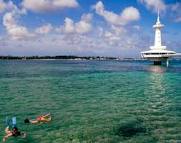 At 3 on a typical afternoon at Coral World here, a diver descends into the shallow, sunlight-dappled water surrounding the underwater observatory and distributes lunch to hundreds of exotic fish that circle him.
Just a few feet away, on the other side of the glass, a crowd of spectators also circle as they watch the live show enthusiastically, many holding full-color printed cards showing more than 50 species of fish that swim in these waters.
The printed guides are free with admission into the marine park and unless you're a marine biologist or avid seaquarium enthusiast, you'll have trouble telling a seahorse from red hind without one. Blue parrotfish, glasseye snapper, schoolmaster, sergeant major, yellow goatfish, French grunt and indigo hamlet are only a few of the species illustrated, with names frequently almost as colorful as the sea creatures themselves.
Smart visitors to the 16-acre aquatic attraction plan itineraries that bring them to the shark tank at 11 a.m., the stingray pool at 1, the reef tank at 2, the underwater observatory at 3, the sea turtle pool at 4. Although these marine creatures are visible at all hours, they are most animated at feeding times.
And that leaves plenty of time to hear lectures on aquatic subjects on the half-hour and see the marine gardens aquarium, flamingo haven and marine encounter pool where guests may touch starfish, conch, crabs, sea cucumbers and other shallow water inhabitants.
Seven years after its opening, Coral World remains one of Nassau's most popular attractions. The combination marine park and underwater observatory is the third of its kind in the world.
An Israeli company built the first in 1973, shortly after the Arab-israeli Yom Kippur War, in Eilat, Israel, on the shore of the coral-rich Red Sea. Offering visitors a window into an undersea world previously accessible only to scuba divers, the concept proved a success.
Through a joint venture between Coral World and the Ampal-American Israel Corporation, a second Coral World opened in St. Thomas in the U.S. Virgin Islands, in 1979, and a third in Nassau in 1987. A fourth opened in Maui, Hawaii, in 1991.
Like its sisters around the world, the Bahamian Coral World features an offshore tower, accessible by bridge from the mainland, in which visitors descend nearly four metres below sea level. A 360-degree panorama of thick glass reveals corals, sponges, eels, crabs, singrays and a variety of brightly colored tropical fish in their natural setting. In effect, the humans are the ones in the squarium, but the myriad specimens of marine life beyond the glass seem absolutely disinterested.
One aspect that makes Coral World Bahamas unique is its group of 22 secluded luxury villas, each with its own private swimming pool enclosure, well-equipped kitchen and back porch, beyond which cruise ships sail. Along with the marine park and underwater observatory, the villas are located on Silver Cay, a private island a 10-minute drive or ferry ride from Nassau's main hotels, restaurants and casinos.
Visitors may reach Coral World on an open-air, 15-metre ferry that provides free regular service to and from the Paradise Island Lagoon, the Harbour Cove Inn and the Paradise Beack Dock near the Club Med. Guests may also arrive by car or taxi and take a free shuttle bus that is in continous daily operation back and forth across the private bridge from the mainland. ♦
© 2005