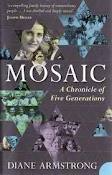 On an autumn day in 1890, Daniel Baldinger, a 35-year-old married Orthodox man living in Krakow, reached a monumental decision: he would divorce his wife of ten years, Reizel, because she had not borne him any children. Daniel was soon remarried to a much-younger wife, Lieba, who eventually grew to love him and worried that she, too, would be cast aside if she failed to produce offspring.
"If I can't have children, I hope a carriage runs me down in the street," she sobbed to her sister-in-law. "I couldn't bear it if he divorced me."
Still childless after four years in his second marriage, Daniel went on a pilgrimage to a revered rabbi in Nowy Sacz, according to Diane Armstrong, author of Mosaic: A Chronicle of Five Generations (Random House Australia).
"There was an aura of piety in the austere book-filled room where Aron Halberstamm, the Sanzer Rebbe, held his court," Armstrong writes. "After praying with the other worshippers, Daniel asked the Rebbe for his blessing so that he would have a son. Aron Halberstamm had piercing pale blue eyes and a grey beard that hung over his chest in two V's like a Biblical prophet. When he looked at someone he seemed to be able to see inside their soul. 'You will have a son,' the sage told Daniel. 'Call him Avner, after the son of King David.'"
Daniel and Lieba indeed had a son in 1895 and named him Avner. Another ten children followed over the next two decades. Armstong presents many of their loves, laments, turmoils and tribulations in an equally vivid and dramatic fashion, just as though she were writing a novel of shtetl life: Isaac Bashevis Singer's The Family Moskat comes to mind, as does Bernice Rubens' Brothers. But Mosaic differs from a novel in one essential respect: it is drawn directly from real life and presented as a true story — the saga of Armstrong's own family over five generations.
A master of both the personal interview and historical research, Armstrong excels at presenting rich stories from her family's past. Between these novelistic episodes she interjects contemporary scenes and comments from elderly relatives in various locales as they reminisce about each particular episode. The technique may at first seem jarring, but I soon found myself marvelling at Armstrong's narrative skills and daredevilry.
Some genealogists may imagine that ancestral ghosts inhabit their daily lives, compelling them to research their family trees. Armstrong, by contrast, projects herself as a ghostly presence following her grandfather and other family members through streets where once he walked. She is "a shadowy figure . . . pursuing him through the crowd, dogging his footsteps, craning to catch every nuance of his expression."
The title is a clever pun, alluding to both the Jewish fabric of the book as well as the array of characters whose lives are woven into the author's intricate tapestry. In the book's second part, which covers the prewar and Holocaust years, many of the threads inevitably lead to the concentration camp and gas chamber. Part three conveys the continuation of life beyond the tragedy to modern times.
Writers in recent years have produced intensely personal histories of shtetl life and family history sagas. In Theo Richmond's Konin: A Quest, for example, a detailed history of his parent's hometown unfolds as a personal quest. And in Journey to Vaja, Elaine Kalman Naves uses a "creative nonfiction" technique to reconstruct scenes and dialogue of her family's 200-year-long saga in Hungary.
With Mosaic, Armstrong, an Australian journalist, pushes the family history genre to a higher level of artistry, putting all the narrative techniques of a polished novelist at her disposal.
These solidly constructed scenes and conversations are true to art, but do they also meet the genealogist's rigid requirements for accuracy? Some might say not, but that is certainly a moot point, given how well the book succeeds on its own terms. ♦
© 1998