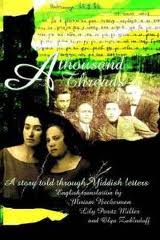 When he turned 18, Tsvi Shapiro decided to leave his home shtetl of Butrimantz rather than be conscripted into the Lithuanian army.
With a half-brother working as a lawyer at the Hebrew Immigrant Aid Society in New York, he should have had an excellent chance of being admitted into America and fulfilling his dream of studying philosophy at Columbia. But a strict new immigration quota system imposed in 1923 effectively closed the drawbridge to Shapiro and countless others.
An immigrant without a destination, he landed in Cuba for what he hoped would be only a temporary stop. Instead, he was stranded for four years of homesickness, worry, hard labour, loneliness and insufferable heat. For part of his Havana interlude, he scrubbed floors daily for 12 hours, then studied English in the evenings.
"I sometimes take a short break and rest, for otherwise it's impossible because of the terrible heat which prevails even at night," he wrote to his mother and sisters. "One is simply soaked in sweat, and you have to wipe yourself constantly with a towel because otherwise you can't do anything. Naturally such heat saps one of strength."
Many supportive letters reached him from family members and friends in Lithuania who sought to comfort him in his plight. By contrast, missives received from his wealthy half-brother in New York were terse and infrequent.
Shapiro ultimately became a successful businessman in America and the letters from his Cuban period were relegated to a cardboard box in the attic; his widow discovered them about eight years ago as she was preparing to sell the house.
A niece, Lily Poritz Miller of Toronto, co-ordinated their translation from the original Yiddish, as well as their publication this year as A Thousand Threads (Remembrance Books). Poritz Miller and her sister Olga Zabludoff co-edited the collection, which they translated with the aid of Torontonian Miriam Beckerman.
If absence made Shapiro yearn to be back in Butrimantz, his relatives were quick to remind him of the terrible conditions that prevailed at home, where his family was struggling with new tax burdens and other oppressive measures imposed against the Jews.
"(I)t saddened me that you are homesick," his cousin Leah wrote. "I'm very surprised that you are allowing yourself to be so foolish . . . . You have to realize that you cannot always be glued to your mother's apron. This is no ambition, not for a young person. Believe me, dear Hirshela, that you should thank G-d that you are already out of that small, dirty town of Butrimantz."
His brother Shlomo was even more direct. "In one word, you have nothing to miss," he wrote. "I believe that if you would come to Lita [Lithuania] now, you'd want to run wherever your eyes would take you." Shlomo later elaborated on the widespread misery and poverty in the shtetls of Lithuania: "Times are very critical here. There are many bankruptcies in Kovna, and this is spreading to us. They chased out the national council. They are requesting that Jewish signs be removed. We feel like we're being driven out — like we're being exiled."
Meanwhile, poor Shapiro was hearing from his contacts in the United States that life in America was no picnic, either. "The reason I did not write to you for so long is that I don't feel good," wrote an uncle. "My heart is bothering me very much . . . . America is a difficult land for everyone. I developed this condition from working too hard. The strongest person can barely endure it, but the weaker person fades away."
The uncle offered aphorisms to Shapiro to explain his half-brother's aloofness: "You're wondering at Itzhak's coldness towards you. This is America. The rich can help but they don't believe, and the poor believe and cannot help. The Americans have a saying, 'Help yourself.' Put your hope in God, not in people."
Containing many such platitudes and expressions of popular wisdom, the letters illuminate many aspects of the immigrant experience and highlight the "thousand threads" that connect the Jew to his family and friends in the shtetl, no matter where he may be. The affectionate tone and intimate expression of many of the letters highlight their underlying compassion.
The letters also chronicle the worsening conditions for the Jews of Eastern Europe at that time, Poritz Miller observed. "I got such a strong sense in the letters of the everyday struggles of the people and of the insidious ways, even in the '20s, of how the Jews were being pushed out," she said.
Poritz Miller, a published playwright, is currently writing a film script based on A Thousand Threads. A former editor at several major publishing houses in New York, she worked for 18 years as senior editor for Toronto-based McClelland and Stewart. She and Zabludoff previously co-edited The Destruction of the Shtetl Butrimantz, published in 1998.
Although Poritz Miller judged A Thousand Threads too important a sociological document not to publish, she explained that she chose a small publisher because she knew it would not appeal to a mainstream audience.
Still, the translated collection offers a dramatic story and reads like an epistolary novel. "It's a journal of the immigrant experience and it reflects the changing conditions of the times and the dreams that we had," she said. "I think it will speak to many people." ♦
© 2005