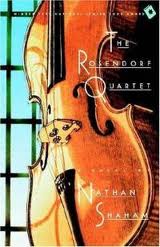 Israeli author Nathan Shaham, who gave separate English and Hebrew readings from his 1987 novel The Rosendorf Quartet in Toronto recently, is amazed that the book has become a bestseller, won prestigious literary prizes, and been translated into several languages, including Chinese and Russian.
"I never tried to have this book published abroad," said the Tel-Aviv-born writer, who has lived on Kibbutz Bet Alfa, south of Lake Kinneret, for nearly 50 of his 69 years. "I did nothing! It just happened. I thought I was writing a book for a very small audience. I can't understand why the Chinese are attracted to this book. You really can never tell when a book will be a bestseller."
Author of some 45 books, including 14 novels, essays, plays, short story anthologies and travel books, Shaham's latest novel describes the formation of a string quartet consisting of four German Jews in Palestine in the mid-1930s. The book is narrated by each of the four in turn, as well as by a fifth character, a writer who befriends the quartet and wants to write a novel about the interrelationships of its members. Critics have hailed the book as an "extraordinary literary fugue" and compared its author to such eminent figures as Thomas Mann, who possessed a similar preoccupation with and sensitivity to art and music.
The Rosendorf Quartet has won Israel's prestigious Bialik Prize for literature as well as the U.S. National Jewish Book Award of 1992, whose other recipients have included Saul Bellow, Isaac Bashevis Singer, Philip Roth and Cynthia Ozick. Shaham seems grateful for the attention, but he admits that he does not like prizes.
"I think you should work because you love it," he said. "If you're rewarded, the love loses some of its intensity. My feeling is that awards are good for judges of literature, not writers."
He likewise seems somewhat indifferent to the financial rewards that come with having penned a bestseller. "Living on Bet Alfa, I never had to think about the commercial side of my writing. I was lucky that I sell very well and the kibbutz is happy about the royalties. But maybe if I didn't sell so well, I'd be uneasy to see other people working so hard around me."

Shaham, who was Israel's cultural attache in New York for 3-1/2 years and is also the director of Sifriot Poalim Publishers, seems most interested in changing society for the better — and in writing more books. He said that he, along with Amos Oz and David Grossman and other Israeli writers, play a significant role in Israel's political development.
"We're all involved but, being older, I don't make too many statements," he said. "Even Amos Oz doesn't have to write articles — he can call Shimon Peres, and I can also call Shimon Peres. I think the influence of writers is tremendous in Israel. The present policy is what we've preached for so many years, either by writing or by talking to policy makers."
In a private interview before his readings, Shaham gave me exclusive information about his latest project. "You're one of the few people in the world who know what I'm writing now," he said. "I'm writing about one house in Tel-Aviv that was built in 1920, and about all the people who lived in the house and what happened to them over a period of almost 80 years. It's a survey of 10 or more families. The common denominator is not time or a person — it's a place, the house in Tel-Aviv where I was born."
Shaham said that he will have no difficulty keeping the plot interesting. "I don't have to imagine anything. If I follow the facts loyally, it will be a suspense story. But I have to cut out some of the facts because they're too unbelievable. Some coincidences can happen only in real life."
Shaham was again in Toronto shortly after his new book, Lev Tel Aviv (The Heart of Tel Aviv) began to climb Israel's bestseller lists. As before, Shaham seemed pleased by the critical attention he was receiving but altogether indifferent to the financial rewards that usually come with having penned a successful novel. All of his royalty cheques were going to Kibbutz Bet Alfa.
Lev Tel Aviv focuses on the rich history and personalities associated with several buildings in one city block of Tel Aviv, roughly defined by Yavneh, Ahad Ha'am and Karl Netter streets, from 1924 to the present. Many smaller stories are woven into the main plot, in which the sons of a famous local painter and a celebrated local writer attempt to save the buildings from demolition in order to establish a museum to honour their parents as Israeli cultural pioneers.
Having based the fiction on real life, Shaham said that he had no difficulty keeping the plot interesting, since the actual events were intriguing enough. "I didn't have to imagine anything," he said. "But I had to cut out some of the facts because they were too unbelievable. Some coincidences can happen only in real life."
Chairman of the literary department in the Israeli culture and art council, Shaham characterizes contemporary Israeli writing as a "co-existence of realism and surrealism and experimental literature."
He is currently working on another three novels involving his memories of many persons who, like himself, participated in the founding of the state. As a youth between 1943 and 1945, he was a liaison between the Stern and the Haganah, and interacted closely with Yitzhak Rabin, Moshe Dayan, Yigal Alon, Moshe Sneh, Chaim Barlev and others who have loomed large in Israeli political life and history.
"I still have some friends from that period," he said. "At one time we were enemies, but after so many years we have become friends . . . . But most of the close friends of my youth have died already, so I decided now I can write about them. I'm trying to write about political figures the way I knew them as people. Once they become historical figures, their personalities tend to disappear."
One political figure that Shaham has not yet warmed up to, however, is recently-elected Israeli Prime Minister Benjamin Netanyahu. How does he feel about the election results? "Bad," he said, after a moment's hesitation. "I want to believe that Netanyahu and his government will have to take the route to peace because there is no other way. That's all I'd like to say." (1996)
Nathan Shaham published Expect a Letter, a collection of stories, in 1999, and Rosendorf's Shadow, a novel, in 2001. ♦
© 1999