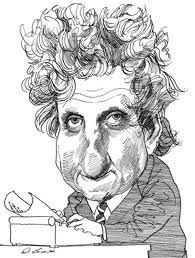 Like a latter-day prophet of Israel, the distinguished Jerusalem-born novelist A.B. Yehoshua utters a variety of lamentations — mostly of a political nature — and explains that "it is the task of the intellectual to say what he thinks."
His biggest lament seems centered around Israeli Prime Minister Benjamin Netanyahu, whom he accuses of poisoning the atmosphere of peace that had been building in the region: "The feeling was that we were creating a new climate with the Palestinians. I don't think he can destroy the Oslo agreement but he has contaminated it, just as he has contaminated the new relationship between Israel and the other Arab countries. I feel myself a total opponent to him. What can I say? I don't like him, it's that simple."
A fifth-generation Jerusalemite who now teaches literature at Haifa University, Yehoshua also laments the government's Har Homa housing project, seeing it as an unnecessary provocation. "We had a lot of land in West Jerusalem, so why did we have to go to East Jerusalem? The Arabs feel they've been losing land to the Jews for 120 years, and they're becoming more bitter and more hostile. Why contaminate the peace process for another generation by taking bits of land here and there?
"We know we can't annex all the territories because we can't create a binational state, and no one is thinking of giving civil rights to the Arabs. So why create something like South Africa? It's not correct, it's not the right way."
Yehoshua says he is part of an old school of Israeli Hebrew writers who regard it as a moral imperative to speak their minds. "There's a tradition dating from the very beginning of Zionism that writers were involved in the political discussions of the country," the 61-year-old author of six novels and numerous short stories told me during a recent visit to Toronto.
"My generation is the last one to speak up. The new writers are far more indifferent — they're tired of the politics and they want to remain in their little corners. This is not good because we still have many problems, and when intellectuals choose not to get involved, we lose certain voices that were respected by Israelis, even when they didn't agree with what was being said."
Perhaps his most well-known and critically acclaimed novel is Mr. Mani, which became the basis for the popular Israeli TV serial that was screened at Toronto's Jewish film festival last spring. The book, which Yehoshua has called "intergenerational psychoanalysis," covers six generations of Jewish history from 1848 to 1982 through the medium of five separate conversations that go backward chronologically.
Like much of Yehoshua's fiction, Mr. Mani uses a multiplicity of voices as it grapples with central issues of the Jewish nation: he tends to project the problems of the nation into the lives of his characters. Critics have dubbed him "Israel's Faulkner," in part because of his use of multiple voices, his treatment of history and myth, his gloom, and his recognition that the roots of the past are so thoroughly entwined around the present.
A theme that often emerges in his novels involves the splintering of an ideal: he is concerned with the fragmentation and disintegration of Israeli society, and the elusive unity of the Jewish people. "Do you realize how enormous the difference is between a totally secular and a religious Jew? They are farther apart in their points of view than a 'WASP' and an Asian immigrant in Canada."
His first novel, The Lover, reflects a deep disappointment with the implementation of the Zionist dream, while his second, A Late Divorce, examines questions about the Diaspora and presents an acutely-observed reflection of current social realities in Israel. His stories often highlight the tension between the native-born Israelis — "sabras" like Yehoshua — and the generation of Israelis who were born in Europe and fled Nazism.
Yehoshua's latest book in English is Open Heart, a story of adulterous love that stretches between Israel and India; it has received mixed reviews. In Israel, his most recent Hebrew title,Voyage To The End of The Millenium, appeared earlier this year. (It has not yet been translated into English.) An historical novel set in the 10th century, if it represents something of a departure for Yehoshua, it is still very much in keeping with his habit of exploring schisms within the Jewish world.
"This is a fascinating and obscure period that we don't know much about. The book describes encounters with Oriental Jews, Islamic Jews and Western Jews. Most Jews at the time were Islamic Jews. This was the time of the first split between the Ashkenazim and the Sephardim; I wanted to examine this split." In particular, the book examines attitudes around the practice of polygamy, of which the Sephardic world supposedly approved but the Ashkenazic world did not.
Writing in the language of the Bible — "a language that was dying at the beginning of the 19th century" — Yehoshua says he is proud to participate in Hebrew's historic renaissance. "I can say that Hebrew is a flexible, modern language, a rare example of a language that has been revived. It's a very antique language and this is its special charm. I would say that if the prophet Ezekiel came here and heard me speak Hebrew, he would understand me. English is only 900 years old, but I doubt you would be able to understand the language of William the Conquerer."
As he orchestrates a multiplicity of voices in his fiction, Yehoshua contends that Israel's social diversity "must be caught and understood by different voices, because Israeli reality has become a multi-voiced reality." One of a group of senior Israeli writers who habitually inject their voices into the national cacaphony, he declares: "My colleagues and I have been very much respected as a group. Not always do people agree with us, but they listen.
"There's a tradition in Israel of listening to the prophets, even if they are anti-government. I'm not saying we're prophets, but if you look at the prophets in the Bible, they were a kind of social critic. They were not speaking about theology, they were speaking about the state of the nation, about politics, about social justice, about foreign relationships. And they didn't hesitate to criticize the king." (1997)
* * *