"A staff shall grow out of the trunk of Jesse, and an offshoot shall flourish from its roots." — Isaiah 11:1.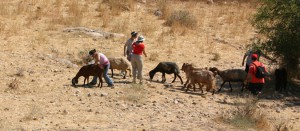 Multitudes of biblical and Talmudic-era plants grow at Neot Kedumim, a 625-acre nature reserve that was once so barren that its founder had to cart up topsoil from the valleys to cover the rocks and make the land fertile again.
Since 1965, when the Israel government offered Nogah Hareuveni this tract near Modi'in to make his dream of a Biblical nature reserve come true, he and others have built a wonderfully diverse pastoral landscape to teach visitors about the various roots, herbs, trees, plants, fruits, flowers and spices mentioned in the Bible and the Talmud.
On these rolling hills, which lie near Lod Airport almost midway between Tel Aviv and Jerusalem, one may better understand the meaning of the Biblical description of "a land dripping with milk and honey." Here, one finds all of the Biblical "seven species" — wheat, barley, vines, figs, pomegranates, olive oil and honey — and many many more.
"Neot Kedumim is one of the amazing stories of modern Israel of someone who had a vision and made it happen against great odds," says our guide, Beth Uval.
"Among other things, this is one of the best examples anywhere of restoration agriculture — bringing the land back to what it was in ancient times. We know that there was agriculture here in ancient times."
She plucks a handful of olives from a gnarled old tree. "No one ever ate an olive off the tree in ancient Israel. It tastes awful," she says. "Olives were valued for their oil, which was used for food, medical purposes and lighting. It was also used for anointing princes. The Hebrew word 'messiach' refers to the one who was anointed."
Nearby, new growth is sprouting from the dead and withered stump of an olive tree, and a sign refers to Isaiah 11:1 and to Psalm 128: "… your children shall be like olive shoots surrounding your table." Alongside each station in the reserve, similar signs highlight passages from the Bible and Talmud, as well as from the Christian Bible for Christian visitors.
A group of schoolchildren take turns rotating the handle of an Archimedes Screw, a device by which water is brought upwards from a pond. A sign carries the explanation of Rabbi Simeon ben Gamliel (Tosefa Mikvaot 4) that "water that is channeled into the mikvah by the Archimedes screw does not invalidate the mikvah because the water is not disconnected from its source."
We walk along a series of paths and in a relative short time pass date palms, grapevines, myrtle bushes, willows and a succession of plants and trees whose branches are laden with citrons, etrogs, sycamore figs and pomegranates. Even cedars native to Lebanon are being lovingly coaxed to rise up to the sky.
We encounter the schoolchildren again at a water-powered flour mill where, amidst much levity, they grind wheat into flour that they will then bake into delicious pita-bread. Soon we retire to a simple Biblical lunch, where Beth explains that we've only seen a small part of the whole and invites us to return.
"Neot" means pastures or places of beauty and "Kedumim" means ancient but also suggests the forward movement of time, she tells us.
"There are lots of nature reserves in Israel, and thousands of places where people study the Biblical texts, but this is the only place where the two come together."
An independent, nonprofit educational institution, Neot Kedumim also features a cistern, threshing floor, winepress, Torah scribe demonstration, Biblical breakfasts and lunches, two large amphitheatres, herds of sheeps and goats, a shepherd's tent and a well-stocked gift shop. Displays on the various Jewish holidays are presented in season.
Website www.neot-kedumim.org.il ♦
© 2004