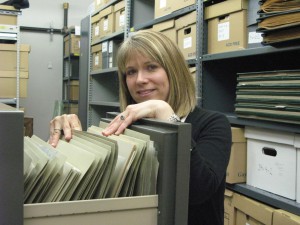 It is perhaps fitting that Dara Solomon began her new job as director of the Ontario Jewish Archives at the beginning of May [2012], which has been designated Jewish Heritage Month in Ontario.
Not only does the experienced museum curator bring a new face to the Archives, but she is also intent on setting up a new Facebook page for the important but still fairly low-profile institution located in the Lipa Green Centre on Bathurst Street.
Solomon, a native Torontonian who returned here this spring after an absence of 13 years, was most recently employed as curator of the Contemporary Jewish Museum in San Francisco. In her six years at the Museum, Solomon developed numerous impressive exhibitions, aided by an annual exhibition budget of $1.5 million. One of the things she enjoyed most was "helping the community tell their narratives," and she plans on helping Toronto's Jews tell their community-related stories as well. (Of course, her budget here will be only a miniscule fraction of what it was in San Francisco.)
"I was drawn to this job because the Archives has this incredible collection of documents and artifacts but hasn't really had a very public face," she said. "Lots of historians come and use the Archives but nobody really knows what's here. The opportunity to make that material much more accessible and to tell those stories really excited me."
An alumnus of Bialik Hebrew Day School, Solomon has a good working knowledge of Hebrew and can read some Yiddish. She achieved an Honours BA in art history and religion from the University of Toronto in 1997, then an MA in arts administration from the School of the Art Institute of Chicago. She is married with a 2-1/2-year-old daughter.
Her family saga seems thoroughly woven into our community's past. Her mother was part of the Kokotow family from Kirkland Lake; her maternal grandfather was a bottler of Coca-Cola in that northern Ontario town. On the other side of her family, her grandfather Solomon was one of five brothers in the trash business in Toronto and her grandmother was part of Toronto's well-known Grafstein family.
On the Archives's soon-to-be-implemented Facebook page, Solomon plans to tell the story of one or more objects from the archival collection each week, hoping to spur interest, discussion and memories. "The great thing about social media is the conversation that it starts, so hopefully people will start adding to the stories online," she said.
She has already started researching an exhibit on landsmanschaft societies that the UJA Federation of Greater Toronto plans for the so-called "Bridge of Hope" between the Lipa Green Centre and the Holocaust Museum being developed in the neighbouring Prosserman JCC. She is also keen on inviting artists to do projects with the Archives, for instance rephotographing old synagogues that may have been previously photographed half a century ago. "You can tell a whole new story by having these two elements juxtaposed together," she said.
Perhaps most important from the client point of view, she wants to put sections of the Archives' catalogue on the internet so that researchers may access it remotely. "It's definitely a priority. I think that all these stories I want to tell, you can't tell them without imagery. And I think that putting that online is where you're going to get lots of people involved."
Founded in 1973, the Ontario Jewish Archives has had only three directors in its nearly 40 years of institutional life. The founding director was the late Stephen Speisman, whose strength, according to Brooky Robins, chair of the Archives' nine-person board, was in "collection and acquistion."
Its second director was Ellen Scheinberg, who arrived in 2002. Scheinberg oversaw computerization of a large part of the Archives' 5,000 cubic feet of textual records, digitalization of many of its 50,000 photographs, and compilation of several virtual exhibits.
"Now we're at another level, where we want to do more outreach and more exhibits," Robins said.
A department of the UJA Federation of Greater Toronto, the Archives was without a director for nearly a year and a half while the board searched for the right person. "It's been very difficult to find someone with the credentials that we were looking for, "Robins added. "So we waited and waited, and we heard about Dara and we brought her in a number of times to interview her. She had everything that we wanted." ♦
© 2012