From the Canadian Jewish News, April 1992
After an eighteen-year battle with leukemia, Barbara Frum died March 26, 1992 at the age of 54. The well-known broadcaster was rushed to the hospital after an interview with Mordecai Richler on March 10, suffering a high fever. She died of complications from leukemia.
Tributes to the polite but probing interviewer included one from Prime Minister Brian Mulroney.
She battled gamely against cancer, often having to lie down between interviews. When she had series of radiation treatments at Princess Margaret Hospital two summers ago, others patients and visitors approached her for autographs and she always obliged.
She told an interviewer in 1989, when the intifada was on the front pages, that no matter how many complaints the CBC received that she was a propagandist for Israel, or how many phone calls she got at home from Jews asking how she could be so friendly to Arabs, she was convinced she was even-handed in her handling of the story.
The girl who grew up in Niagara Falls, Ontario, the daughter of Florence and Harold Rosberg, and who attended Hebrew classes there, went on the become one of Canada's best-known journalists and broadcasters.
When The journal went on the air for the first time January 11, 1982, no one could find Frum after the broadcast which she hosted. "Finally someone discovered her in a corner, talking to her mother," said Peter Herrndorf, now chair of TV Ontario. "She didn't want to do anything until she had a full postmortem report from her mother, who told her 'it wasn't a bad effort for a first show.'"
Her mother, Florence, of Toronto, was her guide and mentor. Also surviving are her husband, Dr. Murray Frum, a dentist and now a real estate developer; three children, David, an editor with The Wall Street Journal, New York; Linda, a journalist, author of A Guide to Canadian Universities, Toronto; and Matthew, Vancouver; one granddaughter, Miranda, New York; a sister, Suzy Okun, Toronto; and a brother, Gerald Rosberg, Washington. Her father died in 1989.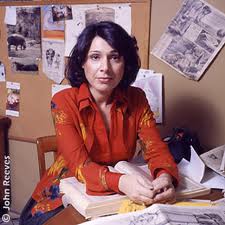 After Frum discovered she had leukemia in 1974, her style of interviewing changed so that she went "right to the heart of things," according to author June Callwood. "She had no time for nonsense."
Callwood said Frum was an expert gardener, and in later years would buy and plant only those species that would bloom immediately, because she knew she had a limited time.
Herrndorf, a former CBC executive, said Frum phoned every one of her close associates one Saturday morning to tell them she had cancer.
She fired the doctor who told her that she had only two years to live, writer Robert Fulford said on the CBC Morningside radio program. Instead, Fulford said, she found one who gave her ten to twelve years.
Herrndorf and political activist Gerald Caplan recounted how Frum used her own money to help colleagues out of difficulty, disguising the help in a way so they would not know it came from her.
Frum was nineteen when she married Murray Frum in 1957, and started freelancing for newspapers and magazines after becoming a housewife. That led to her becoming a host of CBC Radio's As It Happens from 1971 to 1982.
Once asked if she interviewed people as a journalist or a Jew, Frum replied that she had a professional life and a private life, and she kept them separate. ♦
© 2012 by the Rose Family; used by permission.