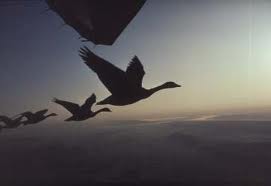 Bill Carrick, a Toronto-area naturalist and wildlife photographer who coaxed beavers, ducks, fish, geese, polar bears and other animals into acting naturally in front of the camera, has died after an accidental fall on the rural property he rented in northeastern Scarborough, Ont. along the Pickering town line. He was 81 years old.
* William Henesey Carrick, naturalist and wildlife photographer; born Nov. 14, 1920 in Toronto; died Oct. 7, 2002, Toronto.
An award-winning nature cinematographer whose short NFB film World In A Marsh (1956) set new standards for nature films and was televised around the world, Mr. Carrick became known as a skilled animal wrangler who could tame, train and otherwise prepare a wide range of species for work in film and television.
To many, the slight, unassuming naturalist seemed more at home around animals than with people; he literally made them part of his family. He proved a doting parent to generations of geese who followed him around as though he was their father, and at various times took polar bear cubs, beavers and other animals into his home.
He was the first to discover that geese that had lost the migratory instinct could be trained to fly south in autumn alongside an ultralight aircraft, a phenomenon that inspired the popular 1995 movie Fly Away Home.
Limber and energetic even as an octogenarian, he had been planning to retire to write his memoirs. He was dismantling a film set in his barn-studio when he fell from a lighting grid on Oct. 2. He died in Toronto's Sunnybrook Hospital five days later.
Author Farley Mowat, who met him through a bird-watching club in the late 1940s, still expresses regret that a lack of funding prevented him from joining the tundra adventure that was the basis of his celebrated book, People of the Deer.
"I thought then and I think now that he was one of the most significant people in the business of wildlife photography, and continued to be throughout his life," Mr. Mowat said.
Born in Toronto in 1920, Bill Carrick grew up near Monarch Park, where he often went birdwatching as a boy; he also belonged to a camera club. He attended Northern Vocational School, trained as a machinist as his father had done and enlisted in the RCAF at 19.
Stationed in Newfoundland, he was part of a party sent to salvage a wrecked plane in Labrador; marooned for nine days because of high seas, they survived on a diet of wild jackrabbits. While in the Air Force he trained as a pilot but never got to fly, and designed a bomb hoist for aircraft that remained in long use.
Resuming civilian life, he studied biology at the University of Toronto for a year, then took a job as a photographer for Ducks Unlimited in Manitoba. In 1949, he filmed the pheasant hunt on Pelee Island for a television show. Its huge success prompted its sponsor, Carling Breweries, to commission him to make more films on sporting subjects.
Other prize assignments followed, including several waterfowl documentaries for Ducks Unlimited and a series on the Birds of Canada for the National Film Board of Canada. White Wilderness, a prestigious Disney production shot on northern Hudson Bay, brought him into close contact with polar bears, walruses, ringed seals and narwhals.
"His main strength was that he was very innovative and he used the camera extremely well," said Michael Spencer, a retired NFB film producer. "I think his extraordinary patience was one of the most amazing things about him. He would sit for hours in a blind, sometimes in a very uncomfortable position, waiting for a bird to return to its nest. You can't direct that kind of action, you have to wait for it to happen."
For World In A Marsh, he built an underwater housing for the camera and used the wheels and handle of an old gramophone to roll it along a track from a boat to the water. Sound engineers ventured into the marsh on rafts to record bird songs and other noises, which was then considered a pioneering technique.
Although he always strived for authenticity on the screen, he once faked a sequence depicting the tragic natural spectacle of lemmings committing mass suicide.
Since the production was based in southern Alberta, far from the lemming's arctic habitat, he had only a few dozen of the furry rodents at his disposal. To magnify their number, he filmed them pouring forth in profusion as they ran along a large circular track; then showed them disappearing beyond a sharp rise to create the illusion that they were rushing over a cliff. For a parting shot, he dumped some dead lemmings into the water and showed them bobbing pathetically below a cliff, apparently drifting out to sea. The deception worked brilliantly.
In the early 1970s he and his wife brought a bevy of young beavers in their home for a proposed movie about the legendary Canadian outdoorsman Grey Owl: not surprisingly, their toothy houseguests chewed the kitchen woodwork to bits. From then on he always kept a supply of Canada's favourite mascot on hand: his beaver shows were in great demand, especially on Canada Day. When Grey Owl was finally made in 1998, he supplied the baby beavers that played opposite actor Pierce Brosnan.
He had equally cordial relations with geese. Knowing that newly-hatched goslings form a bond of dependency with the first living creature they encounter, he imprinted generations of geese upon himself. Then he rigged up a wind tunnel using car motors so that the geese could be photographed in apparent soaring flight from only inches away.
After the birds had become acclimatized to engine noise, he trained them to fly behind his speedboat on Lake Scugog, which, in turn, led to the realization that they could be trained to fly with an ultralight aircraft. Bill Lishman, an Ontario environmentalist and ultralight pilot, later escorted several gaggles from Canada to wintering grounds in the southern United States, as highlighted in Fly Away Home. Mr. Carrick, who also flew an ultralight, supplied the geese and was an integral consultant during the film's production.
Over the last decade he had attempted to apply the same induced-migration technique to trumpeter swans, but the province effectively clipped his wings by canceling his permit to keep waterfowl on his property. He soon regained the permit and continued to work on efforts to restore the trumpeter swan and the sandhill crane into areas of their former habitat in southern Ontario.
From 1963 to 1972 he designed and managed the Cortwright Waterfowl Park in Guelph, Ont. and later helped organize the African compounds of the Metro Toronto Zoo. He also worked on several IMAX productions and provided footage for shows such as the Audubon Wildlife Theatre and Lorne Greene's New Wilderness. His cinematic awards include a 1960 American Film Festival Blue Ribbon Award for World In A Marsh.
He was married in 1954 to Mary Hearst, a biologist who worked closely with him; although they separated 20 years ago, she resumed helping him with his animals about six years ago. He also leaves son James, daughter Jean Jess, and sisters Bernice in Toronto and Beverley Carrick-Sanderson in Champagne, Ill. ♦
Originally published in The Globe and Mail. © 2002, 2012.