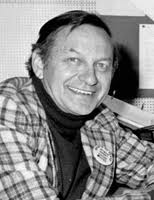 Frank Shuster, the straight man in the legendary comedy team of Wayne and Shuster, has died in Toronto's Mount Sinai Hospital of pneumonia at the age of 85.
He and his partner Johnny Wayne, who died in 1990, performed as a comic duo for 56 continuous years since first teaming up together for some comic skits at Toronto's Harbord Collegiate. They performed more skits at the University of Toronto, where they both studied English literature.
They began broadcasting with CBC Radio in 1941 and entertained Allied troops overseas during the Second World War. "We had the distinction of being the only military unit in WWII that was fired on deliberately by all sides," Wayne once quipped.
They made their debut on American television in 1958 and performed a record 67 times on the Ed Sullivan Show, drawing some of the show's best ratings. They also appeared frequently on the BBC and developed a solid European following.
Born Toronto Sept. 5, 1916. Died Toronto Jan. 13, 2002
Dubbed by the New York Times as "the harbingers of literate slapstick," the comic duo often mined Shakespeare's works for laughs.
Their first skit on the Sullivan show, titled Rinse the Blood Off My Toga, was one of their most popular. In it Shuster played Brutus and Wayne played Flavius Maximus, a Roman private eye attempting to solve the assassination of Julius Caesar.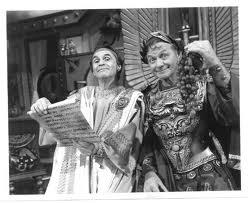 At one point the detective asked for a "martinus" from the bartender, who asked: "Don't you mean martini?"
"If I want two, I'll ask for two," the gumshoe replied.
Another skit involved the "Stratford Nine," a spoof of a Shakespearean baseball team that contained lines like "O, what a rogue and bush league slob am I, who has 10 days gone hitless."
Despite pleas from entertainment executives that they move to Los Angeles or New York, both comics stayed in Toronto, and worked together until Wayne's death. Over the last decade CBC-TV has replayed some of their best televised material on hour-long specials that Shuster edited. He became an officer of the Order of Canada in 1997.
He leaves Ruth, his wife of 50 years, as well as children Rosalind and Stephen, who have kept the comic tradition in the family. Rosalind won two Emmy Awards for her comic writing on NBC's Saturday Night Live, and was formerly married to Lorne Michaels, that show's founding producer. Stephen works as a stand up comedian, TV writer and musician. Frank Shuster is also survived by two sisters, Rose Kirsh and Geraldine Leder. A memorial service was held at Toronto's Holy Blossom Temple. ♦
© 2002