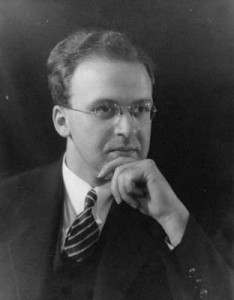 Eric Armour Beecroft, a Toronto-born political economist who worked for the U.S. Roosevelt administration during the Second World War and helped establish the World Bank, has died (2001) in Toronto of pneumonia. He was 98.
Through a diverse and illustrious career that stretched from the 1920s through the 1970s, Prof. Beecroft held professorships at universities in Ontario and California, became an esteemed urban planner, and knew many famous people, such as Lester Pearson and Charlie Chaplin.
A specialist in urban planning, he was an international authority on the structure of local government as it affected urban planning issues. In the 1950s and 1960s, he headed two national organizations in Ottawa, the Community Planning Association of Canada and the Canadian Federation of Mayors and Municipalities.
He became a professor of political science at the University of Western Ontario in 1965 and retired as professor emeritus in 1976. Even so, his public influence continues: his study of provincial-local relations affecting water resources was cited in the report of Ontario's Walkerton inquiry.
"The one theme that runs through my father's life, he was always trying to make the world a better place," said his son, Doug Beecroft, a lawyer for Queen's Park.
Born in Toronto's Parkdale neighbourhood in 1903, Prof. Beecroft attended Queen Victoria Public School and Parkdale Collegiate. His father, Frank Beecroft, had helped establish Eaton's lucrative mail-order catalogue in the 1890s. The family later moved to Whitby, Ont.
He attended the University of Toronto, where he was elected president of Victoria College and the student council. While there he became friends with Lester Pearson, the future prime minister, who was then a university lecturer; he and Pearson exchanged letters until the latter's death. He was also friends with Paul Martin Sr., father of the Canadian finance minister.
A brilliant student, he won a scholarship to study for one year at the prestigious Brookings Institute in Washington DC; the next year he received competing scholarship offers from Harvard and Yale. "He always joked that he picked Yale because they offered him $50 more," said his son. One of his professors at Yale was Felix Frankfurter, later a jurist on the US Supreme Court.
Hired by the University of California in Los Angeles and then Berkeley, he became active in the labour and social movements of the 1930s. Wary of the dark clouds gathering over Europe, he joined a Hollywood Anti-Nazi League and met Chaplin.
"From the stories my father told, Chaplin believed passionately that something had to be done to stop Hitler, but he wasn't an intellectual," Doug Beecroft recounted. When the professor invited the film star to dine at his house with various friends and their families, the latter played tiddlywinks with the children on the living-room floor as the others discussed politics.
While at Berkeley Prof. Beecroft also encountered Robert Oppenheimer, the physicist, and "thought it ironic that he would always be regarded as the father of the atomic bomb because he was such a peace-loving person."
Having thoroughly studied India's government, he went to India for the US government during the Second World War. He was responsible for ensuring that crucial Allied supply lines remained open in India, Ceylon (Sri Lanka) and Afghanistan.
At war's end, as special assistant to the US Secretary of the Interior, he went to Hawaii to study its government in preparation for possible statehood. Then he did the same for Micronesia, the scattered and war-scarred Pacific islands, to help determine their political future.
In 1947 he became a loan officer for the new International Bank for Reconstruction and Development, a precursor to the World Bank, because "he wanted very much to help Third World countries get on their feet economically." While engaged on bank missions in Asia and Africa, he met Indian Prime Minister Nehru and Ethiopian Emperor Haile Salassie. In 1952 he married Ann Granger, an American employee of the World Bank. They returned to Canada in 1954.
Friends and associates remember Prof. Beecroft as a serious-minded Edwardian gentleman who was an outspoken foe of traffic congestion and urban sprawl, and as an old-fashioned believer in the power of well-founded governments to solve urban ills.
"He had great faith, back in the 1960s and 1970s, in the ability of governments to fix problems and make our communities better places to live in," said Andrew Sancton, chair of Western's political science department. "This is not a particularly widely held view today. Today many people have a distrust of government, but Eric Beecroft's view was just the opposite."
His niece, Jane Beecroft, a Toronto heritage activist, recalled that he "spoke in diplomatic tones and belonged to the era of Dean Acheson and other fine world diplomats. They were a great breed of men and we don't any of them left any more."
Eric Armour Beecroft is survived by his son, Doug, and brother Julian. His wife, Ann, died about three years ago. ♦
Originally appeared in the Globe and Mail, © 2001.