Jerry Goodis, one of Canada's most famous advertising personalities and a founding member of The Travellers, perhaps Canada's most well-known folk music group, died of cancer Nov. 8 (2002) in Chilliwack, B.C., at age 73.
The son of a Toronto tailor who became a union organizer in the needle trade, Goodis was active in the youth division of United Jewish Peoples' Order (UJPO) and served for a period as its president.
He was also in a UJPO folksinging group that later became The Travellers.
Jerry Gray, a member of the original group, recalled that in The Travellers' early years, the group's Yiddish song program was presented at many Jewish organizations and at the University of Toronto's Hillel House.
Later, the group became known nationwide. Among its best-known hits was a Canadian version of the Woody Guthrie song This Land is Your Land, for which Goodis helped rewrite the lyrics.
"Jerry was a dominant personality and used his wiles in selling songs from the stage and for his advertising ideas in the marketplace," Gray said.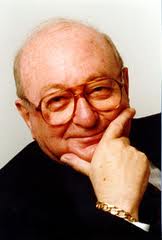 Goodis studied commercial art at Toronto's Central Technical School and founded a successful ad agency, Goodis, Goldberg, Soren, in 1961. The agency became known for its creative and innovative ad campaigns and through to the mid-1980s, after leaving the band, Goodis fronted a number of agencies and became the most famous ad executive in Canada.
In the early 1970s, he also wrote a bestselling book titled Have I Ever Lied to You Before?
He became an advisor to the Trudeau government in the 1970s.
"Jerry was a proud Canadian and proud of his left-wing Jewish upbringing," Gray said.
After living most of his life in Ontario, Goodis moved to Harrison Hot Springs, B.C., last year.
He is survived by his wife Joyce Seidel-Goodis, children Leslie, David and Noah, and four grandsons. ♦
This article first appeared in the Canadian Jewish News and appears here courtesy of its author. © 2002 by Cynthia Gasner.