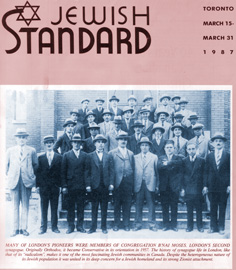 Julius Hayman, publisher and editor of the Jewish Standard for 63 years, died in his apartment on Bathurst Street, Sunday, March 5, 2000. He was 92 years old.
"He died at his desk, working as usual," said his son, Michael, who learned of his father's death while he was on holiday in Cairo with his wife, after they had attended a Jewish media conference in Israel.
The funeral service, held at Benjamin's Park Memorial Chapel March 10, had to be delayed until Michael returned to Toronto. Burial was in Beth Tzedec cemetery.
Prior to his death, Julius Hayman was still working for the Standard, writing the occasional editorial and the column, World in Review, under the nom de plume of Joel Lightstone.
"At 92, he was just learning to use a computer," his son said.
Born in Calder, Saskatchewan, Hayman was one of four brothers and a sister who worked in his grandfather's store in the town.
Only one brother, Ben, 95, who lived with Julius, is still alive. But it was only this year that their brother Max, who was 91, died in California. Another brother, Leo, died 10 years ago. A sister, Pearl Kassler, also predeceased Hayman in Los Angeles.
Although he graduated in law from the University of Manitoba, Hayman never practiced, opting instead for journalism, beginning with his interest in the university's publication, The Manitoban.
"He followed my mother, Sophie Freedman, to Toronto, (she predeceased him in 1991) and began working for the Standard, buying it in 1937," Michael said.
As president of the Zionist Organization of Canada, Hayman made more that 1,000 speeches in 30 years to raise funds for Zionist causes. He particularly liked to speak to Jewish groups in small communities.
"My father would like to be remembered as a person who promoted independent Anglo-Jewish journalism without benefit of any government or other grants," Michael said.
"He was fairly hawkish in his editorials as far as Israel is concerned, but he always said that matters of security should be decided by Israelis alone. On other matters, such as the Law of Return, he felt it was legitimate for those outside of Israel to express opinions."
He was the first Jew to sit on the Ontario Multicultural Committee.
Surviving Hayman are his son, Michael, and daughter-in-law, Patricia. ♦
This article appeared originally the Canadian Jewish News and appears here courtesy of the author's family. © 2000 by the family of the late Ben Rose.