CITY JEWRY MOURNS AT RITES OF LEADER
Louis Levinsky, Prominent Philanthropist, Dies in His 71st Year.
From the Toronto Star, January 4, 1932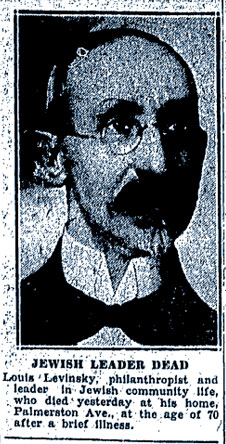 Death came yesterday morning at his home, 35 Palmerston Blvd., to Louis Levinsky, philanthropist and early leader of Toronto Jewish organizations.
Having come to Toronto more than 50 years ago, when the city contained only about 35 Jewish families, Mr. Levinsky became a leader of his people, and up to the time of his death, in his 71st year, exerted a wide influence.
"Seldom does one find a man in business so devoted to communal life," said Rabbi Jacob Gordon at the funeral services held today from his late home. "Mr. Levinsky was a real orthodox Jew, broad-minded, good-natured, philanthropic and known all over the United States and Canada."
Rabbi Samuel Sachs, a personal friend of Mr. Levinsky, who also officiated at the services, voiced the general regret of the Jewish community in his loss.
After a private service at the home, the remains were taken to Talmud Torah school, thence to Goel Tzedec synagogue, where a public service was held, following which interment was made in Goel Tzedec burial ground, Jones Avenue.
Pallbearers were Isaac Brodey, M. Gelber, E. Pullan, A. Harris and M. Claver, and many floral tributes were received by the family from organizations and business and personal friends. Immediate relatives present at the service included Mr. Levinsky's widow, formerly Dora Gurofsky; a daughter, Mrs. Joshua Smith, and his four sons, Joseph, Alex., Jack and Abraham, all of Toronto.
A leader of the Canadian Zionist movement and one of the most active workers in the establishment of a Talmud Torah in the city as a centre of Jewish education, he was also a founder of the Goel Tzedec synagogue on University Avenue, first organized Jewish place of worship in the city (sic).
Louis Levinsky was born in Poland in 1862, son of the late Alexander and Gertrude Levinsky. He was married in 1881 to Dora Gurofsky, who survives him.
Coming to Toronto at the age of 20, he was a clerk in a merchandising house. He soon established a business on Front street, which was swept away in the fire of 1904. Beginning again as a junior partner of the Cooper Cap Co., he became senior partner. For the past six years, he had lived retired. ♦
* * *
◊ Here is an obit for another member of the Levinsky family — Dora, wife of the late David Levinsky (not to be confused with Dora, wife of Louis Levinsky). 
Mrs. D. Levinsky is Laid to Rest
Was Oldest Hebrew Resident — Never Spoke Harsh Word 
From the Toronto Star, August 10, 1934
The funeral of the oldest Hebrew resident of Toronto, Mrs. Dora Levinsky, was held today at the Goel Tzedec synagogue, University Avenue.
The mother of Mrs. Joshua Smith, well-known Toronto artists, Mrs. Levinsky was known as a "true mother of Israel" and it was said of her that she never spoke a harsh word to any member of her family.
Mrs. Levinsky was the prime mover in the building of the synagogue from which she was buried. Her final resting place was in the Goel Tzedec burial grounds, Jones Avenue.
A resident of Toronto for over 55 years, Mrs. Levinsky passed away on her 74th birthday. She was the wife of the later David Levinsky, merchant. ♦
◊ Below, the Levinsky and Gurofsky families in the Toronto census of 1901; and a border crossing record from 1918, showing that Louis Levinsky was born in Suwalki and landed in New York aboard the SS Cambria in January 1881.