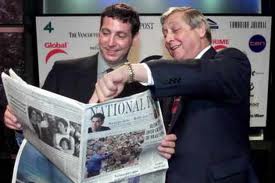 Israel "Izzy" Asper, the Winnipeg-based media mogul who turned a single television station into an international communications empire worth more than a billion dollars, died in Winnipeg on October 7, 2003 at the age of 71.
The founder and chairman of the CanWest Global media empire, which operated a third national TV network and published 11 major metro daily newspapers across Canada, is being remembered for his extraordinary philanthropy — he reportedly gave away more than $100 million in the last four years alone — and for his outspoken and unstinting support of Israel.
Although the company did not release a cause of death, unconfirmed media reports specified a heart attack. He leaves his wife Ruth (Babs), sons David and Leonard, and daughter Gail.
His passing has triggered a flood of tributes, including one from Prime Minister Jean Chretien, who spent an hour with him only days before he died. "He was a great Canadian," Chretien said. An officer of the Order of Canada, Asper held dozens of other awards and many honorary degrees, including a doctorate from the Hebrew University of Jerusalem after he established an entrepreneurial center there. He had served on its international board of governors for more than two decades. He was also a generous supporter of Yad Vashem.
A former member of the Manitoban Parliament and a leader of the provincial Liberal party in the early 1970s, Asper remained deeply attached to his native province and its capital, Winnipeg. His charitable gifts to the city include an arts center, park, theater, multi-media classroom, business school at the University of Manitoba and a research institute at St. Boniface Hospital.
He built the Asper Jewish Community Campus, a multi-million dollar facility for the Jews of Winnipeg. And earlier this year he announced plans for a $270-million facility, the Canadian Museum for Human Rights, to be built in a prime section of Winnipeg's historic riverfront.
"He was a generous supporter of Jewish causes but his philanthropic activities stretched far and wide in support of many charitable organizations beyond the Jewish community," observed Keith Landy, national president of the Canadian Jewish Congress.
When Asper started his charitable foundation 20 years ago, he told his children to think of it as a fourth sibling, because it was going to be an important part of their lives. Although he turned over much of his business involvement to his children in recent years, he stayed closely involved with the foundation. "Other than my family, the Asper Foundation gives me the greatest pleasure in life," he said earlier this year. "When you take a look at what's real in life, and you take away the games and challenges, you see what's really important."
The son of Ukrainian Jews who fled the pogroms of the WWI era, Israel Harold Asper was born in Minnedosa, Manitoba in 1932, the youngest of three siblings whose parents ran a local movie theatre.
Called to the Manitoba bar in 1957, he had a five-year career in provincial politics, then founded his company in 1977 by purchasing a North Dakota television station and moving it to Winnipeg. Today the company operates networks and stations in Australia, New Zealand and Ireland in addition to the 11-station CanWest Global network in Canada. It also has various media holdings in Britain and the United States. In 2000 the company made a bold foray into print with the $3.2-billion purchase of the Southam newspaper group and other properties from Conrad Black's Hollinger Inc.
An articulate and energetic defender of Israel, Asper penned articles and gave speeches supportive of Israel and critical of Arab intolerance towards the Jewish state. He led a delegation of Winnipeggers to Israel last year at the height of the intifadah. "I think Canadians should show solidarity with a very beleaguered people," he said before the trip.
Jewish officials joined many other Canadians in paying tribute to Asper and offering condolences to his grieving family. "Mr. Asper's death leaves an enormous void in the Canadian Jewish community," said Simon Fogel, CEO of the Canada-Israel Committee. "We know that Izzy's incredible commitment to Canada, the Jewish state and the Jewish people will serve as an inspiration to future generations." ♦
© 2003