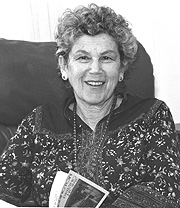 To the many friends and critics who feel that Canadian-Jewish poet and writer Miriam Waddington did not get the recognition she deserved in life, her recent death in Vancouver seems especially sad and ironic because it occurred only weeks before she would have gained what may very well be her largest popular reading audience and her most widely-circulated stanza of poetry.
Among a multitude of other poems, she is the author of the poem "Jacques Cartier in Toronto," which has been excerpted on the back of the new $100 bill due to go into general circulation later this month.
Waddington, who died on March 3 at the age of 86, is remembered for her varied and wide-ranging literary output that includes nearly a dozen volumes of poetry, critical studies of A.M. Klein and other writers, short stories, translations of Yiddish storiesand poems into English, and a series of semi-autobiographical essays on literature and life published under the title Apartment Seven.
"Her writing is what she would want us to remember — or better still, to read, and read again," William Toye, her long-time editor at the Toronto office of the Oxford University Press, was to have said at a memorial service scheduled for last Saturday in Vancouver.
Born in 1917 to Russian-Jewish parents who arrived in Winnipeg before WWI, Miriam Dworkin grew up in the city's immigrant north end in a home in which only Yiddish was allowed to be spoken, and in which a formidable portrait of writer Y.L. Peretz looked down at the family from the dining-room wall. She was raised in a secular, socialist milieu filled with lively dinners, meetings, lectures, picnics, outings and other social events.
Educated in Yiddish at the local Peretz school, she developed an enduring affection for the works of Sholom Aleichem and other Yiddish writers and poets, some of whom she would later translated into English. "I could have found my way around Kasrilevke blindfolded and I readily identified with Sholom Aleichem's juvenile heroes," she would write.
When she was 12, the family moved to Ottawa and made new connections with like-minded Jews in Ottawa and in nearby Montreal. The budding young poet was soon introduced into the salon of Yiddish poet Ida Maza and an effervescent sphere of writers, artists and socialist thinkers.
She attained a B.A. in English from the University of Toronto in 1939 and an M.A. in social work from the University of Pennsylvania. She and her new husband, Patrick Waddington, then settled in Toronto, where she took a job in social work and immersed herself in the city's literary circles.
Moving to Montreal about 1945, she was drawn into the heart of what Ruth Panofsky, associate director of Com-Cult at Ryerson University, describes as "the cultural flowering that took place in Montreal in the 1940s."
According to Panofsky, who studied with and became a close friend to Waddington, "She was at the centre of that movement but she's been forgotten because she was participating beside Irving Layton, Louis Dudek and others. . . ."
A first volume of poems, Green World, appeared in 1945. Others would include The Second Silence (1955), The Season's Lovers (1958), The Glass Trumpet (1966), Say Yes (1969), The Price of Gold (1976), Mister Never (1978), The Visitants (1981) and The Last Landscape (1992).
A divorced and single mother of two sons, Waddington returned to Toronto and joined York University's English department in 1964, where she taught a trailblazing course dealing with the social voice in Canadian writing.
In 1970 she published a scholarly book on A. M. Klein and edited an anthology of his poems that appeared two years after his death, in 1974. Many regard her as a pioneer in the burgeoning field of Klein studies.
Her book "was the first really important book on Klein," according to Trent University Professor and Klein scholar, Zailig Pollock.
"She tended to see Klein from her own very particular point of view and to emphasize the secular-reformist quality of Klein rather than the orthodox aspect of his work. She tended to see him much more as a secular enlightened Jew rather than an upholder of orthodoxy.
"Not everybody agreed with this view, but she presented it very elegantly and compellingly, and she had a real influence on people's view of Klein and his place in Canadian literature."
Retiring from York in 1983, Waddington edited Canadian Jewish Short Stories, an anthology published by Oxford in 1990. Within a few years she moved to Vancouver to be near her son Jonathan. She soon joined a Yiddish reading group and remained active in it until only last December.
Three years ago, she was honoured at a large tribute dinner organized by Richard Menkis, a member of the Association of Canadian Jewish Studies, and held in Vancouver's Beth Israel synagogue.
"We decided to honour Miriam for her contribution to Canadian Jewish life," Menkis, an associate professor at UBC, recalled. "We wanted to celebrate her contribution as a poet. She dealt with a wide variety of themes, including some that were explicitly Jewish. She was a unique and wonderful and powerful voice."
While even her friends acknowledge she could be strongly opinionated at times, most saw through her ironic veneer to the heart of gold that lay beneath.
"She was lovable, bubbly, adorable and just delightful," said her longtime friend, Frances Blugerman of Toronto. "She was a wonderful hostess, a great cook, and a very warm and devoted friend to hundreds of people, if that's possible."
A recipient of the J.J. Segal award in 1972, she published a short story collection, Summer at Lonely Beach, and contributed articles and reviews to Canadian Forum, the Globe and Mail and many other publications.
She leaves son Jonathan in Vancouver and son Marcus in Nova Scotia. She also leaves nearly 11 linear metres of her papers and other materials in the custody of the National Archives of Canada.
"She's part of the canon of Canadian poets, and in a week or two, one of her poems will be on the Canadian $100 bill," Menkis remarked. "Still, it would have been nice to see her get wider recognition." (2004)
* * *