Based on article from the Canadian Jewish News, Sept. 20, 1984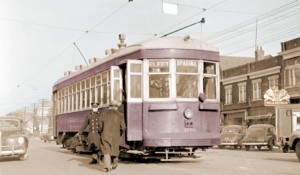 Sam Shopsowitz, the pastrami and hot dog king whose Shopsy's deli on Spadina at Dundas was a city landmark for more than half a century, died last week of a heart attack at age sixty-three. His wife Lillian, also sixty-three, predeceased him by only three weeks.
Shopsowitz was widely known for purchasing, with his brother Izzy, the British-based Cecil Roth collection of Judaic artifacts for the a museum in Beth Tzedec Synagogue at a reported price of about $70,000.
He was a frustrated musician known in show-business and charity circles as a "big man with a big heart." Friends who attended his funeral at Beth Tzedec remembered him as a jovial, generous philanthropist who weighed 260 pounds at his peak.
As former chief barker of Toronto Variety Club, he contributed generously to its camp for handicapped children and other worthy causes.
"We were very, very close growing up at the old store on Spadina," said his brother Israel, recalling the eighteen-seat ice cream parlour that their parents, Harry and Jenny, from Poland, opened in 1921 in the heart of Toronto's needle trade district.
Both brothers attended Harbord Collegiate and joined with Johnny Wayne and Frank Shuster in the school's Oola Boola Club shows — Israel as stage manager and Sam as accordionist.
Their company, Shopsy's, developed a profitable line of 200 delicatessen products, featuring the wide-smiling face of a chef-chapped Sam Shopsy. Lever Brothers bought the $10 million-a-year business in 1972. Two years ago the deli was moved from Spadina Avenue to more palatial quarters on Front Street opposite the O'Keefe Centre.
The walls of the new restaurant retain the many signed photographs of show-business celebrities who dined in the restaurant over the years and regarded Sam as a buddy. They include Jimmy Durante, who called him "Shotsy," to skinny Twiggy who was once the recipient of a Shopsy CARE package bearing the message, "Ess ess, mein kind."
While in New York three years ago, Shopsowitz suffered a massive stroke and never fully recovered. He leaves a son, Noah; two daughters, Alane Eller of Toronto and Shari Yowart of Vancouver; and two grandchildren. ♦