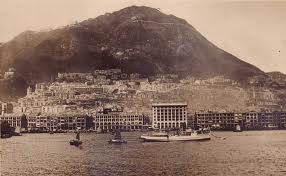 William George Poy, the father of Canada's Governor General, died in Toronto on Sunday Feb. 3, 2002,  at the age of 94.
A onetime employee in the Canadian Trade Commission in Hong Kong, Mr. Poy and his young family came to Canada as war refugees after Hong Kong fell to the Japanese in 1942. Continuing in a government trade office in Ottawa throughout the war and then running his own import-export business, he taught his two children to "dream as Canadians," said his daughter, the Hon. Adrienne Clarkson, who was appointed Governor General in 1999.
"I don't think a father could have been more proud of his two children," said his son, Dr. Neville Poy, a retired surgeon who was invested as an officer of the Order of Canada in 1998.
Mr. Poy also took great pride in his daughter-in-law, the Hon. Vivienne Poy, who became a Canadian senator in 1998, the first of Asian descent.
A widower for 14 years, he had been in ailing health for the last few years. But he was well enough to attend his daughter's investiture two years ago at Rideau Hall. Sporting a British military medal on his chest, the frail nonagenarian leaned forward on his cane to hear every word of the proceedings. "That was the ultimate honour for him, when Adrienne became governor general," his son recalled.
"He was really clairvoyant in his ability to take us to a wonderful country where the future was really unlimited."
Born in Chiltern, New South Wales, Australia in 1907, Mr. Poy was the eldest of seven children; his parents had come from the Toishan region of Southern China. When he was about 17, he went to China and held down a string of jobs, including one in a hotel, before landing a position in the Canadian Trade Commission in Hong Kong in the mid-1930s. He discovered he had an affinity for trade and made it his career.
After the outbreak of war he served as a lance-corporal for the Hong Kong Volunteers, a British brigade; he delivered dispatches by motorcycle during the battle to defend the city and was decorated for heroism. In 1942 he and his wife Ethel and their son and daughter, aged 7 and 3-1/2, left Hong Kong aboard a ship transporting American and Canadian expatriates to safety; the Poys were included because of his service to the Canadian government. Carrying only "two or three suitcases and the clothes on our back," they steamed westward through the Indian Ocean to Mozambique.
It was in Mozambique, according to Neville, that his father made the final determination to come to Canada; he had also been considering Australia. To avoid the torpedo-bearing German gunships of the North Atlantic, they journeyed to Rio de Janeiro, then northward to New York and Montreal. Arriving in Ottawa, they settled into one of the very few publicly-available townhouses on Sussex Drive — coincidentally, the same street as the governor general's mansion.
Mr. Poy served with the Department of Trade and Commerce until about 1946, then established the Allied Trading Co., which handled a wide variety of goods and was the first distributor of television sets in Ottawa. As a father, he perpetually tried to instil an enthusiasm for trade in his children. One of his son's childhood souvenirs is a silver cup, won as first prize in a Rotary Club public speaking contest in which he spoke on Trade and the Commonwealth.
"A lot of people must have wondered why a 13-year-old kid would know so much about Trade and the Commonwealth," Neville mused. "My father was very happy and very proud of me. I still have the silver cup."
Mr. Poy believed strongly in the power of education, not only for his children, but for himself. "Adrienne was a prodigious reader, and so was my father — he was self-taught," said Neville. Lacking a university education, Mr. Poy took night courses at the University of Ottawa for years, and ultimately earned a master's degree in political science. He became a Canadian citizen in 1949.
In the mid-1950s he began selling stocks in tandem with a stockbroker in Hong Kong, and commuted regularly between Asia and Ottawa. He retired in the early 1970s and he and his wife resettled in Toronto. Ethel Poy died in 1988.
Senator Vivienne Poy recalled her father-in-law as someone who enjoyed socializing and was bursting with pride for his children. "He was a person who was full of life, who lived life to the hilt," she said. "He was very fortunate because he was able to a lot of things that he wanted to do."
In recent years Mr. Poy lived at Belmont House, a retirement home in downtown Toronto, where he sometimes lamented the lack of younger people around him. "He never realized his age, that was his problem," said his son. "He didn't understand that he was one of the oldest people in that residence."
Mr. Poy is survived by Gov. Gen. Clarkson and her husband, writer-philosopher John Ralston Saul; Dr. Neville Poy and his wife, Senator Vivienne Poy; five grandchildren and brothers Lindsay and Roy in Albury, Australia. ♦
Originally published in the Globe and Mail. © 2002