It's been more than 40 years since comedy writer Mel Brooks first conceived of the idea for what would become The Producers, the $10-million musical that opened December 11, 2003 at Toronto's Canon Theatre, courtesy of real-life theatre producers Ed and David Mirvish.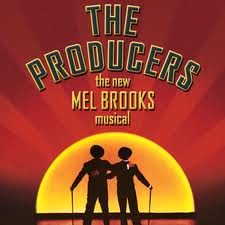 In town for the opening, Brooks appeared on stage at the show's curtain to thank the appreciative audience as well as the wonderful players. The cast is headlined by Sean Cullen, who shines as the shady theatrical producer Max Bialystock, exuding a stage charisma reminiscent of Zero Mostel or Jackie Gleason. Michael Therriault is outstanding as the nervous accountant Leo Bloom, a perfect foil to Bialystock.
The sets and multiple set changes are also highly impressive, as is Susan Stroman's direction and choreography. Brooks, who penned the book with Thomas Mechan, also wrote the music and witty lyrics for this patently over-the-top musical, which has been the hottest ticket in New York since opening there with Nathan Lane and Matthew Broderick 2-1/2 years ago.
The creator of such comedy classics as the 2,000 Year Old Man, Get Smart, Blazing Saddles, Young Frankenstein and High Anxiety, Brooks won an Oscar for best screenplay for the original 1968 film version of The Producers, which he wrote expressly for Mostel and Gene Wilder.
He had been fiddling with the catchy premise as early as 1961. The action is sparked when Bialystock, picking up on an innocent remark by Bloom, realizes he can make more money with a flop than with a hit. Together they set out to produce a magnificent failure that will fold on opening night, leaving them with a huge surplus of investors' capital. The plan is ruined when their sure-fire theatrical failure becomes a smash hit.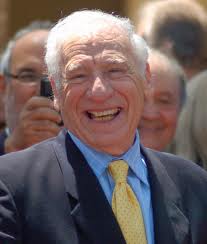 Titled "Springtime for Hitler — A Gay Romp with Adolph and Eva at Berchtesgaden," the play within a play is in such outrageously bad taste that it's laughable. How bad is bad? Picture a chorus line of prancing Nazi SS officers in full regalia, dancing in a swastika formation visible only by a huge inverted overhead mirror. Picture a campy Adolf Hitler, delivering a high-kitsch production number straight out of a Busby Berkeley musical. Imagine insipid lyrics like "Don't be stupid, be a smarty / Come and join the Nazi party."
No matter how much The Producers will make you laugh, it will also make you squirm. No one who truly understands the meaning of a swastika can possibly surrender completely to the laughter. "Oh, loosen up!" you will tell yourself, but some uneasiness will remain: it is at the core of the humour.
Brooks is doing much more than satirizing modern audiences and their capricious tastes. He's also goose-stepping gleefully through the forbidden garden of political incorrectness long before the term was invented.
When he first told friends he was writing a comedy called "Springtime for Hitler" — its original title — they "tried to laugh it off as just another outre Brooks gag," according to his biographer, William Holzman. "Springtime for Hitler!" a friend warned him. "You can't say things like that, Mel — the audience will throw stones at you."
Back in '67, no studio would invest in the project and Brooks was repeatedly told that "perhaps not all America would find Nazis to be the marvelously wry comic foils he found them to be." The film owes its existence to an independent backer — Jewish — who collapsed in laughter when Brooks read him an outline.
(Jewish audiences seem especially enthralled by his brand of comic irreverence. In Toronto, the Reena Foundation, the Bathurst Street JCC and the State of Israel Bonds were among many organizations to host well-attended fund-raising events around the opening.)
Like a court jester who ridicules the king, Brooks gets away with it, perhaps because he's an equal-opportunity offender. He pokes fun at crass producers, audiences, romantic comedy, Jews, women, the elderly, homosexuals and Nazis — who receive the brunt of the ridicule.
Like the film, the musical resounds with vaudevillean gags and borscht-belt routines, and becomes increasingly frenetic as it descends from satire into farce and burlesque. Unlike the film, it offers a happy ending in which Max and Leo, jailed for fraud, attain early parole and make a triumphant return to Broadway.
What is one supposed to make of Brooks' madcap, topsy-turvy world, in which the world's most evil figure (Hitler) is elevated to the very pinnacle of glittering celebrity and adulation, while more ordinary souls (Bialystock and Bloom) descend into a dank prison netherworld?
That is a question to ponder while laughing, and perhaps occasionally squirming, through this entertaining production.
The Producers is at the Canon Theatre, 244 Victoria St., for an open run. ♦
© 2003