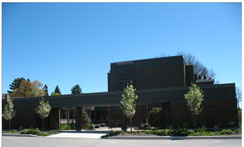 The Beth Israel Synagogue will be rededicated on September 24, 2000, in celebration of the rejuvenated Jewish life here.
It cost $250,000 to renovate the synagogue, three times what the original Beth Israel cost to build in 1964, said community elder Isidore Black, 85, son of Philip Black. Philip was the first rabbi of Peterborough, and one of its pioneers.
"We have more Jews living here than ever before, but the number of active families is smaller than before, a situation which I believe is not unlike what is happening in other communities our size," said Isidore, who retired from operating a clothing store in 1989.
"We have scientists, doctors, lawyers, professors, you name it, but not all are active Jews. We have only about 10 families who are active in the synagogue, but there may be as many as 100 Jewish families here."
If anything, the community is stronger and more united than ever, having survived a possible fragmentation and sale of the synagogue, said resident Margo Gillman, an active member.
"Perhaps other communities can benefit from what we did," she said.
The synagogue has a mailing list of 40 families and keeps in touch with another 20 families in neighbouring communities.
Women are being called up to the bimah for the first time, said Gillman, whose son, Stephen, is one of five Peterborough teenagers who have just returned from an outreach program in Israel.
Black is impressed by the energy and commitment the new, younger members are displaying and gives a lot of credit to Dr. Mark Siegal and Ron Molnar, co-presidents of Beth Israel.
Indeed, it has come a long way from the time the late Rabbi Abraham Fine and his wife used to heat the community's mikvah with hot water from a coal stove. Rabbi Fine was the combined rabbi, Hebrew teacher and shochet.
The late Louis Sukloff, the first Jew to be bar mitzvahed here in 1911, rode his bicycle from house to house collecting 50 cents from each family to pay Rabbi Fine $35 a week.
But with a growing family, Rabbi Fine could not make ends meet and went into business for himself.
Now, the community will celebrate its rededication with more bar and bat mitzvahs in the year ahead than it has ever had, under the guidance of Hebrew teacher and co-ordinator Paula Baruch Houpt, a mother of four children, whose oldest child is one of her students.
Among the volunteers who help out with the teaching are former students who pass the Judiac torch along.
"We have Jews of Orthodox, Conservative and Reform persuasion in our congregation and we try to keep everybody comfortable," said Murray Grafstein, 66, a synagogue executive and former president. (He is related to Senator Gerry Grafstein.)
Murray's parents started a textile business in Peterborough, the Uptown Silk Company, which he is now winding up.
Beth Israel is not affiliated officially with any stream of Judaism, although it was once with the United Synagogues, Gafstein said.
The kitchen of Beth Israel is strictly kosher, he added.
"Some of the Jews here are not as conversant with davening in the traditional style but they are keenly interested in Judaism. Things have changed a lot. My children went to Hebrew school several times a week. Now the students just go once a week. There are so many other things for kids to do."
The city lies in Kawartha cottage country, dotted with lakes, only 75 miles from Toronto. "We can go anywhere we want in five minutes, that's one of the attractions of living here," said Gillman. whose husband, Larry, works for Quaker Oats.
The late Rabbi A.B. Baab, who died three years ago, was the spiritual leader of the community for many years.
In 1964, at the time the new Beth Israel was opened, the rabbi said Peterborough's first Jew was L. Kert, a shoemaker, who arrived in 1881, followed by a Mr. Lister and J. Ripstein.
Among the pioneering Jewish families were the Lows, the Florences, the Swartzes, the Cohens, the Elkins, the Finebergs, the Blacks, the Sukloffs, the Zacks, and the Cherneys, among others.
By 1951, according to the census, there were 232 Jews in a total population of 28,272.
From 1939 to 1964, the Beth Israel Synagogue was located on Reid Avenue in a former Methodist Sunday School. Before that it was on Aylmer Street in a house owned by the late Abraham Swartz and remodelled into a synagogue.
At that time, a committee, convened by Mrs. B. Chesler, raised the money to buy it. ♦
This article first appeared in the Canadian Jewish News on August 31, 2000, and appears here courtesy of the family of the late author. © 2012 by the family of the late Ben Rose. 
For more information, please visit http://jccpeterborough.com/