From the Canadian Jewish News, May 16, 1985
The Barsh family is a link between the fascinating worlds of Yiddish theatre and music in Toronto.
The family lived in four rooms above their barber shop and pool hall at 305 Spadina Avenue, a few doors north of the old Jewish Standard Theatre at Dundas and Spadina. They had their own orchestra and besides the hundreds of simchas they played at they were also the "pit" musicians at the theatre.
"It was not unusual for the performers to come to our living room where we had a piano and ask us to make a last-minute change because they were having trouble with their voices that night," recalled Sammy Barsh, 67, a well known Toronto builder, who played the trumpet in the family's orchestra.
His grandfather, Joshua, a music teacher and violinist, lived to 102 and played the fiddle on his 100th birthday, at a party in his honour at the Murray House. Sammy's father, Ben, a barber, played viola for the Toronto Symphony Orchestra and died in 1983 at the age of 94. His brother, Joe, 69, is still an active show and concert pianist in New York.
One of grandfather Barsh's pupils was the late Samuel Hershenhorn.
"We had performers and musicians coming and going at all hours of the night," said Stella Rudolph (nee Barsh). "It wasn't an easy place to study." Stella still plays professionally for dance classes.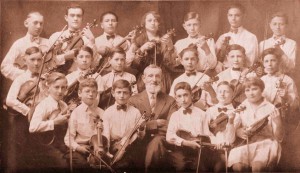 Among the well known artists of the Jewish stage who popped in were Molly Picon, Menasha Skulnick, Moishe Oisher and Maurice Schwartz.
One of Sammy Barsh's favourite memories is that his grandfather played at the golden wedding anniversary of at least six couples in Toronto for whom he had played at their original weddings in Poland. That kind of link between the shtetl culture and North American Jewry is a precious but disappearing one.
Another memory, not quite as warm, is when the Barsh orchestra and other performers traveled to Hamilton during a raging snowstorm in the 1930s. The driving conditions were so bad that the cars had to stop from time to time so the passengers could shovel snow from the tires.
In Hamilton the weather kept the attendance for the Yiddish show down to 50 and at the end of the show the promoter had no money to pay the musicians and artists.
"We couldn't go back to Toronto that night because the driving was so bad," Sammy recalls. "Luckily, Jack Grafstein had a sister living there and we stayed at her house. But three of us were sent up to an attic room . . . and the window was broken."
Yiddish shows moved further north on Spadina to the Spadina Concert Hall after the Standard became a movie theatre, but the Barsh family maintained their connection. Not always profitably. Sammy recalls that his brother Joe insisted one night that they wouldn't go unless they were paid in advance — the munificent sum of $3 each.
It was economics, in fact, that turned Sammy from his career as a professional musician (and pool hall manager). He was paid a total of $12 for two nights of rehearsal and a performance at the old prom concerts at Varsity Arena.
"We can't live on this," he told his wife, Elsie. He was 27 at the time.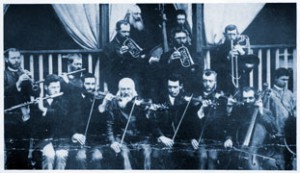 That was the incentive he needed to go into the business world. He had been in a few auto shops getting estimates on repairing his automobile. One of the estimates was form Don Hiller who had a tiny shop behind Spadina Ave. Barsh liked the grasp Hiller had of the business. (Hiller's son became a famous pitcher for the old Toronto Maple Leafs.) They became partners (Sammy was the salesman, estimator and front man) and the first shop they had was so poorly located that you had to traverse three different laneways to get there.
But it wasn't long before they had moved to a garage beside the church at the southwest corner of Spadina and Dundas that was big enough to take eight cars and keep four employees busy.
Barsh also had a brief fling in the haulage business but decided to get out of that when two of his drivers, playing "chicken" down busy Jane Street with big loads, collided with a mini Austin and with each other.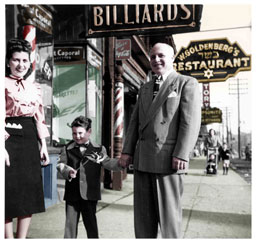 It was in 1955 that Barsh decided to sell out his interest in Reliable Auto Body (which later moved to Dufferin and Eglinton) and he bought some land and went into the building business. He has never looked back, and today is president of S. Barsh Construction and secretary-treasurer of Kelbar Construction.
His grandfather's illustrious life ended in 1954 at age 102 when a gas oven was turned on accidentally at the Spadina Avenue flat, and the elderly musician, believed to be Canada's oldest performer, was asphyxiated. His father, Ben, then 63, was also overcome, but recovered.
Though he doesn't regret his professional musician days, Sammy Barsh says he envies the musicians who remain amateurs and play for enjoyment. "Music does wonders for your personality and for your outlook on life," he said. "The discipline it requires is good education."
Sammy and Elsie Barsh have two daughters, Renee Eserow and Ronda Kerekes, both married and living in Toronto, and four grandchildren, Jordan and Evan Eserow, and Jacob and Zachary Kerekes. ♦
This article first appeared in the Canadian Jewish News in 1985 and appears here courtesy of the author's family. © 2012 by the family of the late Ben Rose.  
Photos (courtesy Stella Barsh Rudolph):
Top — Ben Barsh with children in doorway of Spadina Avenue barber shop, Toronto, 1922.
Middle (left side) — Yoshua Yankel Barsh, centre, was the leader of the Ostrovtzer Youth Orchestra which played at the Ostrovtzer Synagogue's opening in 1930, when this photo was taken.
Middle (right side) — Yoshua Yankel Barsh was a member of this orchestra in his hometown of Ostrovtzer, Poland. Photo taken 1887.
Bottom — Joseph and Tania Barsh with son Preston, Spadina Avenue, Toronto 1940s, with Goldenberg's, Shopsowitz's and Victory (former Standard) Theatre in background. Ontario Jewish Archives, #4043.