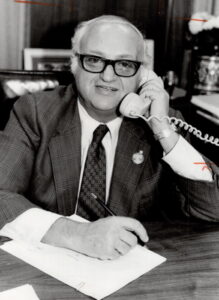 Hyman Gewirtz, who migrated from Belce, Poland to Canada in 1912, had little idea that some 50 years later, a son of his would become mayor of the big cosmopolitan city of Toronto, according to a story in the Canadian Jewish News of December 13, 1963.
A tailor, Gewirtz settled in the Euclid and Dundas neighbourhood and found a job for $3 a week as a pants operator with a Mr. Horowitz on Richmond Street West; later he worked for Abraham Lampert on Chestnut Street.
During the First World War he made army uniforms in Windsor. After the war he returned to Toronto and found work with the Shiffer-Hillman Company on Spadina Avenue, and stayed with the firm for more than 25 years, retiring in 1955.
But Hyman Gewirtz was proudest of his marriage to Mary about 1921 and the birth in 1922 of their only son, Philip Gerald — who would become Toronto's second Jewish mayor, Phil Givens.
Phil Givens was a graduate of the Talmud Torah Eitz Chaim on D'Arcy Street and was active in the Zionist movement. He was a president of the Toronto Zionist Council and an executive member of the Zionist Organization of Canada. He served on the boards of many Jewish organizations.
Givens attended Charles G. Fraser Public School and Harbord Collegiate in downtown Toronto and, as a law student, worked for the eminent attorney David Peters, his mentor, who was also an ardent Zionist. In both high school and university, Givens engaged in debates, played football, and sang in staged musical productions. (A classmate, Gordon Stulberg, moved to Hollywood and became vice president of Columbia Pictures.) He worked hard each summer at Canada Packers and other factories to earn the money for university.
Givens entered politics soon after graduating from Osgoode Hall Law School in 1949. He was elected alderman of Ward 5 in 1951 and held the position for nine years. He became City controller in 1960, the first Jewish person to hold that post since Joseph Singer's day some 30 years before.
Givens married the former Min Ruben and had children Eleanor and Michael, who were eleven and four years of age, respectively, in 1963. An art graduate and then commercial artist, Min played a pivotal role in her husband's political campaigns, constantly advising and assisting as necessary.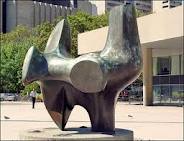 Givens assumed the mayorship in 1963. His plans were to continue the works program begun by the late Mayor Donald Summerville; he also spoke of "slum clearance" and the development of the south side of Queen Street.
"Mayor Phil Givens is Toronto's second mayor of Jewish faith, the first, of course, being the unforgettable Nathan Phillips," wrote Ben Nobleman in the Canadian Jewish News. "Only in America . . ." ♦
* * *
◊ Phil Givens served as Toronto mayor from 1963 to 1966 and is perhaps best remembered for championing the sculpture "The Archer" by artist Henry Moore for placement in Nathan Phillips Square, despite the opposition of traditionalists. He also served in the Canadian Parliament in 1968, representing the riding of York West; and in Ontario Legislature from 1971 in the riding of York-Forest Hill; regaining his seat in 1975 upon defeating Mel Lastman. Givens retired from politics in 1977 and was appointed a judge and also became chair of the Metropolitan Toronto Police Commission. He died November 30, 1995.