From The Jewish Times, 1912 (as reprinted in The Jewish Standard, 1934)
by S. J. Birnbaum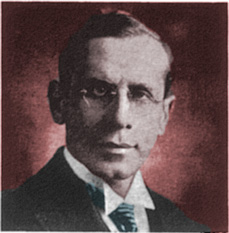 The Jewish Standard's introduction: The following article is part of a thesis written by Mr. Birnbaum, now an attorney in Toronto, when he attended the University of Toronto. It is to our knowledge the most authoritative history of Toronto's Jewish community, and we reprint it from editions of the now defunct Jewish Times dated 1912.
The history of the growth of Toronto Jewry falls into two periods. The first, the Western European immigration, runs to 1881; a new influx began about that year when the Russian persecutions drove hundreds of thousands of Jews to American shores; while the economic conditions of Austria and Poland and the Roumanian persecutions contributed towards swelling still higher the number of immigrants to the new land.
One cannot say with any degree of certainty when the first Jew settled in Toronto. If there were any Jews in Toronto before 1838, no recorded traces of them are left (see Editor's Note at end of article). It is, however, very unlikely that there were any Jews in that city before that year for several reasons: first. one of the earliest settlers, who has but recently died, could not recall the presence of any Jews before that year; and secondly, in the religious census taken in 1846 the number of Jews is given as twelve, all of whom can be accounted for by assuming that 1838 saw the arrival in Toronto of the first two Jews. It was in that year that there came to Toronto, though perhaps not simultaneously, J. G. Joseph and H. A. Joseph.
When the first Jews set foot on Toronto's soil barely four years had elapsed since its incorporation from the town of York into the city of Toronto. The population of the city did not exceed 12,000. Yonge Street, today the heart of the business section of the city, could not at that time boast of more than 104 buildings.
Judah George Joseph and Henry Abraham Joseph, the first two Jews who came to Toronto, were distantly related. They were both descended from an Anglo-Jewish family which had originally come from the Netherlands .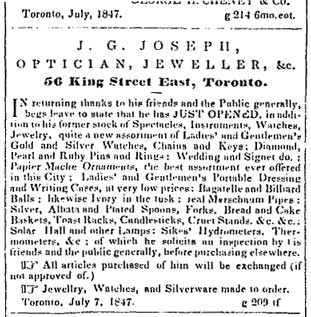 Judah George Joseph was born in England in the year 1798, and in 1830 emigrated with his family to the United States. He settled in Cincinnatti. where he engaged in the optical business. Not many details are known of his life there. He saw greater opportunities in Canada, and here he came in 1838 to settle in Toronto which was then commencing to establish itself as the most important city on Lake Ontario. He engaged in business at 56 King Street East (south side), east of Leader Lane. His advertisement of 1840 reads thus: "J. G. Joseph, Optician, Spectacle and Mathematical Instrument Maker, Jewellery, Watches, and Silverware made and repaired to order."  In a few years Mr. Joseph became one of the prominent business men of Toronto and was respected and liked by all who knew him. He was a typical English Jew with dark hair, side whiskers, and dark, pleasant, gold bespectacled eyes.
Mr. Joseph was also an active communal worker. In 1849, when there was barely a Minyan — the congregational quorum of ten Jews — he laid the foundation of the present Holy Blossom Synagogue, which, however, remained in an unstable condition till seven years later. In that year J. G. Joseph and Abraham Nordheimer deeded to the embryonic community a piece of land on Pape Avenue, south of Gerrard Street, to be used as a cemetery — still used as such by the Holy Blossom Congregation, though now very much improved.
Mr. Joseph's life was not very eventful. To the end of his days he continued to live in contentment and peace, held in great esteem by his friends and acquaintances. His untimely death on May 17, 1857, was mourned by the entire community. He was survived by his wife, two daughters and one son, his youngest son, Edward, having died before him.
Henry Abraham Joseph was a native of Sorel, Quebec, and came to Toronto in 1838, where he engaged in the fur business at 70 Yonge Street. In the fifties he became a hat and cap manufacturer with an establishment at 60 Yonge Street, while in 1860 he turned a money-scrivener.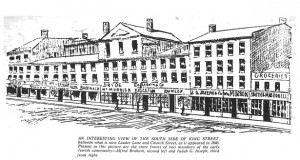 Mr. Joseph, like several others of his coreligionists, had the misfortune of being unmarried when he settled in Toronto and, there being no Jewesses in the city at the time, he intermarried. This was the cause of his subsequent drifting away from Judaism, which does not, of course, imply towards Christianity.
Until 1842 there were only two Jews in Toronto, but that year saw the arrival of two more members of the Jewish race. These were Abraham and Samuel Nordheimer, two brothers of a family of eight. They were natives of Germany, claiming as their birthplace Memelsdorf, Bavaria. They had learned the piano-making trade in their native land and came to Kingston, then the capital of the province of Ontario, in 1839, where they opened the music store of A. & S. Nordheimer. After the removal of the seat of government they moved their headquarters to Toronto. Their first establishment in 1842 was at 14 King East which they advertised as: "A musical establishment. Agents for the celebrated pianos, Stoddart & Dunham, in New York, and Chickerings, in Boston. Dealers in all sorts of brass and wood instruments. Publishers and sellers of music of all kinds and for all instruments."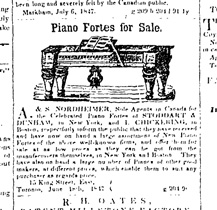 In this way was launched the subsequently famous establishment of the Nordheimers. Branches were gradually opened in the various parts of the Dominion, and the Nordheimer's House is now represented in all the principal cities of Canada. The esteem in which Abraham and Samuel were held as business men was evidenced by the fact that they did an enormous business and became very wealthy. Fortunately for their fellow-citizens their wealth was always donated towards everything contributing to the promotion of musical art. Moreover, in consequence of the facilities afforded by them for the procuring of musical instruments at very reasonable terms, they had a great share in developing the musical taste of Canadians, and especially of Torontonians.
In communal affairs too, Mr. A. Nordheimer took a very active part during his abode in Toronto. Together with J. G. Joseph, he deeded in 1849 the Pape Avenue cemetery, purchased from Sir John Beverley Robinson for $100, to the Jewish community. The firm's name occupied an enviable position in all subscription lists for Jewish charities. It donated very liberally towards the erection of the first synagogue in 1876.
The Nordheimer Bros. were also very liberal patrons and members of King Solomon's Lodge. Formed in Toronto in 1845, it had no regular place of meeting until 1858 when A. Nordheimer, who was a prominent member of the craft, offered the upper part of the Canada Permanent Buildings on Toronto Street for the use of the order.
Mr. Abraham Nordheimer did not remain long in Toronto, but departed in the sixties for Germany with Mrs. Nordheimer, and died in Baumburg in 1869.
Mr. Samuel Nordheimer, in addition to his extensive piano business, was also active in other matters. He was for many years President of the Philharmonic Society of Toronto; Vice-President of the Canada Permanent Loan Co., and in March 1899 he was appointed Consul for Ontario, representing Germany and Austria.
* * *
In 1844 another Jewish family of Anglo-Jewish stock made its abode in Toronto — the Brahams. Alfred Braham, the head of the family, started in business as a clothier at No. 70 King Street East. No.8 Victoria Row, one of a row of buildings on the south side of King, opposite St. James' Cathedral. Mr. Braham was very successful in his business and amassed a great fortune, which he invested in real estate. Mrs. Catharine Braham, his wife, died in 1850 at the early age of 34, perhaps a victim of the Asiatic cholera then raging in Canada, and was buried in the Pape Avenue cemetery. Hers is the earliest Jewish grave in Toronto marked by a tombstone.
For a number of years Mr. Braham lived in his own house at 26 St. Joseph Street, Claverhill. In 1868 he retired from business, and in 1870 he left for England. where he resided in City Road, east of Euston Road, London, until his death in the nineties.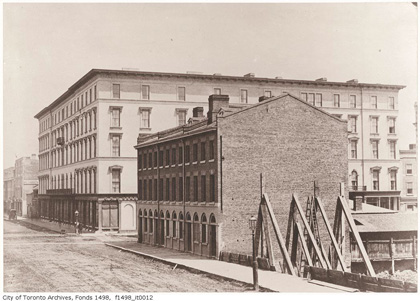 Shortly after the arrival of the Braham family, the three Rossin brothers, Marcus, Samuel and Julius, came to Toronto from their native country, Germany, and set up a jewellery business at 32 King Street East. Their advertisement of 1846 tells us that they had a "Jewellery, Watches, and Fancy Goods Establishment." In 1855 Marcus and Samuel Rossin entered upon a new enterprise. They bought the piece of land on the south-east corner of King and York Streets, where the British Coffee House, owned by Mr. William Chewett, once stood, and part of which ground is now occupied by the Prince George Hotel. Here they erected the famous Rossin House. There was accommodation for over 500 guests, and during its existence it sheltered many of the celebrities that passed through Toronto, including H. R. H. the Prince of Wales and Suite in 1860; General Slistel, acting Lieutenant Governor, who had his suite there for over a year; many of the nobility of England, and a number of European literary notabilities.
It was a bold enterprise and a good investment while intact. On Friday, November 14th, 1862, occurred a fire which will long be memorable to old residents of Toronto. About 2.30 that morning the cry of "fire" rang through the halls of the Rossin House. The conflagration assumed such gigantic proportions that many of the occupants had to jump out in their night-clothes to save their lives. The House was completely destroyed. the loss amounting to about $200,000, only one-third of which was covered by insurance.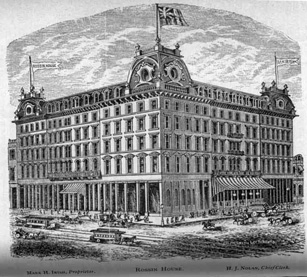 A few months after the fire Dr. Chewett assisted the Rossins in incorporating a company for the purpose of rebuilding the hotel. Messrs. Rossin, however, did not remain long in Toronto after this conflagration. In 1863 they opened a wholesale tobacco shop at 10 Wellington Street West in addition to their jewellery store at 55 Front Street East. But discouraged by their misfortune of '62, they left Toronto three years later. Marcus, the elder brother, returned to Germany, while Samuel went to the United States. They have both died since.
The Jewish community of the city of Toronto in 1846 consisted of but twelve souls. Within the next four years, however, it was to experience a rapid growth, for in 1850 the religious census showed the number of Jews as thirty-nine.
In 1848 the Lumley family came to Toronto from England. Mr. Morris Lumley, the head of the family, opened a clothing store at 108 Yonge Street. He was a very clever and prosperous business man. In 1858 he opened another clothing store at 644 Yonge Street.
His brother, Isaac Lumley, came to Toronto in 1849 and engaged in the same business at 161 King Street East. They did not, however, stay long in Toronto. After amassing considerable wealth they returned to England in 1863, where the family still exists.
Within the next seven years a considerable number of Jewish settlers came to Toronto, some of whom subsequently played an important part in the development and growth of the city. In 1854 there arrived in Toronto Mr. Isaac Davis with his family. Mr. Davis was born in Moscow, Russia, in the eventful year 1806. He saw still more eventful days, especially in 1813. He always took delight in telling of the evacuation of Moscow at the approach of Napoleon. In his native city he received his Hebrew and secular education. But Russia needed soldiers; her armies had been nearly destroyed by Napoleonic holocausts, so that the rules of conscription became very strict. Boys of fifteen were taken to swell the Russian ranks.
Mr. Davis was not of a military temperament, so in 1821, at the age of fifteen, he left Russia for England — an act through which his inheritance in Russia was confiscated by the authorities. He stayed in England about thirteen years, engaging in the mercantile trade. In 1834 he came to Canada, living in Quebec and Montreal successively. When he had built up a flourishing business in dry goods in the latter city, he went to England in 1847 and married Miss Harriett Henry, the daughter of a wealthy and prominent Anglo-Jewish merchant. This important move in life having been settled, he came back to Montreal with his wife where he remained till 1854. In that year he removed to Toronto, where he started in business at 228 Yonge Street as importer and dealer in dry goods.
Mr. Davis was closely connected with the communal life and philanthropic movements of Toronto Jewry. He was a very strict adherent to the Jewish faith and his place of business was always closed on Sabbaths and Jewish holidays. Being of a retiring disposition, and his business calling for frequent. trips to the continent, he held no offices in the community. After his retirement from business in 1880, however, he occupied the important position of Gabbai in the Richmond Street Synagogue for a number of years. Mr. Davis also enjoyed the distinction of being the first naturalized Jew in Toronto, having become a Canadian in 1857.
On January 24th, 1888, Isaac Davis passed away, mourned by all who knew him.
* * * 
By 1855 Toronto Jewry had grown in numbers and wealth, but it still lacked a common centre for religious devotion. Although at high festivals the Jews gathered together for religious services, there was no organized congregation and no regular place of worship. Nor could this community boast at the time of a rabbi, or a cantor, or in fact of anything usually connected with an autonomous Jewish congregation. On high days some informal room would be fitted up to serve as a place of worship, and some member of the community would act as cantor. A great change, however, was soon to come over Toronto Jewry, and that disorganized community was to become a respectable congregation, having its own rabbi, its regular place of worship and religious services. 1856 saw the arrival of the man who was destined to become the founder of the first and most influential Jewish congregation of Toronto.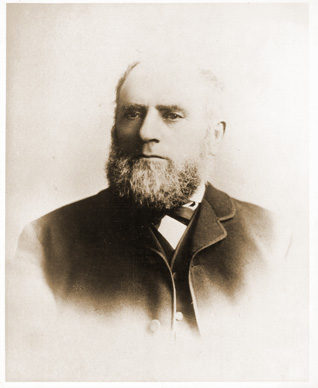 Mr. Lewis Samuel was born in Hull, England, in 1828. In his native land he received his early education, both religious and secular. In 1849 he and his wife came to New York and from there went to Montreal. Here he started in business but seeing better prospects in Toronto he removed to that city in 1856. Mr. Samuel, however, was strictly orthodox and would consent to remain in Toronto only on one condition — that a congregation be immediately formed. Soon after his arrival, therefore, Mr. Samuel became active in this connection, and in June of 1856 the first regular congregation was formed with its place of worship in a room above Neil C. Love's drug store at the south-east corner of Richmond and Yonge Streets. The Rev. Hyman Goldberg came from New York to act as rabbi, schochet and cantor. By arrangements made with a Mr. Wickson, who kept a butcher shop at St. Lawrence Market, Toronto Jewry was enabled to procure kosher meat twice a week. The meat was under the strict supervision of the Rev. Mr. Goldberg.
Thus was formed the Holy Blossom Congregation. Every Sabbath at nine o'clock in the morning services were held, and among those composing the minyan were men who afterwards became very prominent — Joseph, Nordheimer, the Rossins, Davis, Samuel. These were the congregation's leading members.
The history of the community is closely interwoven with that of Mr. Samuel. A great portion of his time and energy was devoted to the affairs and the well-being of the congregation. By 1875 the community had outgrown the accommodation afforded by this small place of worship, and Mr. Samuel then set himself to collect funds for the erection of a suitable synagogue capable of accommodating the whole of Toronto Jewry. In 1876 the first synagogue of Toronto was opened on Richmond Street, south side, east of Victoria Street.

Mr. Samuel's abilities become quite apparent when we observe his business accomplishments. When he had only been in Toronto a short time, he and his brother Mark, who came with him to that city, laid the foundation of a business which was to become the most prosperous in its particular line in the Dominion. In 1857 they commenced business at 115 Yonge Street as M. and L. Samuel & Co., dealers and importers of metals. Although for several years afterwards their business was limited because Montreal was the recognized market for metals, yet the diligence and energy of the Samuels soon taught consumers that their requirements could be as well and as cheaply supplied in Toronto as in Montreal. By constantly keeping on hand a well assorted stock of the best brands in all the staple lines, and by an enterprising system of management combined with a desire always to supply the needs of the trade, Messrs. Samuel built up a very large business, which in a few years exceeded those of their older competitors in Montreal. The firm then opened a house in Montreal with Emmanuel Samuel at its head, and in 1860 Mark Samuel went to reside in England. The firm continually added new stock, until in a few years it became the most extensive dealers in their line in Canada.
One striking feature of the business is the fact that in the face of the strongest competition on all sides the Samuel establishment was strictly closed on all Sabbaths and festival days.
Lewis Samuel was very active in his day, in many lodges and fraternities. He was a very active member of the Mechanics' Institute and for a number of years he served on the executive of the Institute; in 1875 he was elected Second Vice-President, in 1876 First Vice-President, and in 1877 he occupied the position of President of the Institute.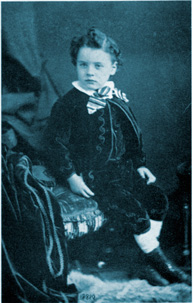 While on his return, in 1887, from a visit to his daughter, Mrs. Abraham Goodman, at San Francisco, Lewis Samuel was suddenly taken ill on board the steamer and when Victoria, B.C., was reached he was beyond all medical aid. In May, 1887, he passed away, beloved by his fellow countrymen, respected by all as a gentleman, as a citizen and as a Jew. His remains were brought to Toronto and followed to Pape Avenue Cemetery by thousands, rich and poor, Jew and Gentile — as the last mark of respect to one of the giants of the Toronto community. Upon his tombstone are engraved in Hebrew the words: "A good name is better than precious ointment."
The deceased was survived by his wife, Kate; five daughters. Mrs. A, Goodman, San Francisco; Mrs. J. H. Rosenbaum, New York; Mrs. Geo. R. Joseph. England; Miss Matilda, and Miss Henrietta; one son, Mr. Sigmund Samuel.
In 1879, when Mr. A. D. Benjamin came to Toronto, he entered as partner in the firm of Lewis Samuel, which then became M. & L. Samuel Benjamin & Co. At the death of Lewis Samuel, Mr. Benjamin became the head of the firm. When the latter departed this life in 1900, Mr. Sigmund Samuel became the head of the firm, which position he still occupies.
* * *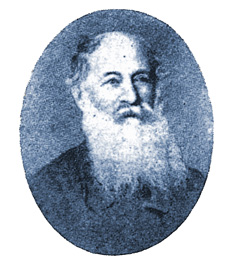 Jacob G. Ascher and Albert G. Ascher were two prominent members of the early Jewish community of Toronto. They were natives of Plymouth, England, and came to Canada with their parents in the forties, when they settled in Montreal. They engaged in the jewellery business and rapidly rose to wealth. About the year 1851, a branch of the business was opened in Toronto, and the two brothers, J. G. Ascher and Albert G. Ascher, came to live in that city.
In Toronto the Ascher brothers took a deep interest in all matters of Jewish concern. It was at their suggestion that their father, Mr. I. Ascher (who resided at the time in Montreal), presented the young Jewish congregation of Toronto with the first Sepher Torah (Holy Scrolls).
Albert G. Ascher took an active part in the commercial affairs of Toronto during his stay in that city. In the seventies, however, he left for Australia, where he is still living.
Jacob G. Ascher though well known in Toronto. spent the greater part of his life in other cities of the American continent. He resided in Montreal for a number of years. where he, in conjunction with Mr. J. T. Lanigan, acted in the capacity of editor of the Montreal Star. He was always a strong upholder of Jewish interests and whenever occasion called he utilized his position to the benefit of his coreligionists.
For several years Mr. Ascher acted as President and Vice-President of the Young Men's Hebrew Association of Montreal, the first Jewish charitable organization that was founded in Canada. This association was the foundation of the Baron de Hirsch Institute, now so widely known. When the Roumanian persecutions broke out (about thirty-seven years ago), and appeals were made all over the world for aid, under the auspices of Mrs. Moses Montefiore, Mr. J. G. Ascher was appointed Secretary-Treasurer for the funds which were collected in Canada. He still holds the letter of acknowledgment from Sir Moses Montefiore, in which the latter expresses his appreciation of the good work of his Canadian co-religionists.
Prominent among the names which have been associated with the progress and development of Toronto is that of Newman Leopold Steiner. Steiner was born in Bohemia, Austria, on December 10, 1892 (sic; certainly incorrect — ed.) He received his education at the schools of Vienna. While he was a student the famous Hungarian struggle for liberty broke out in 1848, and throwing away his books, young Steiner joined the Hungarian revolutionists. For eight months Steiner was in active service, receiving several wounds. When the Hungarian Diet declared in 1849 that the Hapsburg dynasty had forfeited the throne, and proclaimed the independence of Hungary, Russia brought its overwhelming power to the support of the Hapsburgs, and from then on the hopes of the patriots vanished. Steiner, Samuel Stern, and others, followed their leader wherever he went, and in 1851 came to America. Steiner spent three years in America learning the sculptural profession. Leaving Buffalo. where he had been a resident for some time, he came to Toronto about the year 1856.
He commenced business in Toronto on Parliament Street as a marble cutter, later moving to King Street. His next location was corner Yonge Street and Wilton Avenue (then Cruikshank), where he carried on a large business for twenty-four years, employing over thirty hands. In 1880 he moved to the corner of Wilton and Victoria Streets, where he stayed until his retirement in 1886. When on a visit in New York in 1876, Mr. Steiner became enamoured of Miss Bertha, daughter of Rabbi Leon Sternberg, of that city, and their marriage took place that year.
From the outset Mr. Steiner took a deep interest in municipal politics and received many honors at the hands of the citizens of Toronto. He sat in the City Council as alderman for St. James Ward in 1880 and 1881, obtaining the largest vote ever polled for alderman in Toronto. He then retired but was drawn again into public life and was alderman for three more years, 1883, 1884, and 1885, being always at the head of the poll. In 1884 Toronto celebrated its semi-centennial, and in the committee for the arrangement of the celebration, Alderman Steiner held a prominent position. Later, in 1897, the electoral representation of Toronto having been in the meantime reconstructed, he re-entered public life and sat in the council as aldermanic representative for Ward Three. He retired after two more years of service.
Mr. Steiner was also eminent in benevolent and fraternal circles. He was a Right Worshipful Member of the Grand Lodge of A.F. and A. M. of Canada, and was a Past Master of St. Joseph's Lodge, No. 75. He was moreover, President of the German Benevolent Society for over twenty-five years.
In politics Mr. Steiner was a reformer, and was commissioned a J. P. in the seventies (by the administration of John Sandfield Macdonald) — the first Jew to receive the honor in Ontario. Thus Steiner's services did not fail to win their deserved recognition. A great honor was conferred on him by the Government when he was appointed as Honorary Commissioner to the great Pan American Exposition held at Buffalo in 1901, a post of honor for which he was eminently fitted by his complete knowledge of several languages.
In 1883 a new thoroughfare was opened in Toronto, running east from Yonge Street. between 741 and 743. It required a name and Mr. Steiner was given the honor of christening it. He named it Bismarck Avenue after the great German statesman — a mark of respect paid by a Jew to a Jew-hater.
In 1902 Steiner passed away, mourned by a large circle of friends. He was survived by his wife, two daughters and three sons.
* * *
The next Jewish settler who was destined to become prominent in Toronto was Mr. Egmund Gunther. Born in Saxony, Germany, on December 1, 1830, he received his early education at Weimar. At the age of fifteen he commenced to learn the watch-making trade in that city. In 1856 be came to America and resided in New York and Hamilton. In 1857 he came to Toronto and started in the
jewellery business at 9 King Street East with his brother. In 1870 he removed to the corner of Melinda and Jordan, where he carried on business for a great number of years, finally removing to his own establishment at 10 Wellington Street East. Mr. Gunther was a very clever business man. He joined the Board of Trade in 1886, of which be was an active members. Mr. Gunther has also been a prominent member of King Solomon's Lodge, A.F. and A.M.
Among the Jews who settled in Toronto between 1857 and 1861 were Messrs. Mark Kassel, Samuel Solomon, Henry Lyon, S. W. Morell, and Samuel Fosenbrugh.
The next arrival in the order of time, was Mr. Samuel Stern, who later came to be one of the most remarkable figures of the Jewish community of Toronto. He was born in Cracow, Galicia, in 1831. While a youth of 17, the Hungarian revolt against Austria broke out, and Stern joined the insurgent forces under Kassuth. By 1849 the cause of the revolutionists was lost and in 1851, young Stern came to New York with Kassuth. There he stayed for ten years, engaging in the mercantile trade.
When the American Civil War broke out, Stern's blood was again stirred in the cause of liberty, and he joined the Northern forces against the South. He was in the field for one year, and then came to Toronto in the spring of 1862. For several years he engaged in the cigar making trade, but in 1866 he commenced business in the fancy goods line, becoming "Importer and Wholesale Dealer in English, French, and Germany Fancy Goods."
He grew very wealthy in a short time, and in 1873 erected a number of very large buildings on 38-40 Front Street East, then known as the Stern Buildings. Their erection no doubt sapped his resources, and to his misfortune a crisis was soon to come over Canada. Hard times had set in the United States in 1873, and it was inevitable that its neighbor should feel the effects of the depression. The year 1877 was a very trying one in Toronto business circles, many houses being seriously endangered.
Though he lost the Stern Buildings, Stern still continued in his previous business. Later he carried on a wholesale jewellery trade, but his courage had been broken by the reverses of '77, and he never regained his former position. He stayed in Toronto until August, 1910, when he left to join his children in New York.
Mr. Stern, when in his prime, was very prominent in benevolent and fraternal circles. He became a Freemason in 1854 and occupied several honorary offices in that Lodge. In 1875 he had the honor of founding the first Jewish benevolent society of Toronto, which he called the "Toronto Hebrew Benevolent Society." Samuel Stern was the first president of the institution. The membership fee was made quite low so that it should be possible for all to join it.
One year after the arrival of Mr. Stern, Mr. Joseph Simpson and his family settled in Toronto. Mr. Simpson was an American by birth, having been born at Charlestown, South Carolina, in 1825. His father, Wilhelm Simpson, was of German extraction, his mother was a daughter of Wm. Cohen, of Nova Scotia. Joseph Simpson's parents died when he was but a child, and he was thus thrown early on his own resources. He attended the schools of his native state until he was 13 years of age, then started as a junior clerk in the establishment of Howard & Co. Fancy Dry Goods, in Charlestown.
In 1861 the American Civil War broke out and two years later Mr. Simpson emigrated to Canada with his wife and two sons, Ernest A., his elder son, being then but two years old, and Rupert M., but an infant of a few months. He first began business as a wholesale produce and grain merchant at 55 Front Street East, but only continued one year at it. In 1864 he purchased from Mr. Burton, of Dundas Road, a carder and spinning jack of 120 spindles and commenced this business enterprise on a very small scale, but by an enterprising system of management his business has been gradually extended till it reached from Halifax to Vancouver.
Mr. Joseph Simpson was always an active member of the Jewish community, especially in its younger days, and throughout his life subscribed liberally to all Jewish charities. He also took a keen interest in civic and municipal affairs and never hesitated to combat any measures which he believed not thoroughly intended for the welfare and prosperity of the city of his adoption. He was often pressed by his numerous friends to enter public life, but he never consented. He was a very prominent and active member of the National Club, R.C.Y.C. shareholder, and member of the Athletic Club, and at the time of his death was one of the oldest members of the Board of Trade.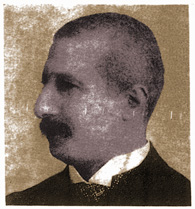 Probably the noblest and most generous Jew who ever lived and died in Toronto was Alfred D. Benjamin. Mr. Benjamin was a native of Melbourne, Australia, where he was born on the 9th of August, 1848. In 1854 his family returned to England, and it was there that he received his education.
He studied for a number of years under Mr. Alphonse Hartog. in Camden Town, and later at University College School and University College, London. In 1865 he matriculated with honors at the University of London, and in 1866 took his B.A. degree with honors in Latin, French and German. During his college career he carried off thirty prizes.
In 1873 Mr. Benjamin went to Canada, and settled in Montreal for five years which were spent in commercial activity. He then returned to England for one year and on coming back to Canada, in 1879, took up residence in Toronto. He became a partner of the firm of M. & L. Samuel & Co., which thus became M. & L. Samuel, Benjamin & Co.
Mr. Benjamin's residence in Toronto has been of incalculable good and advantage to the Jewish community of that city, which he served with wholehearted zeal, sacrificing his own health and leisure.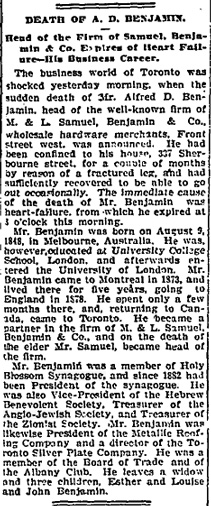 One may say without the slightest danger of contradiction that during Mr. Benjamin's stay in Toronto, no Jew who asked relief, suffered from want or poverty. His hand was always open with an almost boundless generosity to relieve distress, and everyone who asked for relief received it from him.
He first became President of the Holy Blossom Synagogue in 1885, and was re-elected unanimously each subsequent year. The last monument of his untiring energy and work on behalf of his congregation is the handsome synagogue on Bond Street. This was an enormous work, when one considers the cost of the building and the small number of well-to-do Jews in Toronto at the time. Alfred D. Benjamin and his brother, Frank D. Benjamin, each donated $5,000 towards the Building Fund, and it was mainly by A. D. Benjamin's personal efforts that the balance of $30,000 was raised. In furtherance of the project he paid visits to other parts of Canada and to the United States and England. It was a source of much gratification to him that contributors to the Building Fund included a considerable number of Christians. Among the latter were Mayor Shaw (Mayor of Toronto in 1897), Wm. Lount, M.O., O. A. Howland, Prof. Goldwin Smith, Sir Frank Smith, D. E. Thomson, Hugh Ryan, Wm. Roaf, J. Herbert Mason, Malcolm Gibbs, J. K. Macdonald, and scores of others.
The synagogue was dedicated on the 15th day of September, 1897, and in the address delivered by Mr. Benjamin, as President of the Congregation, he explained why he and his brother put forth such untiring efforts to see the synagogue brought to completion. He said that on the deathbed of their father, David Benjamin, in 1893, they had conceived the idea of contributing sufficient money to form a nucleus for a fund to build such an edifice as this, in memory of their father.
It may be interesting to recall a few of the incidents in connection with the dedication of this temple. Rabbi Lazarus, the presiding rabbi of the time, preached the dedicatory sermon. He was a very learned, freeminded and independent divine, and in his sermon he hoped for a deeper and broader idea of religion — a larger Judaism.
Gertrude Wolf, granddaughter of Marx Kassel, now living in New York, who was then a mere tot of eight, walked up to the platform of the synagogue, carrying the Golden Key of the Synagogue on a silken cushion, and presented it to A. D. Benjamin, saying, as the report says. in a dignified manner, the following words: "In the name and on behalf of the Building Committee, I have the honor of handing you the key of this sacred edifice." This young lady is, to-day, the private secretary of the Reverend Dr. Stephen S. Wise.
The four Holy Scrolls were carried into the new synagogue by the following gentlemen: Messrs. Mark Cohen, Abraham Franklin, Barnett Laurence, and Charles Stern, headed by the President. During the ceremony and throughout the services, solos were rendered by Mr. and Mrs. Ed. Youngheart, Mr. J. Mahimove, and Mr. A. Mansfield, under the leadership of Cantor M. Solomon.
As a token of their appreciation of his work, the congregation presented Mr. Benjamin, in October, 1897, with two portraits of himself and an illuminated address. One of the portraits was placed in the vestry room of the synagogue. Mr. Benjamin did not content himself with secular work for his congregation. His keen sense of duty, as its lay head, induced him to attend synagogue at every service. Nor was his communal work confined to the synagogue alone. He was also Vice-President of the Hebrew Benevolent Society, Treasurer of the Toronto Branch of the Anglo-Jewish Association, Treasurer of the Zion Society, President of the Talmud Torah Association. Notwithstanding these multifarious duties, he found time to teach at the Hebrew School, where he was one of the most valued instructors.
In public and business life, too, Mr. Benjamin played an important part. He was President of the M. & L. Samuel, Benjamin & Co. (after the death of Lewis Samuel), President of the Metallic Roofing Company, Director of the Toronto Silver Plate Co., and member of the Board of Trade and Albany Clubs.
In 1886 he married Rosette, daughter of Mr. Jacob Levy, of London, England, who, in his time. was closely identified with the management of several of the principal Jewish institutions of that city, including the United Synagogue, the Jews' Hospital and Orphan Asylum and Jewish Board of Guardians.
On the 8th of January, 1900, Toronto was shocked to hear of the unexpected death of A. D. Benjamin, in the prime of his life. His death was a severe blow to the Jews of Toronto. His tombstone has engraved upon it the following epitaph: "Rest peacefully in thy last tomb, and may thy soul repose with God in eternity."
Mr. Benjamin set a remarkable example to the Jews of Toronto of true, unselfish beneficence and nobility of character. His memory will always be cherished by the Jews of Toronto. ♦
Editor's note: This article originally appeared in The Jewish Times in 1912 and was reprinted in five parts in sequential issues of The Jewish Standard, beginning  June 1, 1934. Although our knowledge of the early history of the Jewish community has expanded considerably since 1912, no attempt has been made here to update Mr. Birnbaum's research. The reader is advised that the first recorded Jewish resident in Toronto is now believed to be Arthur Wellington Hart, an insurance agent who came here from Montreal about 1833. See Dr. Stephen A. Speisman's book, The Jews of Toronto: A History to 1937, for verification of any other suspect information.