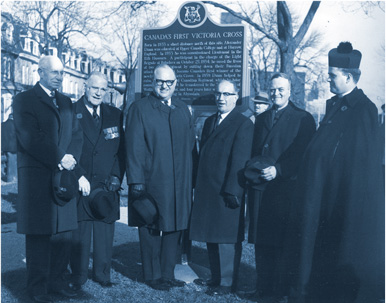 Former Toronto Mayor Phil Givens grew up on Augusta Avenue and later Euclid Avenue, attended school at Parkdale and Harbord Collegiate, and got his education at the old Talmud Torah Eitz Chaim on D'Arcy Street, the Canadian Jewish News reported in a story by Gary Cohen on March 15, 1984.
Then finishing a 10-year term as police commissioner, Givens had also served as judge, alderman, MP and MPP, and he was always interested in politics, he said, even as a child. "Some people admire football players," he said, "But my heroes were public people of the day. I loved oratory and my father used to take me to the pubic meetings at the Standard Theatre on Spadina. I used to go hear Joe Salsberg and Sam Carr — both great speakers."
Givens graduated as a lawyer in 1949 and won a seat as alderman in Ward 5 two years later. He served a stint as controller before becoming Toronto's second Jewish mayor in 1963 after the death of Nathan Phillips, who had been the first Jewish mayor. He had previously lost two federal elections, running as a Liberal in the downtown Spadina riding, finally winning a seat in York West in 1968.
As a means of politicking, Givens used to attend landsmanshaften society meetings in the Cecil-Beverley neighbourhood, he recalled.
In the 1930s, antisemitism was particularly vicious, he said. "It was a time when you'd be chased through the streets of Toronto with epithets hurled at you," he said. "They had the quota system for professionals in the universities in those days. For doctors — for everything. There were also very few Jewish lawyers in non-Jewish firms. Of course, that is not the case today."
Givens recalled applying for many jobs during the war and "the minute you said Jewish or Hebrew, you could see you were through."
Even in 1984, Givens pointed out there were still some exclusive clubs and barriers that hadn't been broken yet, but he noted that most positions were now open to people of all races and religions. He laughed as he recalled the days he studied "chumash" at the Talmud Torah in comparison to the adult he had become. "Now, here I am as a police commissioner," he said. "Imagine that — a Jewish boy gets to be police commissioner. I consider that real unusual."
Sometimes, Givens said, he visits the Talmud Torah and shows off his police badge to the kids. "See this? It doesn't come out of a box of Corn Flakes, you know," he tells them.
"Then I tell them, 'I used to go here. See that gemorrah over there? I used to learn from that and now I'm police commissioner.'" ♦
Photo: Historical Plaque unveiling on November 13, 1966, with (left to right): Col. W.J. Stewart, chairman of Toronto Historical Board; Major B. Handley Geary, VC, Sergeant-At-Arms at Queen's Park; His Worship Mayor Philip Givens; Hon. Allan Grossman, Ontario's Minister of Reform Institutions; Dr. J.M.S. Careless, co-chairman of the Historic Sites Board of Ontario; H/Capt. VBT Matthews, Chaplain of the Queen's York Rangers. Courtesy Upper Canada College Archives