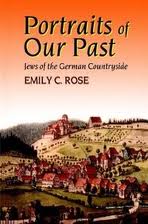 Ten years ago, American historian Emily Rose became curious about a pair of fine oil portraits that had hung above the fireplace in her grandparents' apartment in New York.
One of the paintings showed a portly, distinguished man, the other a woman adorned in a lace bonnet and pearls. Since they derived from the mid-1800s, their elderly subjects had likely been born in the 1700s. But no one in Rose's family could identify them.
A few old family papers gave some details from an old 19th-century German-Jewish register: Berlizheimer, Gundelfinger and other surnames jumped out, also Muhringen and other town names. Rose knew of her Berlizheimer ancestors, but little more of her family's past in rural Germany.
Stationed in Frankfurt in 1994 while her husband was learning German, she drove several hours south to Muhringen, and found some ancestral stones in local cemeteries and many family-related documents in local archives. Three weeks of research and many villages later, she had begun an odyssey that would result in a book — Portraits Of The Past: Jews of the German Countryside — that was published by the Jewish Publication Society in 2001.
Because it was sparked by a personal genealogical quest, the reader might expect this endeavour to focus rather narrowly on the experiences of a given family line. But the author offers a surprisingly thorough and scholarly discussion of the many historical forces and events that affected the Jews in rural Germany from the period of the Enlightenment to about the mid-19th-century.
The narrative then crosses the Atlantic, following the early wave of German-Jewish settlers to America and presenting some of their experiences in the new land. Portraits Of The Past, therefore, is an intriguing blend of personal genealogy and historical scholarship. Trained as an historian, the Naples, Fla.-based author possesses the double blessing of an impressive command of her subject and a clear writing style.
Jews of the German countryside lived substantially different lives than their counterparts in cities like Frankfurt and Berlin, Rose observes, contending that not much has ever been written on them in English. To learn more about these rural Jews, she visited many town archives and the Wurttemberg State Archive in Stuttgart, where she found that her Berlizheimer ancestor was a signatory to an early emancipation petition. She also read the stories of 19th-century writer Berthold Auerbach and pored over an invaluable cache of old papers that had been retrieved from the attic genizah of the Michelbach synagogue.
Rottweil, one of the towns that comes under the author's microscope, was caught in a severe crisis when the French army under the command of Napoleon Bonaporte marched through in 1799, demanding cash rather than grain and goods from the local government.
The town turned in desperation to Rose's ancestor, the wealthy Jew Moises Kaz of Muhringen, who paid fair market rates for all the valuables of the town's churches and guilds. "Thus, Moises saved Rottweil by acting quickly and by taking the risk that he might actually be unable to sell the silver and gold in those difficult and dangerous wartime years," Rose writes. "The town never forgot his efforts."
The book, which was also published in German as When Moises Kaz Saved His Town from Napoleon, is filled with many such stories. Rose spent months in archives and photocopied thousands of documents in hard-to-read German gothic script, many pertaining to her own family; managing, ultimately, to reconstruct a vivid picture of a vanished milieu. (The feat seems instantly comparable to that of Montreal historian Gershon Hundert, whose book The Jews in a Private Polish Town: The Case of Opatow in the Eighteenth Century, appeared in 1992.)
One story that was discovered too late for inclusion in Rose's book concerns the fate of one of her 19th-century cousins who became a legendary success in America. Settling initially in Providence. R.I., Maximilian D. Berlizheimer (1852-1921) shortened his name to Berlitz and founded the famed world-wide chain of language schools.
Incredibly, no one had previously recognized that he had been Jewish. Although Rose has presented solid evidence to Berlitz International, the company has yet to alter its official corporate history or even accept that its founder was Jewish, she says.
To order or learn more about her book, visit the websites  www.JewishPub.org. ♦
© 2002