From the Beth Sholom Bulletin, September 2008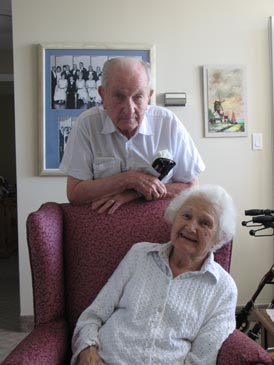 Fred Ganz remembers.
Ninety-four years after he was born at Toronto Western Hospital, Fred Ganz retains vivid memories of his childhood, his distinguished law career, and his years of service at Beth Sholom, where he was a longtime member of the executive and a former president.
Fred and his wife Bebe spoke with me in a private dining room at their retirement home on Eglinton Avenue West. For a pleasant hour the tea and the reminiscences flowed freely.
Fred and Bebe were married in 1942 and moved into a house on Fairleigh Crescent near the Beth Sholom; it didn't take long before Rabbi Monson urged them to join the shul. "The synagogue at that time was in the basement," Fred said. "Once, Rabbi Monson asked me to sign something: I didn't know what it was. It turns out it was a bond for $1,000 which I pledged with others for the building."
Like most presidents of Beth Sholom, Fred's climb within the synagogue hierarchy was slow and gradual. He began as a volunteer for the brotherhood, then became an usher, then moved up to membership chairman, then became a member of the board of governors. Bebe, meanwhile, became active with the Sisterhood.
"Max Schecter appointed me onto the board of governors. He was the president and his vice-president was Henry Donsky. Henry and I got along very well, as I did with Max. I became membership chairman for a number of years and I became friendly with Lou Cappe.
"After that I stepped up to second vice-president. Harry Polevoy was the first vice-president. Then I became first vice-president under Harry Polevoy, who was my predecessor as president. Then I became president. I had Frank Cadesky as first vice-president; he was a very capable man. And I had a wonderful treasurer by the name of Manny Ezrin," Fred said, apparently with encyclopedic recall.
"I was fortunate with my administration. We worked very well together. The things I remember during my years as president were: raising money for enlarging the synagogue; and the days when they were excavating. Irving Ungerman was active and I can still see his foot on the shovel. Those were good days."
Fred got to know a Canadian political legend the day John Diefenbaker — "God bless him" — came to Beth Sholom, he said. "Freddy Grossman and I drove up to Malton Airport and picked him up. We had some lovely conversations with him. He was the man of the year at Beth Sholom. I have a beautiful picture of him and his wife with Bebe and me, the four of us."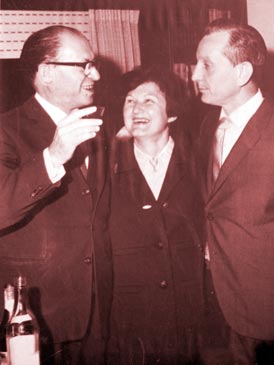 In 1955 Diefenbaker, then leader of the Progressive Conservatives, received Beth Sholom's fifth annual Brotherhood Award in recognition of his work promoting racial and religious tolerance and in support of a Canadian Bill of Rights. Sharing the stage with him were Mayor Nathan Phillips, city chairman Fred Gardiner and Rabbi David Monson. About 400 people came to hear them.
Diefenbaker, who would not be prime minister for another two years, joked because the word "Honourable" appeared before his name on the award. "I've been trying so long," he said. "It took the Beth Sholom brotherhood to achieve what I could not."
Fred also welcomed Tommy Douglas to Beth Sholom while the latter was premier of Saskatchewan. "I remember he told a story about a minister who said, 'Is there a man in in this place who can truthfully say he does not have an enemy?' A little old man at the back raises his hand, and the minister says, 'Please come forward — how can you say that you don't have one enemy?' And the old-timer said 'Because I outlived all the dirty bastards!' Gee, it brought the house down."
Menachem Begin also visited Beth Sholom, Fred recalled. Later, a group from the shul toured Israel, and several were invited to Begin's residence in Jerusalem. "It was an ordinary nondescript apartment building. He had an apartment on the second floor — the army was on the first floor, apparently — and upstairs he had a lovely modest little apartment. We were there on a Saturday night with all the big shots; Weizmann and all the others showed up. Everybody was walking around with glass in hand. And Mrs. Begin said to me, 'I notice you're not drinking,' and I said, 'I don't drink.' She said, 'Come in the kitchen, I'll make you a cup of tea.' So I had a lovely cup of tea with her."
Sholom Secunda, the renowned composer of Bei Mir Bist Du Schoen, was another notable visitor to Beth Sholom; Secunda told Fred the story of how he sold full rights to that song to Sammy Kahn for $15. Another show-biz tale centered around a former cantor named Hershkovitz who was once approached by Jewish legend Eddie Cantor to do a show with him in New York to be billed as "The Two Cantors at Carnegie Hall."
Upstairs in their apartment, Fred and Bebe showed me their photographs of John Diefenbaker, Menachem Begin and other historic figures that, like the Ganzes themselves, have been woven into Beth Sholom's rich and illustrious past. ♦
© 2008, 2012