In Memorium: Irving Ungerman, born February 1, 1923, died October 27, 2015
From the Beth Sholom Bulletin, June 2010
Irving Ungerman remembers the way it was growing up in the old Kensington market neighbourhood and being attacked by bullies because he was Jewish.
"Guys used to hit me all the time — I was a little guy — and I would come home crying," he says. "And my brother would hit me because I didn't fight. So I went to the Y on Brunswick Street and I learned how to fight."
He did a pretty good job of it, too, winning a city boxing championship at age 15 and weighing only 105 pounds. He's been pretty much landing on top ever since.
Now 87, he's enjoyed a long career in poultry, real estate, construction, boxing and sports promotion. He and his wife Sylvia — like various other Ungermans who are now gone — were centrally involved with Beth Sholom since its inception in 1947. Their daughter, Shelley was the first baby named in the synagogue; the baby-naming took place in the basement because the upstair sanctuary hadn't been built yet.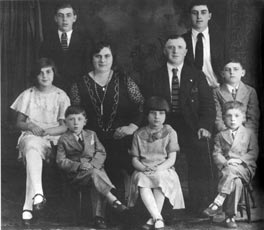 Isaac and Jennie Ungerman came to Canada with sons Harry and Jack about 1914. When Irving was born in 1923, the family was running a kosher butcher shop on Kensington Avenue that gave out credit too freely and went bankrupt. In 1934, still "without a dime," the family moved up to Royce Avenue, later Dupont Avenue, and opened another Ma-and-Pop business. Thanks to some good luck and a lot of hard work, it grew over the years into a big corporate enterprise, Royce Dupont Poultry and Egg Market.
Active in the RCAF, Irv was wounded just before D-Day. Rabbi David Monson, an army chaplain, came to his bedside in the hospital where he was recuperating. Harry and Irving and Mr. Ungerman, Sr. were only too glad to help Rabbi Monson establish Beth Sholom. The family had always davened in the old Henry Street synagogue downtown, but with the move up north in the postwar era, the newly-established Beth Sholom became their congregation of choice.
"My family owned the land on Eglinton — my brother Harry and 12 other people — and Rabbi Monson approached us and we gave it to the congregation," Irv said. "They used to daven out of Master Food Market on Eglinton Avenue while the synagogue was being built. Master Food Market was a food store where the China House Restaurant is today."
Irv and others arranged the first annual humanitarian award dinner, which honoured Premier Leslie M. Frost in 1951. Many other honourees were his personal friends or business associates, including such prominent and influential people as Jack Kent Cooke (1952), Reverend Richard D. Jones (1957), E. P. Taylor (1959), Premier William Davis (1979), Douglas Bassett (1987) and Steve Stavro (1992).
He also championed the idea of honouring Rabbi Monson at a humanitarian award dinner in 1973. "I felt indebted to him because he built Beth Sholom — he started it from nothing." But it wasn't until Irving himself became an honouree in 1994, when the shul was about $6 million in debt after a major renovation, that he suggested going after corporate sponsors for the dinner, which was the shul's main fund-raising event. Some three dozen corporations stepped forward, some generously purchasing whole tables and then giving them back.
As president of the Sisterhood from 1957 to 1959, Sylvia and other volunteers put on a series of fund-raising events — tea socials, fashion shows, donor dinners, even a gentleman's luncheon. "I worked very hard and I enjoyed every minute of it," she said.
At one time the Sisterhood could boast a membership of about 600 but it dwindled away in the late '80s and '90s, when many women had jobs and preferred to take up golf or tennis. "The younger women, they didn't join up," she said. "They got very busy with their social life and the Sisterhood just died."
But many joined with her several years ago to sew a parochet, a covering for the Holy Ark in needlepoint, and then a needlepoint chupah.
The Ungerman name is reflected in many other areas of Beth Sholom life, from the stained glass window in the sanctuary that was dedicated in their grandparents' memory, to the Ungerman Museum of historic Judaica. Irving and Sylvia have a significant art collection and have donated numerous art works to the shul.
Although Irving and Sylvia are the last of the first generation of Ungerman siblings and their spouses that were formerly members of the shul, the family is still represented by many children, grandchildren, cousins, nieces and nephews, who still sit together in several rows near the front of the sanctuary on the High Holidays.
Irving is a colourful raconteur who tells many stories of his personal experiences with prize fighters like Joe Louis, Rocky Marciano, George Chuvalo and Muhammed Ali. Marciano, for example, once stayed over at his cottage; and Ali once visited his art-filled, two-storey penthouse condominium on Bathurst Street, determined which way was east, then knelt down in prayer. Many of his stories involve the Beth Sholom and the many friendships he has enjoyed within the synagogue. It's a place that, after 63 years of involvement, is still close to his heart.
"I believe I'm the oldest non-executive board member of the shul today," he said. "I've been on the board for over 30 years and I get the last word now. It goes around the table and I get the last say. . . . I'm going to stay with the board as long as I can because it's part of me." ♦
© 2010