Between about 1900 and 1914, multitudes of impoverished Jewish refugees sold their meagre possessions, joined into large groups for protection, and trekked hundreds of miles out of Romania on foot.
The exodus of the Jewish "Fusgeyers" — Yiddish for "wayfarers" or "foot-wanderers" — was so marked that the American Jewish Yearbook of 1903 reported that some 200 to 300 were streaming out of Romania each week. The number peaked about 1907 and slowly declined until 1914, when the outbreak of war reduced the flow to a trickle.
The Romanian-Jewish pedestrian movement was fueled by antisemitic persecution and the imminent prospect of starvation. Since the late 19th century, Romania had classed the Jews as foreigners and had barred them from most professions.
By one estimate as many as 70,000 Jews chose to leave the country. Representatives of Jewish aid organizations met them at towns along the Austro-Hungarian border and gave them food and shelter as well as train and ships' tickets to their ultimate destinations.
Many ultimately reached England and the United States. Those who came to Canada settled in Montreal, Toronto, Winnipeg and a sprinkling of Jewish farming communities in Saskatchewan. Significant communities also arose in New York, London, Paris and the towns of Rosh Pina and Zikhron Ya'akov in what was then British-mandate Palestine.
Canadian author-photographer Jill Culiner, whose grandfather had trekked hundred of miles across Eastern Europe, always wanted to know more about such arduous journeys. Encountering a brief mention of the Fusgeyers in Irving Howe's World of Our Fathers, she became obsessed with the subject, but found few works on the subjects.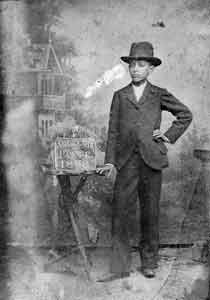 Her own book — Finding Home: In the Footsteps of the Jewish Fusgeyers, published by Sumach Press and distributed by Now and Then Books of Toronto — is a worthy attempt to correct this deficit.
By far the richest literary source for Culiner was Jacob Finkelstein's "Memoir of a Fusgeyer from Romania to America," an unpublished Yiddish manuscript held by the New York-based YIVO Institute. A New Yorker who had trekked out of Romania with a pioneering group called the Barlad Fusgeyers, Finkelstein had submitted his immigration story to YIVO in 1942 in response to a contest. His first-person narrative won top prize.
Consisting of 75 single men and three women, the Barlad Fusgeyers left the town of Barlad in April 1900 and journeyed 200 miles around the Carpathian Mountains, supporting themselves as they went by staging theatrical performances and selling brochures. All along their route, Jews and Romanian peasants alike welcomed them as heroes and bestowed gifts of food and clothing upon them. Their success inspired hundreds of other groups to follow.
After reading Finkelstein's manuscript, Culiner decided to retrace the Romanian journey of the Barlad Fusgeyers. "Everything that they did, I had to do," she said. "Where Jacob Finkelstein and the Fusgeyers slept in fields, I had to do the same thing, and that's what I did. When they were housed by the Jewish community, then I slept in hotels."
Her book provides generous translated excerpts of Finkelstein's manuscript and describes the mostly derelict Jewish sites found along the route today. The few remaining Romanian Jews she encountered sadly acknowledged they were part of the closing chapter of Romanian-Jewish history.
Documentary evidence of the Fusgeyers turned up in several small Romanian museums and in institutions in Budapest, Vienna, Nurnberg, and London. Culiner tapped particularly rich troves in Paris, New York and the Canadian Jewish Congress Archives in Montreal.
She said that she was perpetually amazed her during her journey at how thoroughly the Fusgeyers had been erased from popular memory, particularly in Romania.
"People just don't know the story, except for some Romanians of Jewish descent," she said. "Even the children of Fusgeyers don't know about it." ♦
◊ First published a decade ago, Culiner's book on the Jewish Fusgeyers of Romania is now being distributed by Now and Then Books — order it here. It has also been newly reissued as a Kindle ebook, available here.
© 2005, 2016