Born in Germany to Holocaust-survivor parents after World War Two, Toronto publisher Margie Wolfe has for many years been engaged in the pivotal task of exporting published Holocaust books to some 50 countries around the globe, both in their original English and translated into about 40 languages.
Holocaust books for young readers are a main staple of Second Story Press, the company she co-founded with three partners 25 years ago. (Second Story held a silver anniversary bash at the downtown Cecil Street Community Centre in December 2014).
Wolfe, who arrived with her parents in Canada in 1951, says the company has published about 20 titles to date in its Holocaust for Young Readers series, which — phenomenally — has achieved combined worldwide sales of more than two million copies.
Top-selling books have included such prize-winners as Hana's Suitcase (2002) by Karen Levine, and the two titles by Kathy Kacer — The Secret of Gabi's Dresser (1998) and Clara's War (2000) — that first demonstrated to Wolfe that stories on the dark subject of the Holocaust, if told with care and sensitivity, could be seen to be appropriate for young readers. The series's success has unquestionably broadened Holocaust lit's horizons as a genre, she asserts. (The company now also distributes many titles in the Azrieli Foundation series of Holocaust memoirs.)
"I love it, love it, love it, every time one of our books is translated into German or goes into Eastern Europe or to places where they've never heard of the Holocaust, like Indonesia, Korea, Iceland and Malaysia," she says, adding that 95 per cent of the books' readers are not Jewish.
"Last year at the Frankfurt Book Fair, one Brazilian publisher told a Canadian government official that Second Story books had transformed what kids were being taught in Brazilian schools. The magic of these books is that they are now all over the world."
A 37-year veteran of the publishing trade and a former co-publisher at Women's Press, Wolfe (who is president and publisher) and her partners founded Second Story on "a vision of doing women-focused human rights, social-justice books, primarily for adults but also for children." That is still the company's vision today. "We don't do bunny-rabbit books," she remarks.
Second Story has ventured into many subject areas and series, including mysteries, Gutsy Girl books and the I'm A Great Little Kid Series. It recently published its first adult novel, The First Principles of Dreaming by Beth Goobie, which shines a light on child abuse. Its First Nations books include Shannen and the Dream for a School, about events in Attawapiskat, the northern Cree community; the story is now being turned into a movie.
Second Story has also turned out several titles by local children's author Anne Dublin, including profiles of journalist-activist June Callwood and athlete Bobbie Rosenfeld. Books on feminist history include the anthology Writing the Revolution by Michelle Landsberg, while LGBT-themed books include Branded by the Pink Triangle by Ken Setterington, which won the 2014 Canadian Jewish Book Award for Holocaust Literature. The press and its offspring have garnered a prolific number of literary prizes over the years.
Wolfe speaks proudly of innumerable new titles hot off the proverbial press, including Kathy Kacer's latest, The Magician of Auschwitz. "It's an extraordinary true story. I just came back from Frankfurt, and there was all kinds of interest expressed in it from six or seven publishers from all over the world."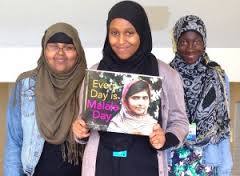 Then there is Every Day Is Malala Day, Rosemary McCarney's tribute to girls'-education-activist Malala Yousafzai, the youngest person to win the Nobel Peace Prize. Wolfe was supposed to join Malala, Prime Minister Stephen Harper and 400 school girls at a Toronto-area school on October 22, but Harper and Malala withdrew at the last moment because of the Ottawa shooting.
Twenty-five years into its mission, Second Story's list of hundreds of published titles seems no less robust than its ambitious plans to publish many, many more from its headquarters in a converted garment-district warehouse on Maud Street, in the Richmond-Bathurst neighbourhood. The company has a staff of seven and employs many freelancers and commissioned sales people as well. The company has branched into digital books but sales of its traditional books remains strong.
"Nobody is saying any more, the way they said ten years ago, that print is dead," Wolfe declares. "Ten years ago they said that by this time, we would not be reading print. But that's simply not true — and it's certainly not true for children's books." ♦