From the Canadian Jewish News, April 5, 2014
Snowball, Dragonfly, Jew, by Stuart Ross
(ECW Press)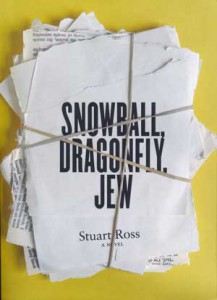 I hadn't heard of Stuart Ross before reading Snowball, Dragonfly, Jew. I was therefore surprised to find that we are "landsleit" — both from Bathurst Manor — and that he is quite prolific, with more than a dozen books and published anthologies under his belt.
How to describe his writing? One needs many adjectives, including: funny, eccentric, poetic, childlike, surreal and experimental. If you drew a Venn diagram, this book might be situated at the place where Leonard Cohen's Beautiful Losers, Jack Kerouac's On The Road, Franz Kafka's Metamorphosis and loads of old comic books, Hardy Boy adventure mysteries, and 1960s movies and TV shows all come together.
At first, Snowball, Dragonfly, Jew seems just a series of light comic sketches, but soon it broadens pleasingly into a quirky quasi-novel. The setting is the heavily Jewish north-Toronto suburb of Bathurst Manor of several decades ago — home, not incidentally, to one of the Diaspora's largest communities of Holocaust survivors.
Ben, our first-person protagonist, recounts a series of striking and bizarre boyhood incidents, misadventures and fantasies, all of which helped shape his world. He tells us of the raccoon that ate his pet catfish, the enormous dragonfly that landed on his leg while he was floating in a lake, the antisemitic bully who forced him to tear a paperback book to pieces, and his grandfather's false teeth that he soaked in an old yahrzeit glass each night.
Ben attended cheder at Beth Emeth, where he was taught about twelve saintly rabbis who chose martyrdom rather than betray their Torah and their Judaism. In his childish recollection, the rabbis are variously thrown off a cliff, lowered into a vat of boiling oil, crushed by a falling weight, fed to alligators and starving wolves, and so on. Yet none betrayed their faith. Ben imagines he could not live up to the example set by these Jewish paragons if confronted by antisemitic Christian boys on the way home from cheder.
"I pictured them wearing Boy Scout outfits. They say to me, Ben, give up your Jewish god and become Christians like us, or we'll kill you right now. I think of potato latkes and jelly fruit slices, and of my grandfather's dentures floating in a glass by the sink, and of my mother sitting on the edge of my bed and telling me how all her aunts and uncles were killed by Hitler, and of my father slathering horseradish upon his lump of gefilte fish at the Passover Seder, and of my mother getting pelted with snowballs because she's four years old and she speaks Yiddish. Then I think of being dead. Nothing happens when you're dead, and you're not even aware that nothing is happening, because you're dead.
"The reason I feel guilty is because I don't think I would be as brave as those rabbis."
Ben is obsessed with the memory of his mother, doomed with terminal cancer, going to Bathurst Manor Plaza with a gun and shooting a known Nazi sympathizer on the sidewalk outside Faggot's Hardware.
Is it a false memory or did his mother really commit the murder and then coolly drive away? Ben thinks he cannot get to the bottom of the mystery. Both his parents have died and his only sibling, Jake, has been institutionalized after losing almost all of his memory like a hard-drive wiped clean.
The adult Ben becomes a performance artist who does strange things like submerge himself up to his head in a vat of ketchup in a store window; he muses that ketchup, according to the Hollywood convention, is actually blood.
Ben weaves the actress Kim Novak and her role in the movie Vertigo into his childhood memories. Novak becomes one of the characters and Ben has imaginary conversations with her as though she, or at least her movie character, has been recalled to life.
Similarly, by the time this off-beat but entertaining book is done, all the main characters — Ben, mother, father, Jake, grandmother, grandfather — also seem vividly alive, as if floating eerily in the sky above Wilmington Plaza.
You don't have to come from Bathurst Manor to appreciate the humour and depth of these seemingly light-hearted sketches. ♦