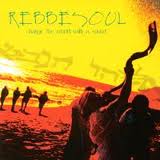 The first time you hear RebbeSoul will be a revelation; at least it was for me.
Within minutes of sliding his new album into the CD player, I realized that here was a type of contemporary Jewish music I had rarely heard before.
Melodious and musically rich, Change the World With A Sound does more than just pulsate with sizzling rhythms and sensuous sounds. It seems spiritually alive.
Melding Carlebachean melodiousness with Hassid-like exuberance, the music seems a loving and appealing tribute to the spiritual inheritance of the Jewish people.
The dozen songs blend eastern or Mizrachi musical stylings with rock and world-fusion sensibilities. The sound is simultaneously as ancient as Abraham and as up-to-the-minute as Madonna.
This American artist, whose real name is Bruce Burger, weaves part of his magic in the studio, splicing in many extraneous beats and sounds such as the droning prayers heard repeatedly in Kaddish. Yet all of the technical wizardry, along with the impressive musical artistry, seems in service of a higher purpose.
RebbeSoul adds to the exotic musical mix by playing mandolin and balalaika, but the real soul of the music lies in its exploration of Judaic themes and mystical traditions. The lyrics are in English and Hebrew, intermittently.
Many of the lyrics were penned by Kings David and Solomon and the great composer known as Traditional. Four songs were composed by RebbeSoul.
According to the liner notes, the song Esa Enai is a collaboration between Reb Shlomo Carlebach and King David, with additional lyrics by Prophet X, and arranged (beautifully) by RebbeSoul. The track also features Toronto's own Neshama Carlebach, daughter of the late Reb Shlomo.
Other selections include Tzamah L'Cha Nafshi, Rock of Ages, Kol Dodi, Qaafilah and Shmelke's Nigun, the latter a creation of Reb Shmuel Brazil. The penultimate track features the mellifluous voice of Reb Zalman Schachter-Shalomi reading the I.L. Peretz story, Reincarnation of A Melody.
The final selection is Avinu, RebbeSoul's irresistible rendition of part of the Avinu Malkeinu prayer, which helped launch his musical career. He first recorded his arrangement of the song about eight years ago in Los Angeles, and it soon won instant airplay on radio stations throughout the city. Since then, Avinu has become his calling-card and he's put a version of it on all of his four CDs.
RebbeSoul's music is so closely associated with religious devotion that he's had to explain to journalists that he was never ordained into his higher calling. "The thing is, I am a professional musician who makes Jewish music that sounds good," he told an interviewer recently. "I'm not a singing rabbi. I'm a real musician with an inspiration for this music."
RebbeSoul is one of a growing number of youngish contemporary Jewish artists who are neither afraid of nor alienated from our rich spiritual tradition. But unlike many other such artists, he vigorously celebrates our shared Judaism without a trace of cynicism. Perhaps it's this quality that is the most refreshing. ♦
© 2002