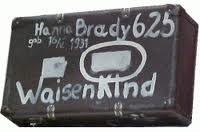 A child's suitcase that was abandoned by its owner at a German death camp during the Nazi era has become the unlikely epicenter of a remarkable literary success story stretching from Toronto to Tokyo and touching many thousands of hearts around the world.
The small, brown, slightly tattered suitcase is clearly marked as the property of a young orphan named Hana Brady. After gathering dust at Auschwitz for nearly six decades, the unassuming relic has taken on new life by inspiring a simple but tremendously moving children's story.
An international bestseller, Hana's Suitcase has been translated into 17 languages so far.
Written by Toronto radio producer Karen Levine and first published last year as an illustrated book for children, the book relates the true story of how the director of a small Holocaust museum in Japan received the suitcase from the Auschwitz Holocaust Museum and began an investigation into its former owner.
Seeing the suitcase in a display case, visiting schoolchildren were full of curiosity about the mysterious girl whose name was painted on it in big white letters, along with the word "Waisenkind," German for orphan. Prodded by their questions, Fumiko Ishioka of the Tokyo Holocaust Center used records from the Terezin Ghetto Museum to locate Hana's brother, George Brady, who had survived Terezin and Auschwitz and lives in Toronto.

The Czech-born retiree, who had been a partner in a large plumbing and heating company, was stunned to receive Ishioka's letter. He sent her photographs of Hana, who was just 13 when she perished, along with many details of her life. He later visited Japan and received an overwhelming welcome from groups of schoolchildren who had adopted Hana as a symbolic representative of the more than one million children who died in the Holocaust.
Hana's suitcase has become the centerpoint of a traveling display, The Holocaust Seen Through Children's Eyes, that has been seen by tens of thousands of people at dozens of sites around Japan.
After Levine wrote a riveting radio documentary about Brady's experiences, Toronto publisher Margie Wolfe urged her to turn the story into a tale for children.
Since its publication, Hana's Suitcase has become a runaway bestseller that has helped bring Hana's spirit to life for some 250,000 readers in 26 countries, according to Wolfe. Her company, Second Story Press, published the story as part of a series of Holocaust remembrance books for young readers.
Reaching mostly non-Jewish readers, the book has achieved sales of about 100,000 copies in Japan and gone into its third printing in France and its seventh in Canada, she said.
"One reviewer said that it's perhaps as important as The Diary of Anne Frank in giving a face to the Holocaust," she said. "People have said that if children are not ready for Anne Frank yet, then they should read Hana's Suitcase."
The book has won numerous awards, including a Canadian Jewish Book Award. It was named the Canadian Library Association's Book of the Year for Children earlier this year.
Now 75 years old, George Brady spent 2-1/2 years in Terezin before being shipped to Auschwitz in September 1944. He says the book has helped him deal with his family tragedy.
"It's taken me a long time to get over my sister's death because I felt responsible for her," he said. "She went to Auschwitz one month after me, and the older I got the more it bothered me."
Whereas his philosophy used to be "not to forget the past but not to live in it," today he's become a frequent public speaker on Holocaust topics as a result of the book's popularity.
He has received hundreds of letters from readers around the world since the book was published, including many from school teachers.
"On many occasions, one could have heard a pin drop while I was reading," wrote a grade five teacher from Bright's Grove, Ontario. "There were several days on which children held their heads low to cover their tearing eyes."
"The most challenging boy in my class wept openly through much of the book," wrote another grade five teacher in Tatamagouche, Nova Scotia.
For author Levine, who has donated all royalties to the Tokyo Holocaust Center, the book's popularity came as a total surprise. "I'd never written a book before and I had no idea how overwhelming the response would be," she said. "It's hugely gratifying and hugely rewarding."
When writing the book, the long-time Canadian Broadcasting Corporation radio producer said she struggled with how much information to include.
"I decided not to include the most gory of details and I know those questions will come out when children are reading the book. I only hope they will have a smart and sensitive and knowledgeable adult to ask."
Her own son recently turned eight years old and has begun asking questions about Nazis, she said. "A few days ago he started asking me why they burned books. I tried to explain it to him and I said, 'But that's not the worst thing they did, they also killed a lot of people and one of them was Hana.' He's now, I think, ready to hear it."
The book has generated about 10 offers for film rights and two for theater rights so far, according to Wolfe, who said any decision will involve both George Brady and Fumiko Ishioka.
"We feel strongly that however we can help Fumiko and the Holocaust Center in Japan, we will, because Fumiko is the heroine of the story," she said.
According to Wolfe, the book has succeeded beyond all expectation because of its ability to put a human face — Hana Brady's — on a numbing statistic.
"Hana, for all her sweetness, was just one of a million children killed in the Holocaust," she said.
"When you tell people a million Jewish children were killed, that doesn't really mean anything. You can't picture that horror. But when you hear the story of Hana, then you begin to see the bigger picture." ♦
© 2003