My father rarely spoke about his war experiences, so when he did so one evening in December 1987, I recorded the conversation as best I could remember it in my journal. 
At a restaurant for dinner, my father reminisced about the old days: but what else do people reminisce about?
Britain declared war against Germany on or about September 5, 1939, and — according to the memory of my father — Canada declared war on the 11th.
"I enlisted between those two dates," he told me. "Did I consult with my parents first? No, I didn't. I had heard an appeal from the West Side Radio Club, in which I was a member, that the Canadian government wanted soldiers who knew radio. I went down to a building on Queen [Spadina?] and Phoebe Streets to enlist, and years later I learned that my mother had worked in the same building years before as a shirt-maker; I believe the building is still standing today.
"I don't remember telling my parents the news or how they took it — but yes! There was a party! It's just coming back to me now. Many of my cousins like Jean and Irene and Norman were there. They came to say good-bye to me. And I don't remember if I left that night or the following night, but I recall that as I was leaving the house — I guess it was on Bellwoods — to go down to the train station, my sister Rose called to me from her upstairs window, saying, 'Come and give me a kiss!'"
Russell said that he trained in Barryfield, just beside the RMC at Kingston, and went to Ottawa and other places for courses in self defense; he learned such tricks as how to disarm a man with a dagger, a man prodding you in the back with a pistol, and how to throw a man charging you with a bayonetted rifle; Russell demonstrated this last in front of a group of men and showed them it could be done. R. was also proficient in boxing, and recalled a bout he had with one of the other heavyweights: "There must have been someone else in the ring with me, someone I couldn't see, because out of nowhere I received a punch right in the nose that I didn't see coming at all, and that was the end of the fight. Which is too bad because I enjoyed boxing — all except when I got hit in the nose."
Russell, who became a physical training instructor, quickly earned a stripe to become a lance corporal. For a while he trained in the gray barracks beside the Princes' Gates, and finally, about November, he was shipped to Halifax for the voyage overseas. About this train trip, he recalls that the troops received warm welcomes from many towns in Ontario and in the Maritimes, but only from the town of Riviere du Loup in Quebec; the rest of that province provided a very lacklustre reception to the country's brave men. He also confirmed for me what I already knew: that he was the first Jew to enlist in the Canadian army at the outset of the Second World War. 
He crossed the Atlantic in the S.S. Aquitania in a convoy of about fifty ships that was "amazing to behold — you couldn't see the end of them." He spent further training time in England, and also trained his platoon as a drill sergeant. "There's a certain art to getting a group of men to march in unison," he said. "You've got to sound out the instructions with a certain rhythm and to build up our lungs, we had to shout at the top of our lungs — it sure wasn't too good for my singing voice, I'll tell you that.
"Here's a funny thing. One time I was drilling my platoon of men on a marching field in England, it was a level field, but directly adjacent to it was a sharp drop. Anyhow, I was marching these men, and I could see they were nearing the edge, and I wanted to turn them around, but I could see that they weren't quite in unison, so I was waiting to the last possible moment. Well, just as that moment was approaching, I heard the British master drill sergeant yell to me from across the field, "Well, for Christ's sake, man, say something to them, even if it's just goodbye!"
"I shouted an immediate 'Halt!' but by then just about everybody was cracked up with laughter." ♦
© 2011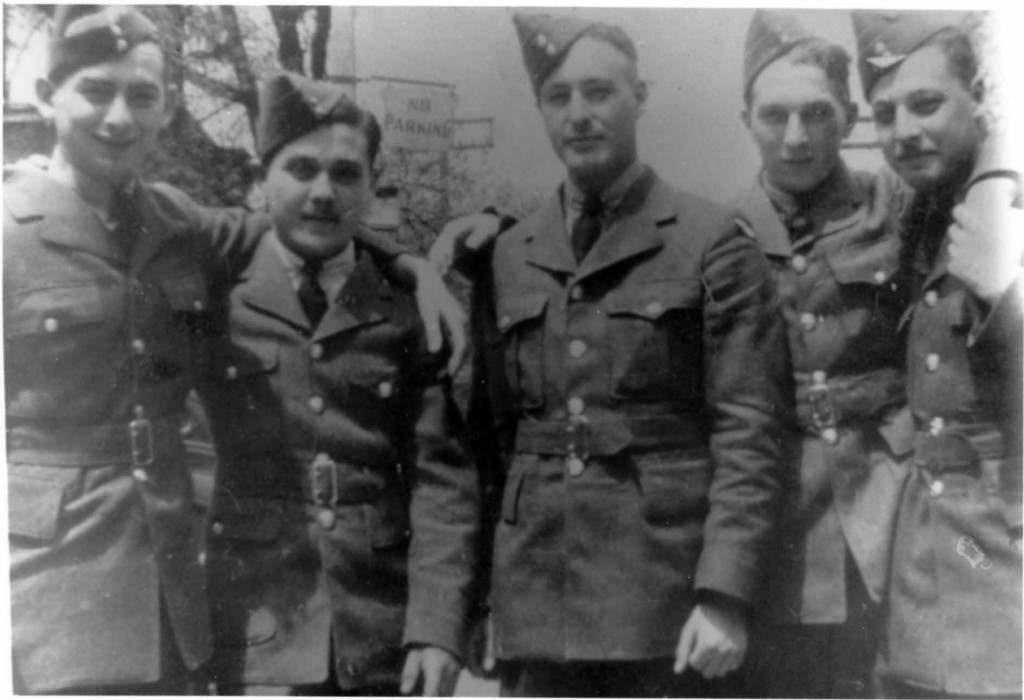 Our cousin Joe King recently entertained me in Montreal and gave me this wartime photo.
From left: Irving Gladstone with friend, cousin Bob (Cyril) King, Benny Gladstone, Joe King.