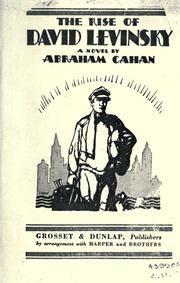 Literary critics often express hallowed praise for writers who have contributed brilliant works to English literature but whose first language was not English. Two supreme examples come to mind. Polish-born Joseph Conrad (1857-1924) did not learn English until he was in his twenties, yet he became one of the language's great novelists and story tellers (Heart of Darkness, Lord Jim, The Secret Agent). And Russian-born Vladimir Nabokov (1899-1977) began his literary career writing in Russian but switched to a masterful and playful English in which he wrote the remarkable Lolita and other esteemed works.
Numerous Jewish writers probably also belong on this list, especially since Jewish literature is one of few world literatures carried out in a host of languages including Hebrew, Yiddish, French, Spanish and English. For me, American writer Abraham Cahan deserves special praise for the high quality of the English prose he composed even while immersed in his native Yiddish milieu in New York.
Born in Vilna in 1860, Cahan did not begin to learn English until after arriving in America in 1882. He applied himself diligently to the task, always keeping a dictionary handy and transcribing newly-encountered words, phrases and idioms in a notebook. To increase his vocabulary he read scores of works by Dickens, Thackeray, Trollope and other novelists as well as poets, philosophers and historians. All this industriousness began to reap rewards in the late 1880s when he began selling pieces to major American magazines such as McClure's, Cosmopolitan and the Commercial Advertiser.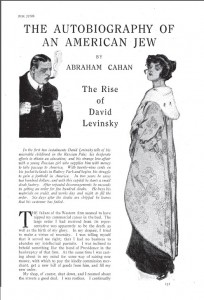 Cahan is perhaps best known as the editor of the Forverts, New York's most popular Yiddish newspaper, which he helmed from 1902 until shortly before his death in 1951; he also penned its popular advice column A Bintel Brief. The paper was politically socialist but Cahan watered down the political ideology in favour of more populist and friendly content that would better reach the masses; he preferred to help his vast "green" Yiddish-speaking readership better understand their new homeland with logical explanations of everything from the American banking system to baseball. Under his legendary tenure the paper's weekly circulation rose spectacularly from a few thousand to about 250,000 by the early 1920s.
Between newspaper deadlines Cahan managed to pen short stories and a couple of novels in English, including one of the great classics of Jewish immigration fiction — The Rise of David Levinsky — a book that gave non-Jewish New Yorkers an exclusive insider's view of the insular Yiddish-speaking Jewish society in their midst.
It was while convalescing from abdominal surgery in 1913 that Cahan began writing this important novel; after the first segments were published that year in McClure's, the editors clamoured for more. Cahan obliged them by churning out several additional parts, all of which he revised and expanded upon in preparation for the novel's publication by Harper and Brothers in 1917.
One hundred years later, The Rise of David Levinsky still stands as a robust and vivid portrait of Jewish life on the East Side of New York between the 1880s and the post-WWI era. "Abraham Cahan's epic masterpiece is the American novel of immigration par excellence, as it should be: no one knew the millions of Eastern European Jews who arrived in America between 1881 and 1924 better than Cahan did," writes literary critic Josh Lambert.
Cahan modeled the semi-autobiographical book in part after The Rise of Silas Lapham, a popular 1885 novel written by his mentor and literary idol, William Dean Howells, pioneer of a new modern style of social realism. Breaking with a longstanding romantic tradition, writers of social realism embraced the commonplace in American society, sought to demonstrate the dignity of the common man, focused on the class system and other defining social factors, and described characters and their surroundings with an almost photographic verisimilitude.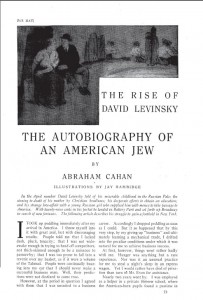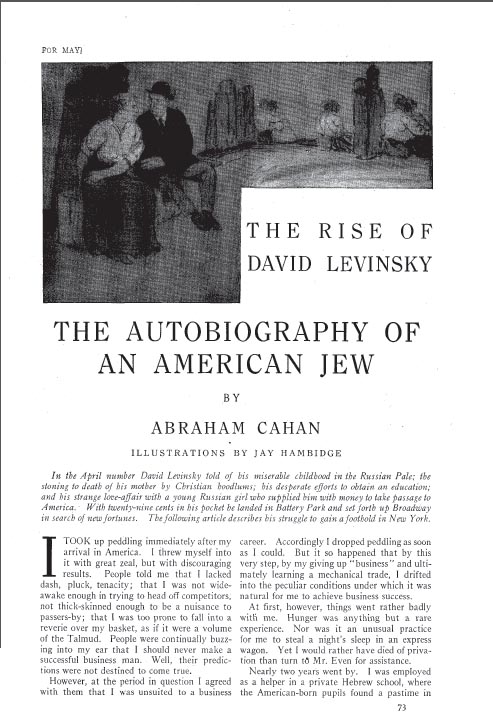 Unlike most literary depictions of Jews at that time, his Jewish characters are not derogatory stereotypes and they do not speak a comically degraded form of English or Yinglish: Cahan had an excellent ear for realistic dialogue. Cahan's novel delves into topical attitudes and issues involving capitalism and socialism, the merchant class and the labouring masses, unionized and non-unionized labour, and morality and ethics within America's garment industry, all carefully expressed through character.
Levinsky's fictionalized autobiography, which the title character narrates in the first person, begins with an account of his impoverished childhood and youth in Russia that, above all, has the ring of authenticity. Levinsky is raised by his widowed mother, who sacrifices and slaves so that he may study Talmud. After she is tragically killed by antisemitic thugs, he decides to go to America. But before leaving he acquires a first taste of romantic love — a diversion from the "straight and narrow" path he had intended for himself. Many more diversions follow.
In America Levinsky loses his beard and religious ways and gains fluency in English as he transforms himself into an American. Ambitious, industrious and willing to take risks, he rises by degrees from hungry tailor to wealthy magnate. As Levinsky explains at the top of the first chapter: "I was born and reared in the lowest depths of poverty and I arrived in America — in 1885 — with four cents in my pocket. I am now worth more than two million dollars and recognized as one of the two or three leading men in the cloak-and-suit trade in the United States."
The secret of Levinsky's success is that he compromises on his socialist values and makes an end-run around the unions; as a factory boss he runs a non-union shop and pays religious Jews lower wages and exempts them from the usual requirement of having to work on the Sabbath and Jewish holidays. While he prospers economically, his romantic life is problematic. Unable to find a marriage partner, he has an affair with a married woman and then, years later, falls in love with a younger girl who disdains his air of self-made capitalistic arrogance. At the end of the story, he lacks for no material thing but cannot quell the yearning in his soul. He admits he was probably most satisfied as a poor lad poring over the Talmud in the Antomir synagogue.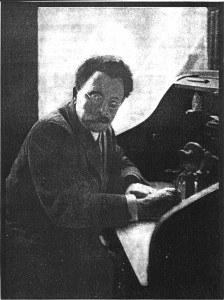 After a century The Rise of David Levinsky is still a vibrant and accessible read that brings the period elegantly back to life and preserves the life of a charming American-Jewish capitalist in a literary time capsule. But it also begs the question: did Cahan have any themes or morals in mind? As Louis Harap observes in his wonderful and perceptive study The Image of the Jew in American Literature (1974), Cahan used the exercise to articulate his own internal contradictions and conflicts — a set of feelings that likely seemed more relevant to readers of his own era. "The central conflict," Harap writes, "was between fidelity to his intellectual, social, and esthetic convictions and his capitulation to expedience and the lure of success." Today few people, except perhaps fervent followers of the Occupy movement, would have any such pangs of conscience about succeeding in business in accordance with the glittering promise of the American dream. ♦