From Canadian Jewish News, 2008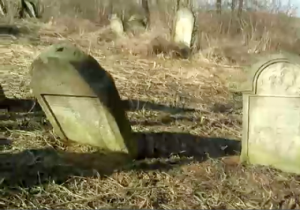 Howard Nightingale, a Toronto lawyer, has been the driving force behind the restoration of an old abandoned Jewish cemetery in Siedleczka, Poland, that will be officially rededicated in a ceremony set for August 17th [2008]. Nightingale and representatives of numerous other Toronto Jewish families plan to be in attendance, along with many townsfolk and notable visitors including the town's mayor and possibly the Chief Rabbi of Poland.
Nightingale, whose late mother survived the Holocaust as a hidden child in the nearby village of Gac, first stumbled upon the cemetery seven years ago, and was shocked at its state of disrepair. The site was completely overgrown with weeds and the perimeter walls and many of the tombstones were broken or laid in piles.
"We said kaddish at the cemetery," Nightingale recalled. "There was a mass grave at the bottom of the hill — Jews of the town were rounded up and shot in 1942. The records show 892 Jews were shot.
"There was a marker at the bottom of the hill which was completely overgrown. We had difficulty in even finding it, but my cousin knew about it. At that time we all agreed that something should be done."
The one-acre cemetery was established about 1850 and may have been the last resting place for members of Nightingale's family who died prior to World War II. During the war, the Nazis used some of the tombstones to pave the road.
Convinced that the long Jewish presence in Poland deserves to be honoured and remembered, Nightingale began raising funds. More than $22,000 came from five families with relatives in Siedleczka and its surrounding shtetls of Kanczuga, Zagorze, Gac, Manasterz, Bialoboki, Chmielnik, Jawornik Polski and Zabratówka. Eventually he raised some $54,000 for the project.
Although Nightingale soon realized the difficulty in co-ordinating the restoration by long distance, assistance came from the Poland Jewish Cemetery Restoration Project, now administered by the Foundation for the Preservation of Jewish Heritage in Poland, and from Norman Weinberg, a Buffalo-area man with expertise in similar restoration projects.
Siedleczka is located in southeastern Poland, about 170 miles south-southeast of Warsaw. Many Jewish families in Toronto likely have roots in the region. For more information on the cemetery and to see some tombstones online, please visit the website www.Siedleczka.org. ♦