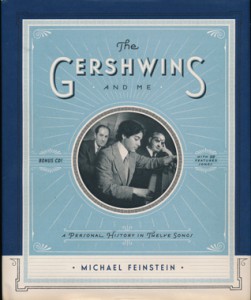 For those who love the classic tunes of the so-called American "songbook" and particularly the timeless melodies and lyrics of George and Ira Gershwin, Michael Feinstein's new book, The Gershwins and Me: A Personal History in Twelve Songs is much more than heartfelt homage by an outsider or Johnny-come-lately to a remarkable musical era that is now closed.
Rather, it is a riveting personalized account of American popular music of the pre-Swing era by someone who forged a unique relationship with one of its colossi — Ira Gershwin — while being easily young enough to be his grandson.
A gifted musician from Columbus, Ohio, Michael Feinstein developed an unrelenting passion for this music from an early age. Through a string of fateful circumstances he met Lee and Ira Gershwin at age twenty, shortly after moving to Hollywood in 1976. At their first meeting in the Gershwin home, Lee "opened a concealed door to reveal a large walk-in closet . . . packed from floor to ceiling with records and all sorts of other media," and hired Feinstein to sort and catalogue the material.
Although Feinstein thereafter became a regular in the Gershwin household, it took a while for Ira to realize just how much the youngster knew about him and his brother, George, who had died tragically of a brain tumour at the height of his fame and creative powers in 1937.
One day Feinstein absent-mindedly whistled an obscure piece that he and George had written, a verse of "Beginner's Luck," penned for Shall We Dance in 1936. "Ira was delighted to discover how much I knew about his work," Feinstein writes. "He asked me to play the piano, and I played I Got Rhythm in the style of different composers: Beethoven, Rachmaninoff, and Strauss. He loved that, and I think it was then that we really bonded." In addition to his role as archivist, Feinstein became a chief source of entertainment and happy distraction for the elderly, ailing lyricist.
As he laboured on the Herculean task of cataloguing the walk-in closet, Feinstein often consulted with Ira over names, dates and other obscure details. "We'd debate about some song and he'd say, 'That was 1931,' and I'd say, 'No, that was 1930.' He'd say no, he remembered because of such and such and I'd prove I was right, getting out a book. 'Well, you're right again,' he'd say, 'but you have an advantage over me.' 'What's that?' I said, and he answered, 'I've only lived my life. You've thoroughly researched it.'"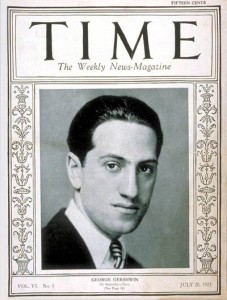 Through some process of sublime osmosis, Feinstein has acquired an awesome intimate knowledge of many of the popular composers of the period, as reflected, for example, in his assessment of their varied piano-playing capabilities. George Gershwin was "a far better player than his popular music peers," he writes. "Cole Porter couldn't play the piano well; Harry Warren could only play in the most basic fashion. Warren had tremendous ability when it came to conceiving musical ideas, but they happened in his head — he couldn't translate them to the keyboard." Other composers that Feinstein discusses in depth include Jerome Kern, Irving Berlin and Harold Arlen.
He also gives us excellent summaries of the histories of many famous tunes, such as "I've Got A Crush On You," which was originally conceived of in a fast tempo but was slowed down dramatically into a ballad when Lee Wiley recorded it in 1939. "When Ira first heard Lee Wiley's recording he felt thwarted and irritated, because he didn't think the lyrics worked well in a slow ballad setting," Feinstein writes. "'What have they done to my song?' he said. But Ira listened to the song again, and the third time he listened to it, he decided he liked it" and believed the lyrics "worked well when slowed down." Today the slow version of the tune has been universally accepted and the faster version all but forgotten.
Each of the book's twelve chapters delivers an insightful homage to one of a dozen immortal songs and works, including "The Man I Love" (1924), "'S Wonderful" (1927), "Embraceable You" (1930), "Porgy and Bess" (1935), and "They Can't Take That Away From Me" (1937).
In addition to the insightful narrative, The Gershwins and Me presents a fascinating scrapbook of original letters, musical scores, sheet music covers, photographs and other Gershwin ephemera, making it truly a volume for collectors. The book also offers a bonus CD of twelve Gershwin songs played by Feinstein, a gifted pianist and singer; however, his modern palette of jazz chords seems at odds with the musical period that the book celebrates so well. ♦
The Gershwins and Me: A Personal History in Twelve Songs, by Michael Feinstein, is published by Simon & Schuster. 
© 2012