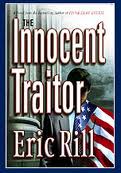 "I write to entertain, I don't write to preach," said Eric Rill on a recent visit to Toronto, during a publicity tour (2004) for his latest book, The Innocent Traitor (Georgetown Publications).
A former top executive in the hotel industry originally from Montreal, Rill's first novel, Pinnacle of Deceit, a political thriller, was a surprise bestseller that elicited comparisons to Clancy, Le Carre and Follett.
His second novel is also a taut thriller involving complex political intrigues, government agents, spies and terrorists, all operating in a muddy, violent world where everyone is tainted. While the first book was set in Canada and the United States, The Innocent Traitor takes readers inside the CIA and the Guatemalan military.
"The story is a complete fiction that is based on what really happened in Guatemala and what's happening all over Central America and in fact in Iraq today," the author said, asserting that the CIA led a coup in Guatemala in 1951 and backed a subsequent military regime that has slaughtered many thousands of people.
But Rill, who has "always been fascinated with politics," says the book was not intended as a political statement. "I wrote a thriller that I hope will keep people turning the pages," he said.
The idea for the book came from a chance conversation he had in 1996 aboard a cruise ship with the brother of a Guatemalan politician, Alvaro Arzu, who was later elected president. Later, Rill met a knowledgeable CIA source and "tapped" him for the sort of insider information that would allow him to establish an air of authenticity in the book, which is largely set in Guatemala, Washington DC, and aboard a cruise ship.
"I'm not privy to whether he contravened his oath or not, but clearly I got enough information that I could write a book based on truth," said the author, who had lived in Washington DC for several years. "From what he told me, I was able to understand how the CIA operates in a personal way, what lingo they use, and so on."
Born in Montreal in 1946, Rill studied political science at New York's Cornell University and business at UCLA, and joined the Ramada hotel chain soon after graduation. Rising quickly through the corporate ranks, he stayed with the company for 10 years of jet-setting travel to more than 100 countries. "I was in China in 1972, the week after Nixon was there. That was the wonderful thing about Ramada. I got to travel all over the world."
At the peak of his responsibilities, a time when he was "running 10,000 people and 500 hotels," he decided he wasn't enjoying his job any more. So he left to start his own company, buying and selling distressed hotel properties in the United States and Canada.
Meanwhile, he had started writing, first a diary, then short stories. Eventually came the realization that he was more a creative than a corporate type. "It's important to know when to get off one bus and get on the next one," he said, of his decision to leave the hotel industry. "I figured it was time to start writing full time."
A resident of the British West Indies, Rill is still a keen international traveler and has maintained many of his industry connections. Seeking detailed knowledge of cruise-ship operations for some key scenes in The Innocent Traitor, his industry connections helped him gain full access to a Radisson cruise ship during a month-long excursion around South America. "If you're going to write, you've got to do research," he said.
As part of his novelistic research, he's also interviewed the former head of the U.S. Secret Service as well as officials in the RCMP and many other people he probably would not otherwise have met. "Researching a novel is like getting a peak into someone's life," he said, expressing delight at his new calling.
"You're always doing something," he said. "For me, that's fantastic." ♦
© 2004