Samuel Koteliansky was never a major figure in the Bloomsbury circle. Author Leon Edel never even mentions him in Bloomsbury: A House of Lions, his masterful portrait of the loose affiliation of writers and artists associated with the London-based Bloomsbury circle. Neither is Koteliansky mentioned in the other books about Bloomsbury on my shelf.
We owe it to writer Galya Diment, author of the 2011 book A Russian Jew of Bloomsbury: The Life and Times of Samuel Koteliansky (published by McGill-Queen's University Press), for shining a welcome spotlight on this intriguing and worthy subject, who was an important influence on D. H. Lawrence and a friend to Katherine Mansfield, H. G. Wells, Mark Gertler and other prominent figures of his day.
Kot — he acquired that nickname because few of his British friends could spell or pronounce his full surname — was born in Ostropol in 1880 and arrived in London in 1911, having already devoured all of the major works of Tolstoy, Chekhov, Dostoyevsky and other Russian writers in their originals. The Diaghilev Ballet was then at the height of popularity in London and the British public was just entering into a mania for all things Russian, just as it had done for all things Japanese in an earlier era.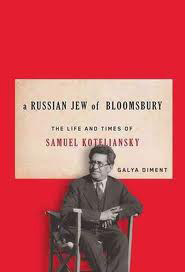 Introduced into the fringes of Bloomsbury group, Kot's deep understanding of Russian literature, and his passionate approach to life and art, made him — despite his Jewishness — someone worth knowing. D. H. Lawrence invited him, along with other friends, on a walking tour of the Lake District in July 1914. Kot was thereafter close with Lawrence for the rest of his life and exchanged more letters with him than anyone else outside of Lawrence's own family.
Kot's friendship with Lawrence thrived, Dimant writes, despite Lawrence's penchant for biting anti-Semitic remarks. Apparently few people in that era regarded expressions of racial hostility as politically incorrect: there was no need for anyone to curb their tongues or keep their discriminatory thoughts to themselves. Even Leonard and Virginia Woolf occasionally made anti-Semitic jibes about Kot, somehow forgetting the fact that Leonard was himself a highly assimilated Jew.
In the 1910s and 1920s, Kot worked as a translator of Tolstoy, Chekhov, Dostoevsky and other Russian writers for the Hogarth Press, the small publishing outfit operated by the Woolfs. His translation of Maxim Gorky's Reminiscences of Leo Nicolayevitch Tolstoy was the first of their several great successes. Curiously, he often shared the credit for his translations with Virginia Woolf, Lawrence, Mansfield and other collaborators who knew not a word of Russian but were capable of rendering his adequate prose into exceptionally fine English. Ultimately, after quarreling with the Woolfs once too often, he left Hogarth to work for another publisher and eventually set up his own small press.
Kot once sought Lawrence's permission to translate Women in Love into Russian, but Lawrence declined when he realized that he was still an unknown quantity in Russia. "How can I write for any Russian audience? The contact is not established. How can the current flow when there is no connection?" Lawrence wrote in a letter to Kot. In 1927 Kot asked to read Lawrence's latest manuscript, Lady Chatterley's Lover, thinking he might want to publish it, but Lawrence told him the novel was "so improper, you wouldn't dare to touch it," adding: "It's the most improper novel ever written: and as Jehovah you would probably find it sheer pornography."
Kot later acknowledged that he had found the book "disgusting"; he was a fervent proponent of honesty no matter how harsh. "Better an honest slap than a false kiss," he would say. But he could be a fierce critic of literature he disliked and made people he disliked into enemies for life. Possessing a dark Russian temperament, he was also moody and went in and out of deep depressions.
Unused to socializing with shtetl-born Jews, many of his associates projected exotic and oriental qualities upon him. Although he was a largely secular Jew, his English friends sometimes jokingly called him Jehovah or a rabbi or an Old Testament prophet, Dimant writes. Mansfield's husband, John Middleton Murry, wrote that he "looked like some Assyrian king . . . with an impressive hooked Semitic nose, a fine head of coarse black curly hair, and massive features: very dark eyes with pince-nez."
Although not a household name like the more prominent figures at Bloomsbury, Kot definitely left his mark on the art scene of his day. Dimant asserts that Lawrence used him as a model for a character in his 1923 novel Kangaroo. Lawrence was once so taken with a snippet of Biblical poetry that Kot sang for him that he made it the basis of his Utopian vision, "Rananim." Kot also became an intimate friend of Mansfield, shaping her awareness of Chekhov; of H. G. Wells, who asked him to tutor his son in conversational Russian; and of Mark Gertler, a young painter and fellow Jew from Eastern Europe.
Despite all the social pressure to become Christian, Kot persisted in being Jewish, and even glorified Jewish culture on occasion. When the Habima Players' famous production of S. Ansky's The Dybbuk came to London, Kot dragged Aldous Huxley and other influential friends to see it. And he acquiesced when Lady Ottoline Morell, a friend whom he suspected was trying to convert him to Christianity, invited him to a service in St. Paul's Cathedral. "She thought he would be impressed by the beauty of the music and the Church of England service," a mutual friend, Lady Glenarvy, later wrote. "The only feeling he got from it was . . . [that] it was all so completely Jewish; every hymn and psalm and prayer or reading from the Bible was about Jehovah, Jerusalem, the Children of Israel, Zion and the Hebrew prophets." ♦
© 2012. This article originally appeared in the Canadian Jewish News on August 2, 2012.