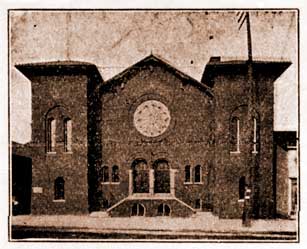 Zelig Shapira, who lived in Toronto from 1890 to 1907, was remembered at a family reunion that 93 of his descendants attended in Toronto in October 1983, according to a story that appeared in the Canadian Jewish News of November 3, 1983.
Shapira was born in 1851 in Pamoren, Galicia, and was active in the Jewish community and in the building trade in Toronto. He donated the land upon which the old Terauley Street Synagogue, Machziki Hadas, was built on what is now the east side of Bay Street, just south of Dundas (formerly Agnes).
The Terauley Street Synagogue, headed by Rabbi Joseph Weinreb, was a Galicianer shul whose congregation broke away from an existing synagogue on Chestnut Street.
Shapira's wife and daughter died in Toronto in 1906. Afterwards he moved to Pittsburgh to be with his brother, Moshe Yankel. There was another brother, Judah Hirsch, who stayed in Poland, and a fourth, Yitzhak, who emigrated to Switzerland.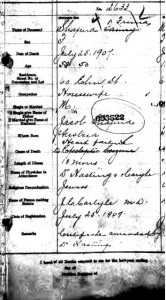 Before leaving Toronto, Zelig Shapira brought over is niece, Gitel Pike and her family from Galicia. Gitel was the daughter of Judah Hirsch. Shapira gave Gitel the key to the Terauley Street synagogue and upon her death the key became the property of her son, Sam Pike of Toronto, who owned the key continuously for 76 years up until the time of the reunion.
Zelig remarried in Pittsburgh and had a total of nine children. At a dinner at the Four Seasons hotel, Sam Pike gave the synagogue key to Boris Shapira, one of Zelig's grandsons.
Sam and Boris had met each other only three years before, after two cousins in the Shapira clan — Nena Dillick of Detroit and Frieda Shapira of Pittsburgh — encountered each other an American Council of Jewish Women meeting in Pittsburgh. Nena was married to a great-grandson of Judah Hirsch Shapira, Frieda to a grandson of Zelig Shapira.
Recognizing the key's importance to the city's Jewish history, Boris Shapira promptly turned it over to Dr. Stephen Speisman, director of the Ontario Jewish Archives.
During the reunion weekend, participants took a tour of the city where there are still some 34 descendants of the family living. ♦