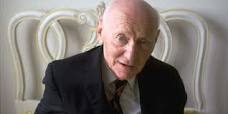 In the early 1920s, a young man who proofread copy for a Yiddish literary magazine in Warsaw asked the editor to consider publishing a short story he'd written.
After due consideration, the editor said he found the story greatly flawed, but would publish it anyhow. And what was wrong with it? the brash novice wanted to know. It lacked problems, was too pessimistic and took such a low view of its Jewish subjects as to be almost anti-Semitic, replied the first editor ever to accept a Isaac Bashevis Singer short story for publication.
Singer (1904-1991), who recounted the episode in his memoir "Love and Exile," also recalled the moralistic lecture that followed. "Why write about thieves and whores when there were so many decent Jewish men and devoted Jewish wives? . . . . A Yiddish writer, my editor argued, was honor-bound to stress the good in our people, the lofty and sacred. He had to be an eloquent defender of the Jews, not their defamer."
But these words were wasted on the future Nobel laureate, who had already decided that Yiddish literature had fallen into a fatal slough of slow-paced provincialism and sentimentality.
"Yiddish and Hebrew literature both suffered from a lack of suspense," he observed. "Everything in them centered around some yeshivah student who had gone astray, sought worldly knowledge, then suffered the consequences at the yeshivah or at his in-laws'. But I had already grasped the fact that suspense was the essence of both life and art. Mere description wasn't enough. What was needed was tangled situations and genuine dilemmas and crises."
This summer (2004), which marks the centenary of Singer's birth, pundits and critics are shining a fresh spotlight on his remarkable literary legacy and his emergence as the 20th century's most famous Yiddish writer. To mark the occasion, the Library of America (a publishing house) has produced a fancy three-volume "authoritative" boxed set of his stories, edited by Ilan Stavans, including several that have never before appeared in English.
Amazingly, Singer's prodigious output of stories is still seeming to grow. For decades, he was a star contributor to the New York-based Yiddish Forverts, whose back issues are still being mined for untranslated stories and even novels by him. Last month the Forward, the Yiddish paper's English-language sister, published an eight-page special section about him. The section included "Two," a newly-translated tale of depraved lovers whose hate and love for each other has been mixed up so thoroughly as to become all of a piece.
Thirteen years after his death, loyal readers may still look forward to many more untranslated stories and at least two novels that have languished in obscurity. In a 2001 scholarly anthology titled The Hidden Isaac Bashevis Singer, essayist Nathan Cohen observed that despite the profusion of works by Singer in many languages, "many others still remain hidden in the yellowing pages of Forverts and other Yiddish newspapers and periodicals — enough to provide years of work for translators, publishers, and researchers alike."
Cohen provides a description of an important early autobiographical novel that has previously received scant, if any, critical attention. Varshe 1914-1918 was partially serialized in a Polish Zionist newspaper in 1935, just as its author was readying his first novel, Satan in Goray, for publication in Yiddish. He left for America soon afterwards and seemed to abandon the autobiographical work, which described his own youthful experiences in Warsaw.
Sometime in the '90s, translator Joseph Sherman retrieved a forgotten Singer novel from the Forverts of 1957. Shadows On The Hudson, the first Singer novel set on American soil, made an auspicious and slightly sensational English-language debut in 1998. Some reviewers astutely suggested that its bleak vision and unsavoury Jewish characters were a large part of the reason it had been overlooked for so long.
At least one other Singer novel, Yarme un Keyle, still lies undisturbed since its original appearance in instalments in the Forverts of half a century ago. Sherman, who translated a chapter for The Hidden Isaac Bashevis Singer, noted that the book was a radical departure for Singer; he described it as a gangster novel peopled by forgers, blackmailers, gangsters, seducers, white slavers and murderers, set in the Warsaw underworld before WWI.
In Love and Exile, Singer describes a lost story titled "In the World of Chaos," whose hero "was nothing less than a corpse who didn't know that he was dead. He wandered across Poland, attended fairs, called on rabbis, even allowed himself to be proposed for marriage." The story ends when the protagonist seeks out a cabalist rabbi to explain his life's mystery to him. "Unbutton your gaberdine and you'll see that you're wearing shrouds," the rabbi tells him.
Singer admitted that he identified with this strange hero because "I lived yet was ashamed to live, ashamed to eat and ashamed to go to the outhouse. I longed for sex and I was ashamed of my passions . . . . Man is the only creature who is ashamed to be what he is. The whole human culture is one mighty effort to cover and embellish itself; one huge and complex fig leaf."
In a sense, Singer's "dead man walking" seems an apt image for the writer himself — who still seems a powerful force in the world. For all we know, Singer is taking an impish, posthumous delight from the appearance of continuing to churn out new stories and novels, even beyond the grave. ♦
© 2004