Notorious Criminals Whom the Detectives Have Arrested at the Request of Distant Authorities 
From the Toronto Star, December 5, 1903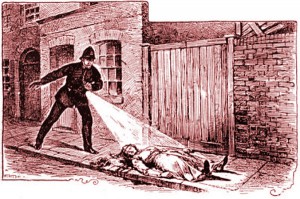 The work of the Toronto police authorities is not confined to the depredations committed within the city limits. A generous portion of their work consists in ferreting out and apprehending criminals who have committed offences in other cities and have fled to Toronto for refuge. The man at the desk in the detective department will show you letter after letter and telegrams innumerable asking the police of Toronto to look for — to arrest — to hold John Smith, dark complexion, wen on the neck, height five feet seven and one half inches, weight one hundred and sixty pounds, slight impediment in speech; wanted in — for burglary. The detective department is thus always kept busy.
"Just a moment," says Inspector Stark to a caller in the dark brown suit and the hard brown hat. The man in the dark suit and the dark hard hat has his case heard first by virtue of the first-come-first-served principle.
"Now, in regard to the check," is a part of the conversation that floats over the shoulders of inspector and the man as they engage in earnest confab by the northern window. "And I thought I would just see you before taking action," concludes the man with a grievance.
"Yes, yes," asserts the inspector, who leaves in answer to "phone, inspector," from the sergeant. Yes, Inspector Stark is a busy man. In 1902, besides local cases, the department handled many outside cases. From the Province of Ontario came 312 cases, from Quebec 10 cases, Manitoba furnished three cases, and from different parts of the United States came 215 cases.
In addition to the criminal cases came many letters asking for the aid of the authorities in searching for lost relatives. Of this kinds the department receives about 300 letters annually.
Some Who Have Been Caught.
Many famous criminals from outside points have been brought to justice through the good offices of the police department of this city.
In the recollections of many will be vividly imprinted the story of William H. Harvey and his deed weird and ghastly. Harvey murdered his family at the family home in Guelph. After the deed he came to Toronto ostensibly for the purpose of finishing his work of destruction by murdering his son, who was employed here. The father was arrested in King street by Acting Detective Black on March 27th, 1880. He was sent back to the Royal City, and on the 29th of November of the same year was hanged.
During 1888-1889 the detectives were kept busy and made a phenomenal number of arrests of aliens.
L. O. Ives, a forger from Detroit, was rounded up and sent back to three years' imprisonment.
Forty-eight hours after Schnell, the New York diamond thief, arrived in Toronto he was arrested. When sent back he was sentenced to three years' servitude.
Harry Jenkins, a Boston boodler, was taken in custody, but escaped punishment by promising to reimburse those he had duped.
In Clerical Garb.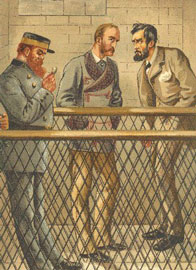 Rev. J. W. C. Gibson, who masqueraded as a pastoral wolf in sheep's attire, was arrested in the city while uttering money orders he had forged in Dakota. He secured a term of three years.
Sloanaker, a Windy City man, was overhauled here and sent back to Chicago, where he was wanted for embezzling funds from a railway company. His sentence was a three-year one.
Harvey, a New York boodler, came to Toronto, and thence passed on to Halifax. He was captured through information furnished by Toronto detectives.
Jones, a boodler from Denver, robbed the C. and N. W. Railway and skipped to Canada. He was nipped after he had been in this city but two days. Three years' servitude was his punishment.
Cross and White, president and cashier of the Raleigh Bank in the Southern States, had enjoyed the more congenial air of Canada but a day when they were arrested with $25,000 of the stolen bank funds upon them. They were each sentenced to seven years' hard labor.
John Clark, alias Rev. Father McDonald, a bogus priest, successfully ran the gauntlet of the police in the great cities of the two continents, the while he carried on extensive and daring swindles. At Toronto he met his fate, and to Kingston penitentiary he was sent to languish for five years.
Were Waiting For Him.
Harry Algase, a Hebrew swindler, successfully worked his schemes on the good burghers of Ottawa, Windsor Syracuse, and other places. However, coming events cast their shadows in advance. The "shadows" were awaiting him as he stepped from a railway coach on the good hard pavement of Toronto, and his arrest soon followed.
Horace Horan and his pal Sheridan have unpleasant recollections of Toronto the Good. Their fortes was in sneak-thievery from banks. They arrived in the city at noonday and two hours later were safely caged. The charge against each was vagrancy. Upon promising to leave the city they were allowed one hour to do so.
Charlie Johnston, an American counterfeiter of wide repute, was also entertained by the police while in the city. He was nabbed in the west end, and is now in the midst of a fourteen-year sentence looking upon his crimes.
Young, alias Bates, a Detroit forger, was taken in the toils of the Toronto police. He was extradited, and for substantial reasons will not come back to Toronto until fourteen years after the date of his extradition.
Big Ned Rice made the mistake of his life by coming to Toronto after cracking a safe at Port Hope. He was arrested here and given four years in the penitentiary.
Bank Thieves.
George Carson was his aide, a young man by the name of Boswell, were caught in the act of doing a sneak act in the Toronto Bank. Carson, one of America's most notorious sneak artists, was penned for seven years, and Boswell, who had a less shadier record, was sent down for four years.
J. Lee West was an all-round man; that is to say, he was very corpulent. His specialty was boodling, and that is why he left his happy home in New Orleans. With vaudeville stage whiskers he tried to disguise himself when he fled to Toronto. Maybe he got the idea in some book. At any rate, the eyes of Toronto detectives were too piercing and West was taken prisoner. He readjusted matters with the men he had robbed by giving up $1,4000, all the money he had, and thus saved himself from incarceration.
Mollie Matches.
On the evening of April 26th, 1889, Detective Sergeant Reburn added to his fine record by arresting the famous Mollie Matches (John Larney) at the Union Station. "Mollie" enjoyed the reputation of being the slickest pickpocket and bank robber then in the business. A complaint had been made by E. M. Bell, a guest of the Palmer House, that he had been done out of some money, and the arrest of Mollie soon followed. He was wanted in New York for bank robberies amounting to thousands of dollars.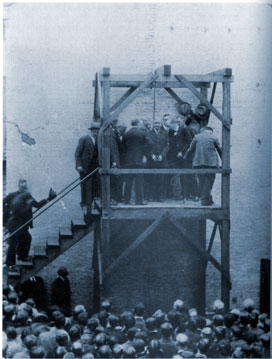 Mollie's mode of operation was to place a coat on his left arm and march into the thickest of a crowd. He would thrust the coat into the face of the victim and then rob him while at this disadvantage. Larney earned his sobriquet while yet a boy. Upon the occasion of a large banquet in New York city he slipped in among the guests disguised as a poor match girl; hence the name "Mollie Matches." This daring escapade netted him $2,000. It is estimated that in his lifetime by crime he made a fortune of $150,000, most of which he paid out in lawyers' fees. He was arrested upon two occasions in the city, once by Sergeant Reburn, and by Detective Burrows.
James A. Montgomery, a jeweler from Port Hope, was arrested by Detective Reburn in St. Louis in July, 1879. The chase led from Toronto nearly all over the States, and finally resulted in victory for the indefatigable detective. Montgomery forged notes and checks on the citizens of Port Hope and cleared out with $8,000 of his ill-gotten wealth; $7,000 worth of jewelry was found on him when arrested.
"Piano" Charley and Charles Durand fled from the penalties of their misdeeds in New York. They came to Toronto, robbed Chapman, the jeweler in Yonge street, and were nabbed on December 31, 1878, by Detectives Reburn, Brown, and Hodgins.
Was Short $100,000.
William T. Branch of Bradford, Pa., was short $100,000 in his accounts with the American Transfer Company of that city. When his defalcations became known, he fled to Toronto. He boarded for a while in Church street, until he was arrested September 26, 1881, by Detectives Curtin of Buffalo and Reburn of Toronto.
On July 27, 1880, Detective Reburn arrested the noted American horse thief, John D. Styles, a middle-aged German. He fled from Syracuse to Toronto, where he was taken into custody.
Nearly contemporaneous with these arrests came the capture of Arthur and Paul Reisler for fraud in Zerbel, Germany. W. D. Lohmann, who was wanted in Brooklyn, N.Y., for embezzlements amount to $30,000. Vincienzo Zarille, who was sought in New York for the theft of $4,000. Dr. M. P. Kossahousie, who was held for the Chicago authorities, in which city he was wanted for embezzling from the American Express Company.
McWhirrell's Capture.
W. W. McWhirrel, wanted for the murder of John Williams and wife, of Port Credit, was captured by Toronto officers. He was sentenced to be hanged, which sentence was afterwards commuted to life imprisonment. McWhirrel died in the penitentiary.
W. B. Warner was wanted for embezzlement in New York. J. R. Kidd, the embezzler from Salt Lake City, was also taken here.
G. A. Langworthy, an embezzler from Florence, Alabama, met his fate here.
Rutledge, the associate of Rice in the sensational shooting case of but a short time ago, was arrested here at one time for a burglary committed in Brampton. He was sentenced to seven years.
C. F. Kohlmeyer, a forger from Butler, Pa., was taken in tow in Toronto.
In recent times possibly the most important arrest of a fugitive from justice was that of Anthony Stanley Rowe, late of London, Eng. Rowe was charged with forgery and embezzling over $750,000 of the funds of the Great Fingal Consolidated Company, Limited, of London, Eng. He boarded in Jarvis street while in the city.
The famous Howe was taken back to Philadelphia to answer the charge of stealing $15,000 in the City of Brotherly Love. The arrest was made by Detective Black. Howe took the pseudonym of Edward C. Jackson while laying low in Toronto.
Last year, George W. Clarke, an Englishman, was arrested by Detective Alf. Cuddy, and taken back to England, where he was accused of stealing $400 from the London, Eng., post-office, where he was employed. ♦