Condensed from The Canadian Jewish News, August 4, 1983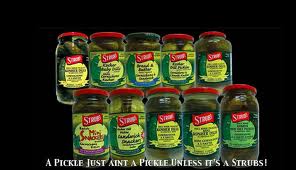 When the cucumber harvest is in, the Strub brother's facility in Dundas, Ontario goes into their busiest season. The cucumbers are brought to the plant, unloaded, washed, sorted, packed into big barrels and vats filled with special pickling ingredients and then put into cold storage.
Some two months later the pickles are packed in jars and shipped to supermarkets, restaurants and other outlets from coast to coast.
Brothers Irving and Dan Strub spoke about the family's fifty-year-old business which started after their mother, the pickle-maker, brought her recipe from Russia. Upon arriving about 1925, the family settled in Guelph and relocated to Hamilton a few years later. For a few years the father ran a kosher butcher shop but it failed and the family fell back on the pickle trade. Their first plant was on Mulberry Street in Hamilton in 1930; they moved to Dundas about ten years later.
Strub's pickles sell throughout the country "without the benefit of advertising," Irving said, because, put simply, Strub's pickles "are better." The factory employs thirty-two workers year-round, mostly women, double that in the busy season.
Irving has three sons and two daughters but only one son, Leo, has joined the business; he said he hoped that perhaps one of his own three sons would join the business.
The pickle plant has always provided summer jobs for the two original brothers as well as their children. Irving, a widower age 72, recently returned from a trip to Israel. Along with Dan and his wife Nathalie, and Leo and his wife Isabel, Irving has been a longtime member of Adas Israel Congregation. Dan also was part of the Grand Order of Israel. ♦