From The Canadian Jewish News, January 2014
Canadian, Israeli-born writer Ayelet Tsabari, whose first book of short stories The Best Place on Earth was recently published by HarperCollins of Toronto, writes with amazing intensity not only about modern Israelis, but also about the small Mizrachi ("Eastern") Jewish minority in Israel; her grandparents came from Yemen.
She's been lauded for crafting stories that pulse with vitality and are situated "on the intersections of love, hope and war." The CBC recently put her on its list of ten up-and-coming "Writers to Watch."
Tsabari arrived in Canada at age 25. She lived in Vancouver 11 years and moved to Toronto four years ago. Married with a young daughter, she travels frequently to Israel — where The CJN contacted her last week by telephone, on the eve of a literary tour of Toronto (Feb. 2), Montreal (Feb. 5) and Ottawa (Feb. 6).
What are you trying to do when you write a short story?
I guess I just try to capture a slice of life. I try to inhabit the character and let them lead me through the story. I try to not control it too much. It starts generally for me with some sort of scenario, a moment that often generates the voice. I don't exactly know what will happen but I have snippets — I have a starting scenario, maybe a voice, maybe a couple of ideas, and then it sort of just comes together.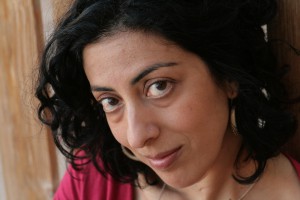 What was in your mind when you started to write "Tikkun" — the wonderful first story in the collection?
I knew that it happened during the Intifada, I knew that it was a love story, and I knew I would be telling it from the guy's point of view: he was the one who came to me first. But I didn't necessarily know it would end the way that it ended.
It was an amazing revelation to me to see that you'd actually written the story in a man's voice. You did it so well.
I love writing in alternate voices, it's one of my favourite things about fiction. I can't say that I choose in advance to write from a man's point of view or from a 68-year-old Yemeni grandmother's point of view. The creative process is not that calculated, at least not for me.
Your native tongue is Hebrew but you now write beautifully in English. Was that a difficult transition for you?
Sure, at first. When I came to Canada I was already a writer and suddenly I was stripped of my tools. I couldn't write in English, not at that point; my grammar and my vocabulary needed improvement. It took a few years before I could even comprehend that it was even possible to try.
Your literary tour is being hosted by the New Israel Fund, which is strongly critical of Israel. What do you share in common with them?
What I appreciate about NIF Canada is their support for Mizrachi culture. Growing up in Israel, I was an avid reader but I never found myself in literature. I never read books with Yemeni characters and I never read any Yemeni authors, and very few Mizrachi authors.
That made me feel as though my dream of becoming a writer was not that realistic because I had nobody to look up to. Secondly, I felt a little bit invisible because I didn't see myself in the literature. So one of the things I appreciate about NIF is their commitment to Mizrachi issues and Mizrachi communities in Israel.
A couple of your stories are set in Canada and another is set in the United States. Is there a common thread in your stories?
Mostly the stories — even the ones in Canada and the US — involve Israeli characters. Also, I'm interested in people that are somewhat displaced. Thematically, that's probably one of the links in the stories, regardless of where they take place.
What are you working on now?
I'm working on a novel, also centered around the Yemeni community. It seems I find endless inspiration in the Yemeni community, and I can't walk away from it. ♦
◊ The above interview has been condensed and edited for clarity. Tsabari appears at the Gladstone Hotel, Sunday Feb. 2, 2014, 7:30 p.m. To reserve a spot or for details about her other appearances, please visit www.ayelettsabari.com