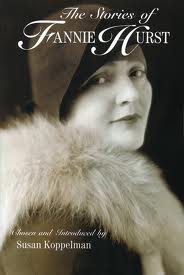 In her day Fannie Hurst was one of America's highest-paid authors, but ask any bookstore clerk today for one of her 18 novels, such as the bestselling Imitation of Life, and chances are you'll receive only a blank stare.
Between 1914 and 1930, Fannie Hurst's phenomenal literary career blazed meteorically across the pages of popular magazines like Cosmopolitan and the Saturday Evening Post. A notice on a magazine cover boasting of a new Fannie Hurst story or an advertisement on the side of a New York city bus would ensure that a magazine would quickly sell out at the newsstands.
In an effort to restore some of Hurst's lost vogue, the New York-based Feminist Press recently published The Stories of Fannie Hurst, containing 18 stories from the author's prolific output of more than 300. The offerings include the wonderful "Sob Sister", "Humoresque", "A Boob Spelled Backwards" and "She Walks in Beauty", all of which seem to convey Hurst's largely forgotten, yet irresistible appeal.
Whereas contemporaneous writers like William Dean Howells and Abraham Cahan were experimenting with a new urban realism, Hurst specialized in sentimental realism. She often championed the simple, uneducated young working girls, secretaries, manicurists and shop-girls. Her heroines and heros were often stereotypical samples from the "greenie" generation of Jewish immigrants and their more sophisticated children, who quickly became proficient in America's rich but mystifying street patter.
She excelled in long scenes of dramatic dialogue, depicting troubled mother-daughter relations, examining the power relationship between men and women, and casting a light into the hidden and private places of everyday life. Her turf was New York City's endless array of shops, tenements, boarding houses and female boudoirs.
"The richness, variety and authenticity of Fannie Hurst's early portrayals of urban Jewish life stand as one of her major achievements — and one of the reasons for us to read her work today," writes editor Susan Koppelman in an introductory essay.
"Sob Sister" is a sentimental, somewhat purple masterpiece in which a kept woman named Mae Munroe is dumped by her longterm lover. At story's end, all of her chances used up, she rushes despondently out into the Manhattan night. Walking and walking, she comes eventually to a river and becomes mesmerized by the lapping waves and the strong tug of current. The piece closes with the following line: "Out at the very edge the water washed up against the piles with a thick, inarticulate lisp, as if what it had to say might only be understood from the under side."
Hurst was often, but not always, a master of brilliant economy and subtlety. Her stories often opened with some abstracted classical allusions, a technique that seems today as heavy and old-fashioned as steamer trunks. It must also be admitted that Hurst sometimes wrote like a gifted high school student punch-drunk in love with her thesaurus.
Because she appealed to a mass market, critics often took a dim view of her. Some dismissed her as a "glorified true confession scribe" or the last of the gaslight romanticists. One reviewer compared her flowing prose to the Mississippi because both were "wide, deep and rather muddy."
But none of that mattered to the millions of readers, predominantly women, who avidly consumed and were thrilled by her stories. And why not? In Hurst's heyday the talkies hadn't been invented yet.
Born to German-Jewish parents in Hamilton, Ohio, in 1885, Hurst grew up in St. Louis, Mo. Bored by her parent's provincial background, she fled to New York by about 1910. Soon she was selling stories for $10 and $25, but once her popularity caught on, she was commanding fees of $100, $300, $1200, $1500 and ultimately $5000 per tale. Hurst was at the top of her game in the 1920s, and only F. Scott Fitzgerald was getting as much.
Her 18 novels were translated into 14 languages and inspired multiple Hollywood treatments. A total of 29 films were made from her fiction, including Imitation of Life (produced twice, in 1934 and 1959), Humoresque (1920 and 1946) and Back Street (1932, 1941 and 1961). She also wrote five plays, a full-length autobiography and several screenplays.
She "became a celebrity in a way that is today reserved for movie, music and sports stars," with the press following her every walk in Central Park and her every jaunt across the Atlantic, Coppelman observes, adding that Hurst tumbled into sad obscurity long before her death in 1968.
Editor Susan Coppelman argues that part of the reason Hurst is neglected today is because she was female.
"Fannie Hurst's writing career was so productive and so successful and so important that if she had done nothing else but write, we would be able to say dayanu — it was sufficient," the editor asserts. "But she was also an activist in the service of social justice causes."
Hurst took up her pen to promote causes related to health and feminism. She also lobbied against fascism and anti-Semitism, and helped raise funds for many charities and philanthropies. According to Coppelman, the writer's greatest achievement was her purposeful elevation of the ordinary "little" people, making them the subject of fiction. So realistic were her portrayals that she received many letters from people certain she had been writing about their own families or circle of friends. Hurst, Coppelman writes, conveyed an "absolute conviction that the lives of her characters are just as important as that of any character created by Shakespeare."
Hurst's stories are especially recommended to anyone keen on understanding the conditions that prevailed a century ago when millions of Jewish and Gentile immigrants arrived as strangers in a strange land to that bustling, fresh, complex and marvelous place called America. ♦
© 2005