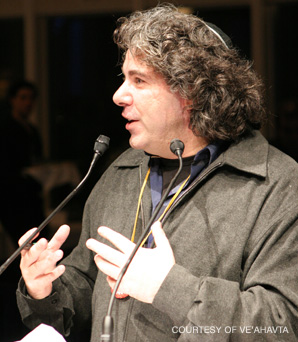 Representatives of Ve'ahavta, a Canadian Jewish humanitarian and relief organization, are being credited with pioneering a method of treatment that drastically reduces HIV transmission from infected mothers to newborn babies in sub-Saharan Africa.
Ve'ahavta medics in field clinics in Zimbabwe have devised a system for administering the anti-HIV drug AZT that costs about (US) $5 per mother, yet is twice as effective as the previous method costing $180.
The innovation has been written up in numerous medical journals and is under study by the World Health Organization. It is just the latest in an impressive string of accomplishments by the Toronto-based non-profit organization, whose name derives from Hebrew scripture and means, "And you shall love."
Since its founding in 1996, Ve'ahavta has sent medical and relief missions to Guyana, Honduras, El Salvador and Turkey. Last month (August 2004), it was preparing a mission to Sudan and Chad.
"Basically, our mandate is to encourage all Jews to play a role in tikun olam," said founding director Avrum Rosensweig.
"Tikun olam literally means 'repairing the world,' but to me it means using one's own personal resources, know-how and strength to go out and make the world shine in the most beautiful way," he said. "It's all about making the world as strong, as beautiful, and some would say as Godly as possible."
As an example of its activities, Ve'ahavta annually sends a medical team to rural Guyana. Consisting of doctors, nurses, lab technicians and Native Canadian and Israeli youth, the 20-person team dispenses hundreds of thousands of dollars in donated pharmaceuticals as well as canes, walkers and other much-needed supplies to the impoverished villagers.
Vitamins are collected beforehand through a Flintstones vitamin drive at the Community Hebrew Academy of Toronto. Twenty vitamin pills can save a child's eyesight, Rosensweig said.
"We do blood-testing in the middle of the rain forest," he said. "We've saved lives on the spot."
During a 1998 earthquake relief mission in Honduras, volunteers helped the tiny Jewish community rebuild the damaged synagogue in the capital, Tegucigalpa. Ve'ahavta has also aided Jewish communities in Cuba and Argentina.
In the summer of 2001, volunteers drove a convoy of five old school buses loaded with humanitarian supplies from Toronto to earthquake-ravaged El Salvador and left the buses there to help the country rebuild.
During an earthquake relief mission to Turkey, Ve'ahavta's medical team worked with an Israeli team that had set up a field hospital. Since that first encounter with Israelis, which Rosensweig called "extremely exciting," Ve'ahavta has developed a special relationship with Israel.
Several months ago it sponsored Tiferet Israel, an exhibition of art works by street kids from Toronto and Israel. It also has plans to bring over distressed youth from Israel for occupational training and to aid street youth in Toronto. A central goal, Rosensweig said, is to strengthen the bonds between Jews in Israel and the Diaspora.
On the domestic front, the organization has also developed special ties with the Native community. Several years ago, after vandals defaced some Jewish tombstones with swastikas, Rosensweig received a memorable phone call from a member of the local Native community.
"He said, 'Avrum, I'm a trained mason. I know what happened to your community and I want to tell you, we're very grateful for what you've done for us and we want to come in and repair your stones.'"
Soon afterwards, a large photograph of several Natives repairing Jewish tombstones appeared in a Toronto newspaper.
Ve'ahavta also devotes much energy to the growing problem of homelessness in Toronto. Two or three nights a week, its volunteers drive around the city, stopping at underpasses, parks, alleyways and other spots to deliver food and clothing.
Its annual dinner for the homeless attracts 1,000 and its annual creative writing contest for the homeless, which features cash prizes, has spurred some winners to enrol in college writing programs.
"Our theory is that if you can introduce a person to their soul, that might be a solution to getting them off the street," Rosensweig said.
Operating on an annual budget of about (US) $750,000, Ve'ahavta conducts these and other programs out of donated office space in the basement of a strip mall. It has about 10 paid staff, a pool of about 1,000 volunteers, and a growing list of programming partners, both at home and abroad.
"We're very excited about sending out a Jewish peace corps, so to speak, into the world," he said. "Ve'ahavta actually sends out Jews of all backgrounds into the field to do tikum olam. I think that's pretty innovative."
The son of a rabbi, the 44-year-old former UJA fundraiser said he recognized long ago that the Jewish world had become an "ivory tower community" whose preferred method of solving a problem was to write a cheque.
"One of the reasons I started Ve'ahavta was to get the community to roll up its sleeves," he said. "I think it was the Baal Shem Tov who said, 'If you want to help your friend, you have to be prepared to get your hands dirty.'"
A rousing community speaker, Rosensweig said he was also motivated to start the agency by the oft-repeated slogan of "Never again!" and by his recognition of "the brilliant creative skills of the Jewish community which we used to build ourselves up from the ashes. I'm so impressed with how we as Jews are able to build from nothing. I've always thought that the state of Israel is the most magnificent example of that."
Toronto's Jews, especially the Conservative, Reform and Reconstructionist elements, have responded enthusiastically to the organization, whose budget has grown by about 20 per cent annually, Rosensweig said.
"There's a very strong belief within the Orthodox community that Jews need to help Jews," he said. "My response is that we are helping Jews. Our first goal is to strengthen the Jewish people. Part of what we do is to break down stereotypes and bring friends closer to us."
But Jews of all denominations often approach the organization regarding a serious social problem that is sometimes swept under the carpet. "We get calls consistently from Jewish parents whose kids are living on the streets," Rosensweig said. "Even the ultra-Orthodox element approaches us about this."
To some, it may seem that Rosensweig's plate is very full.
Yet he still has time for "Marty and Avrum, The Food Guys," a highly-rated, weekly radio show that he and friend Marty Galin do live on CFRB, one of the city's most popular stations. They produce five television shows and appear in three of them, all centered on some aspect of food. They are also about to launch a new "Marty and Avrum" line of food products.
The former yeshiva student also leads Shabbat services for an old-folks home once a month, conducts High Holiday services for an unaffiliated group called the Danforth Jewish Circle, and runs Ve'ahavta's Passover seder for the homeless.
Rosensweig also writes a well-read weekly column for the Canadian Jewish News.
A major turning point in his life came when "I finally realized that I wanted to work in community," he said. "It was in my blood. I was raised on it. It's a very, very rich life." ♦
This article was written for the Jewish Telegraphic Agency. © 2004.