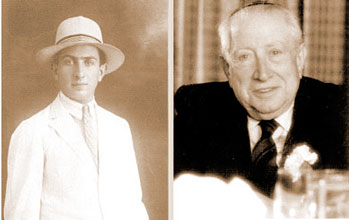 Rabbi Jacob Mendel Kirshenblatt, a spiritual leader and longtime teacher who taught thousands of bar and bat mitzvah students, died in Toronto on March 6, 2002. He was 98.
Rabbi Kirshenblatt was honoured in February by Beth Sholom Synagogue and Congregation Beth Haminyan at a tribute dinner attended by many of his former students.
Leslie Train, who studied for his bar mitzvah with Rabbi Kirshenblatt and continued his studies and friendship with his mentor, said the rabbi "was an institution unto himself. He was extremely versatile and flexible in the way he handled Judaism."
Train said Rabbi Kirshenblatt was comfortable whether he was with the ultra-Orthodox or in a small community where people didn't have much of a Jewish background.
"He brought people closer to Torah, and that is what he did all of his life. And he always received everyone with a friendly face."
Rabbi Kirshenblatt was born in Driltsh, Poland and arrived in Canada in 1929 from Palestine.
He studied with the world renowned Chofetz Chaim at the Radun Yeshiva in Poland and traveled to Palestine in 1927. He continued his studies in Petach Tikvah and received smichah in 1929 at age 26.
In Canada, he served as a pulpit rabbi, teacher, mohel and shochet in Glace Bay, N.S., and also served as spiritual leader in Ontario in Welland, Peterborough and Toronto.
While volunteering as a chaplain with Allied troops stationed in Nova Scotia during World War II, he met Rabbi David Monson, with whom he later founded Beth Sholom Synagogue.
He taught in Beth Sholom's school and served as the synagogue's assistant rabbi and Torah reader. He retired in 1972 and was given an honorary appointment as assistant rabbi emeritus.
He continued teaching bar and bat mitzvah students and provided chaplaincy services at Queen Elizabeth Hospital (now part of the Toronto Rehabilitation Institute).
He also had the distinction of blowing the shofar on the High Holy Days from the time he was 13 years old.
A humble man with a keen sense of humour, Rabbi Kirshenblatt agreed to the tribute event in February, provided the evening would raise funds for the Israel Center for the Treatment of Psychotrauma, part of the Albert and Temmy Latner Institute at Herzog Hospital in Jerusalem.
Rabbi Kirshenblatt is survived by his daughter Sheila. His wife Annie and daughters Shoshana Philipp and Renee Kirshenblatt predeceased him. ♦
This article first appeared in the Canadian Jewish News and appears here courtesy of the author. © 2002 by Cynthia Gasner.
For a profile of Rabbi Kirshenblatt on Beth Sholom's website, click here.