From the Toronto Star Weekly, August 1914
An artist and photographer for the Toronto Star Weekly captured these "unprecedented scenes" in Toronto in August 1914 as the city and the nation prepared for war in Europe. The above drawing (based on a photograph) shows recruits drilling outside Toronto's Armouries.
The photograph below showed more recruits drilling at the Toronto Armouries, watched by a crowd of civilians with one of the Eaton's factories in background. The caption says "A typical scene on the parade ground of the Toronto Armouries, where from the beginning of the war scenes of great activity attracted crowds of people by day and by night. These sights have been unprecedented in the history of the city."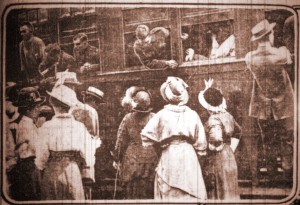 "Saying Farewell to Sweethearts, Mothers and Friends" is the caption of the third photo, at right, as some of the first recruits depart the city. Tragically, many never came home and the city's casualties were shockingly high.
Still, there was no shortage of young men eager to fulfill their patriotic duty and the attitude towards "shirkers" was quite negative. That comes across quite clearly in the contemporaneous cartoons below. ♦