From Canadian Jewish News, May 2014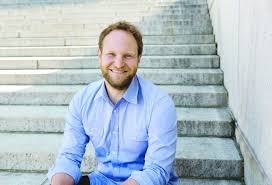 Jonah Jacobson is a young Manhattan lawyer immersed in an important legal deal that could make him a partner, and in relationships with two beautiful women each in love with him, when the heavens open up and he has a bizarre and unexpected Biblical vision at a party.
Suddenly he sees "the Empire State Building collapsed and Grand Central Station collapsed and the subway tunnels flooded with water and then water rising to the streets through the concrete so that what had been the city, this city, became an island again interlaced with rivers and buried in the rubble of things collapsed or burned or bombed or pulled apart like the shining marble pulled from the pyramids . . . ."
This is the beginning of Jacobson's life-changing existential crisis as described in The Book of Jonah, a novel by first-time Florida novelist Joshua Max Feldman, who recently visited Toronto on a promotional tour.
"I wanted to reimagine the Biblical story (of Jonah) in a contemporary setting," Feldman told me as we sat in a coffee-shop at Lawrence and Bathurst. "I wanted to present the Jonah in my book as someone who is very worldly, very focused on his career and his somewhat fraught dating life, and someone who is not really interested in higher metaphysical questions. It's something that really doesn't register with him at all, and the initial conceit of the story is that he's suddenly confronted with what he takes to be a metaphysical divine vision."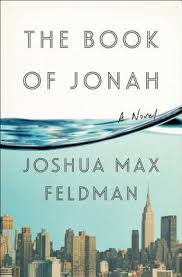 Born and raised in Amherst, Mass., Feldman formerly worked with some success as a playwright in the "nitty gritty world of off- and off-off-Broadway theatre." The idea for the book came about after he decided to try writing ten short stories, each one based on a different book of the Bible. "The Book of Jonah was one of the first ones that I started working on; it just grew and grew until I realized I needed to make it into a novel."
Formerly immersed in a community of struggling theatrical artists, he found the act of writing a novel a very solitary activity. The reward came when, with the help of an ace literary agent, the manuscript was sold to two top publishers: Henry Holt in the United States and Random House in Canada. Both versions were published simultaneously and came out in February.
God commands the Biblical Jonah to warn the wicked residents of Nineveh that they will be punished; Jonah tries to evade this duty and is swallowed by a giant fish. Eventually he is spat up on the shore of Nineveh, delivers his prophecy and all of the Ninevites repent. Happy ending? Not really, Feldman relates.
"Jonah is actually so upset with what's happened that he tells God that he'd rather die than live. Those contradictions in the story are never really explained — and I think that's a good thing, it gives the story credit. It acknowledges that there's always going to be a degree of the unknown when we're dealing with a higher plain, or a higher being."
Although based on a Biblical tale, Feldman says his novel is not a religious book but rather "a novel about people encountering religious issues and religious questions. I try to ground the events of the book, however extraordinary, in the experiences and the relationships of the characters."
With The Book of Jonah, Feldman places himself centrally within the pantheon of modern Jewish writers, perhaps even somewhere within range of one of his favourite Jewish writers, Nathan Englander, although the former's prose style seems jarringly cluttered and contemporary by contrast. Since he's written a deeply psychological novel, it seems less than surprising that he names Fyodor Dostoevski as "probably the writer I admire most in the world."
He also admires the writing of Herman Melville, which again is not surprising since he's attempted an epic of his own. He also cites Virginia Woolf as a special influence. "She had such insight into the way the mind works," he says. "And she found such poetry in the everyday, and that's something I aspire to do in my writing."
The Book of Jonah is published by Bond Street Books, a division of Random House, and sells for $32 in Canada. ♦