From The Canadian Jewish News, April 2012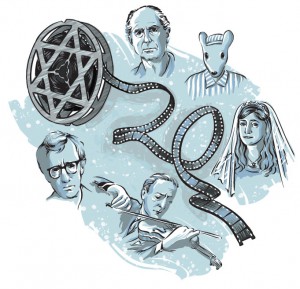 The 20th annual Toronto Jewish Film Festival opens Thursday May 3, 2012 at the Cineplex Odeon Varsity with the English-Canadian premiere of A Bottle in the Gaza Sea, a France-Canada co-production about a teenaged Israeli girl who receives an email response from a young Palestinian who calls himself "Gazaman" after he retrieves her message of peace from a bottle that had been thrown into the Gaza Sea.
A Bottle in the Gaza Sea is one of 96 films from some 15 countries to be screened at the Festival, which runs May 3 to 13 (2012) at the Bloor Hot Docs Cinema, the Al Green Theatre and several other venues around town.
In 1993, its first year of operation, the Toronto Jewish Film Festival showed 35 films over five days at the unrefurbished 900-seat Bloor Cinema. At the time there were line-ups around the block for the feature attraction, Black to the Promised Land, which had to be screened three times after writer Michele Landsberg gave it a rave review in the Toronto Star.
Since then, the annual springtime event has grown to become the largest of more than 100 Jewish film festivals around the world, according to its founder and executive director, Helen Zukerman, who started it with funds from a family foundation and a charitable number from Revenue Canada.
"At first Revenue Canada said no because they were afraid we were going to make money," Zukerman recalled. "After we got off the floor laughing, we tried again — our lawyers kept persevering. Finally, we got permission by using words like 'education' and 'culture' and 'outreach.'"
In truth, the Festival has never come near making a profit. Last year it sold more than 30,000 tickets but relied as usual upon a multitude of generous corporate patrons and private donors to cover most of its approximately $700,000 in operating costs.
Part of the Festival's success must have to do with the fact that it is located in one of the few large Jewish communities in the Diaspora with an increasing population. Another factor must be the rising quality and quantity of Jewish-themed films that have become available, especially from Israel, over the past two decades.
This year's headliner, A Bottle in the Gaza Sea, was shot in Israel but is a French and Canadian co-production. Based on a young adult novel by French author Valerie Zenatti, it was directed by French filmmaker Thierry Binisti, a French Jew whose parents are from Algeria.
The film was shown at two festivals in Quebec in March before going into general release there. The Montreal Gazette called it "must-viewing" and "a gripping, unsentimental drama with a lot of action and a pacifist message of hope and reconciliation."
Montreal's EMA Films co-produced the film, which is in Hebrew, Arabic and French with English subtitles. The lead actors are Agathe Bonitzer, a Parisian who had to learn Hebrew for the part, and Mahmoud Shalaby, a Palestinian who had to learn French.
Other Festival highlights include Miss Judy, a documentary that honours local Toronto hero Judy Feld Carr, who helped more than 3,000 Syrian Jews escape to freedom. The film is receiving its international premiere at the Festival.
OSS 117: Lost in Rio is a comedy by acclaimed director and actor team Michel Hazanavicius and Jean Dujardin, who scored best-picture and best-actor Oscars this year for their work on The Artist.
A spoof of 1960s spy films, OSS 117: Lost in Rio is being screened May 6 at the Toronto Underground Cinema as part of an "outrageously funny double bill." The capper is This Is Sodom, a Monty-Pythonesque biblical farce that was the biggest Israeli box-office smash in 25 years.
Other comic fare includes Hitler: The Comedy Years, which may sound like something from the Mel Brooks school of comedy, but is actually "an intelligent British documentary" that focuses on comedians who have poked fun at the Fuhrer. Let My People Go is an offbeat French comedy about a gay Jewish man and his dysfunctional family, while Dorfman is a rom-com with Sara Rue and American Jewish film icon Elliott Gould.
More serious pieces includes Kafka's Last Story, a documentary that explores the mystery behind the writer's legacy and manuscripts which, strange as it sounds, are currently being guarded by an eccentric woman and dozens of cats in Tel Aviv.
Portrait of Wally and My Best Enemy are documentaries that deal with aspects of the art world, while Cabaret-Berlin, The Wild Scene focuses on Berlin's artistic scene of the 1920s and early 1930s and the Jewish artists who contributed to it.
The Festival programme also includes a variety of intimate documentary profiles — subjects include Philip Roth, Howard Fast, Tony Curtis, Art Spiegelman, Henry Kissinger and Jascha Heifetz — and a Canadian documentary titled A.K.A. Doc Pomus about songwriter Jerome Felder, who wrote material for Elvis Presley, Ray Charles, Andy Williams, the Drifters and others.
The Sound of Movies: Masters of the Film Score is a robust sidebar series that celebrates the music of a multitude of acclaimed film composers including Stephen Sondheim, Alex North, Bernard Herrman, Aaron Copland, Howard Shore, Danny Elfman and David Shire.
For Festival tickets or information, please visit tjff.com or phone 416-324-9121. ♦
© 2012